Although many stakeholders are confused by the differences between User Experience (UX) and User Interface (UI), there are a few ways they're each unique. UX is considered to be work under the hood to ensure users can complete their tasks easily, whereas UI is used to make the interface attractive and appealing.
The Difference between UX and UI Concept and Designers
The purpose of UX is to make a website functional, easy to navigate and to boost the efficiency for a user visiting a site. The design should be based on the user's needs and research that are conducted by the designer. UX designers can have many roles, which include working as a content strategist, program manager, information architect, and functional analyst. They often have expertise in wireframes, prototypes, and research.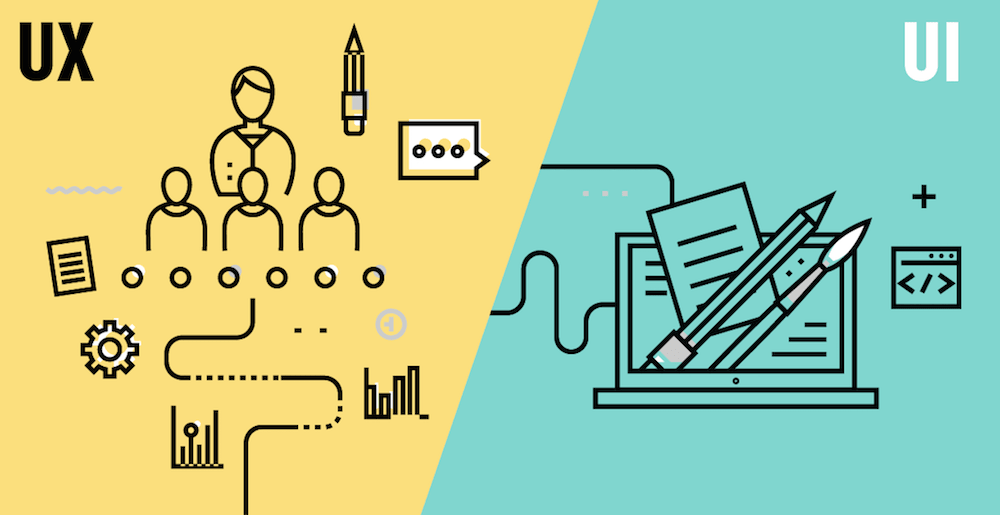 UI designers are more focused on the visual appeal of the website to ensure that it stands out in the industry and is easy to navigate. They're experienced in creating mock-ups, graphics, and layouts to execute the design. They often make the design based on the visitor's preferences, personal taste, and what is found on other websites in the industry. They can fill the roles of a graphic designer, brand designer, web designer, and frontend developer.
The UI Designer will be responsible for selecting the colour scheme of each page, the animations, widgets, and the style of buttons. Their goal is to make it a work of art.
UX/UI for User-Generated Content
As social media platforms increase in popularity, it's important for user-generated content not only to be supported but encouraged. UX and UI are both necessary for user-generated content to ensure visitors can seamlessly post photos, videos, or exchange messages with other users.
Some of the best practices for using UX for user-generated content involves creating a page where testimonials are posted to ensure you can carry a positive brand image. It's also necessary to enable multimedia usage, including calls to actions that are carefully placed throughout the site, and posting accessible submission buttons that are easy to find.
UI can be used for user-generated content by making it clean and clear to make everything easy to find. It's also necessary to make use of photos and videos to ensure there are plenty of high-quality visuals on each page. Buyers are more likely to trust the brand if they can have access to different types of visuals.
UX/UI for Customer Engagement
One of the main goals of UX is to engage the customer to ensure they spend more time on the website and are more likely to return in the future. UX can keep the customer engaged by being easy to navigate. It should also be easy and quick to perform different tasks while spending time on the website, which is why UX is so vital. If users find the website to be time-consuming and complicated, they won't want to return.
Similarly, it should be easy for users to find what they're looking for with the drop-down menu provided or a convenient search bar that is easy to view on the top of the main page. An additional goal of UX is to create consistently on each page of the website to avoid unnecessary distractions or make the site look unprofessional.
Visitors are also more likely to stay engaged on a website if it's visually appealing. They're more likely to leave if each page is overly cluttered and hard to read. The font should be visible and shouldn't clash with any of the colours on display.
An additional goal of UI is to make the website credible with its design to increase the number of clients they attract to both the site and the brand. The design can increase the level of professionalism of the brand with its graphics, the type of font used, and videos or photos posted.
The Power of UX and UI combined
Although UX and UI are different from one another, they often must work together to ensure each is effective independently. It can be hard to navigate a website (UX) if the font is too small or the colours are very dark (UI).
UX and UI designers most agree upon the branding guidelines, tones, colours, fonts, layouts and grids, buttons, icons, global behaviour, and basic coding guidelines. The visual and functional design must be understood and agreed upon by both parties. Both designers must practice strong communication skills to ensure there's the proper balance and that mistakes or confusion are avoided.
A style guide needs to be created at the beginning of the collaboration process, which can be used to store visual and functional information. It's used as a reference point between the two professionals and can allow them to look back at their plan when making different decisions.
Ultimately, if both the UX and UI are designed well, then it will contribute to the value of the website and how much users enjoy visiting it. The overall value of the website can increase traffic and have a direct impact on how many sales the business has throughout the year.
Understanding the differences between UX and UI can make it easier to understand how they complement one another. They work well on their own but have a powerful and lasting effect on the audience when they're used together.