While good music and your favorite songs can add that particular excitement to your boat adventures, the type of speakers you will purchase for your boat can be the sole difference between poor and top-notch music experiences on the water. If you have regular boat speakers installed on your craft, they might not give you the clarity and volume you need to enjoy the music while cruising on your boat. Put it mildly; basic marine speakers can't project audio signals over a long-range distance or cut through background noise which might prove troublesome while you're having the vacation of your dreams.
Marine tower speakers are the best sound system investment you can make for your boat to address this issue. This type of speaker is specially designed to project clear audio regardless of the wind and noises made by splashes of water, birds, and other passing vessels. Marine tower speakers will undoubtedly add value to your boat and give you and your friends and family a chance to listen to excellent sound quality on your boat.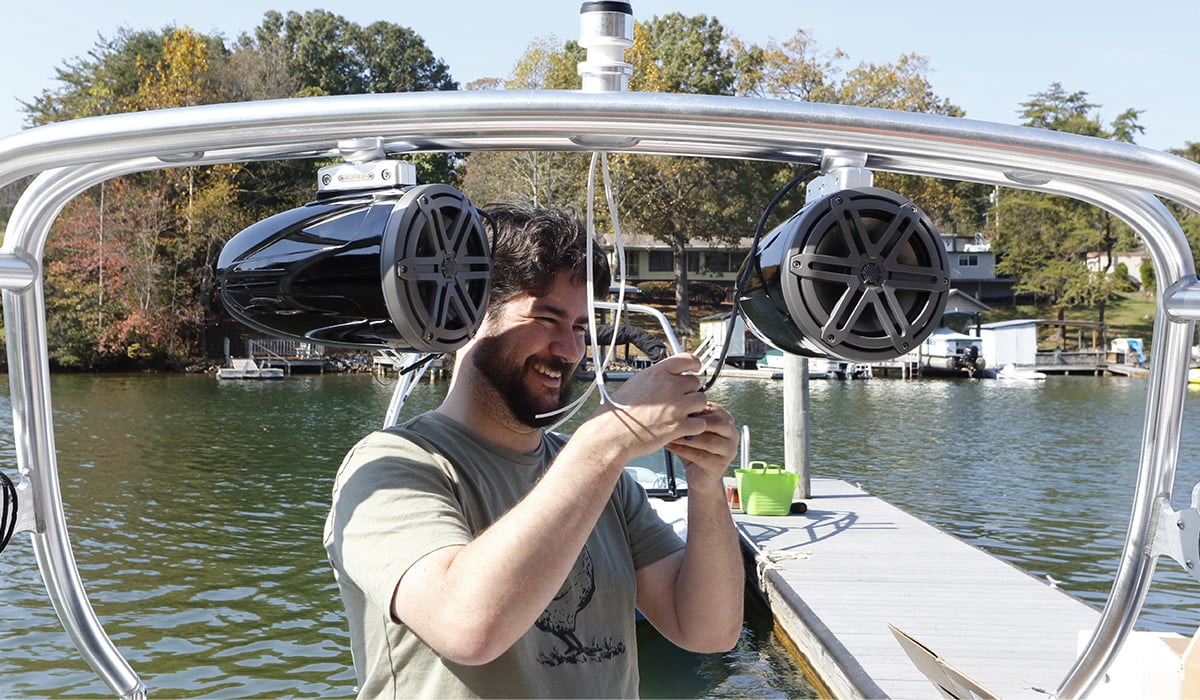 Photo from Crutchfield
And because the speakers are the most crucial part of your boat's audio sound system, in this article, we'll showcase the top factors to consider before selecting the best marine tower speakers for your boat.
Materials And Design
From the speaker's appearance to the materials used in the building of the speaker, there are many things that you need to think about to determine if a marine tower speaker is worth purchasing. If you like to get loudspeakers with killer looks like most people do, you should always plan accordingly and pay for what you can genuinely afford. Here are the most important things you need to look out for when checking the materials and the design of your marine tower speakers:
The Woofer: The materials utilized in the tower speaker woofer determine the quality and responsiveness of the speaker. The more lightweight and stiffer the materials are, the more responsive the woofer becomes.
The Woofer surrounding: The woofer's surrounding is a regular subject to wear, tear, and humidity, so the materials play a significant role whether the speakers will break or crack, especially if not taken care of. Rubber is the golden standard, and it's usually found in high-performing, stable marine tower speakers.
Aesthetics
Your boat audio speakers must not only sound good but look good as well. What fits the style of personal watercraft or a speedboat may not match the look of a fishing boat or a sailboat. For that reason, always consider the look and the size of your boat's interior and check if your new marine tower speakers match the interior of your vessel.
Photo from Pinterest
There's a broad range of different looks for tower speakers, whether you're looking for subtle, low-key speakers or outrageous and showy ones. Most marine tower speakers come in black or white, but you can get custom colors if you want them to match your boat.
Durability
Remember that the speakers you'll select will probably take a lot of abuse from water and weather, so it's crucial to purchase durable tower speakers. To ensure that the speakers you'll buy will last for an extended period, buy speakers that are made of coated aluminum cans as they are the most durable ones. Aluminum is resilient by nature and can easily withstand the worst weather conditions without a problem. Additionally, check if the speaker cans have a powdered or anodized coating, which can protect the cans from corrosion and oxidation.
Quality Of Sound
As vessels are usually exposed to elements and many outside factors, they need higher power audio with at least 300 to 600 watts so that sound waves can travel despite winds and other external sounds in the background. Marine tower speakers play music into the empty air, so on their own, they might not be powerful enough to play loudly and clear on a speeding boat. Additionally, the rapid sound dispersion can result in distortion, which can wreck the listening experience.
Luckily, this can be easily remedied by using the proper marine tower speakers amplifier. Make sure to get one with an amp rated between 70% to 150% to ensure that it will supply the speakers with enough power to make them sound better and play louder.
Final Thoughts
Now that you have an idea of what's most important and how to select your next marine tower speakers for your boat, find a reliable supplier, get the optimal tower speakers according to your needs, and let the summer adventures begin.