From the port of Hurghada, today, the first ferry flights "La Pes Pes" a starting point, from Hurghada seaport heading to Sharm el-Sheikh sea port, and was received by the port of Sharm el-Sheikh, Major General, "Khaled Fouda," the governor of South Sinai, and the leaders of the executive and popular in the governorate.
"The angel of Joseph", media spokesman for the Red Sea Ports Authority, said that these trips are working on promoting tourism between the cities, where there are tourists visiting Sharm el-Sheikh and visiting Hurghada and Luxor; to the distance by road, but it is possible by the shipping line shortcut distance .
He added that it is scheduled to organize the ship "La Pes Pes", regular flights daily "Sunday" and "Thursday" every week, where it takes two hours flight time and departure times at 8:00 of the port of Hurghada, and return at 6 pm, Sharm el-Sheikh port, ferry and is working to provide more than 10 hours of travel on the overland route.
He stressed Brigade Engineer "Hisham Abu years," head of the Red Sea Ports Authority, the Director of the ports of Hurghada and Sharm el-Sheikh, the need for coordination with all actors ports; to facilitate the procedures and processing ports to receive flights after obtaining the Maritime Safety and Inspection Commission and the International Classification and secure gateway certificates.
HSC La Pespes arrival to Hurghada maritime port from Sharm El Sheikh

Posted by ELMENS on Monday, August 1, 2016
The "La Pes Pes" of fast ferries, length 41 meters, width of 11 meters, and its cargo of 250 passengers, and decided to resume domestic flights after a break for 3 years since 2013.
Support for efforts to develop the ports of Hurghada and Sharm el-Sheikh and the development of the maritime sector of the Red Sea ferry passengers quick first flights will begin this year to be the first Fast Ferry raise the Egyptian flag to open the shipping line after five years of service to stop passage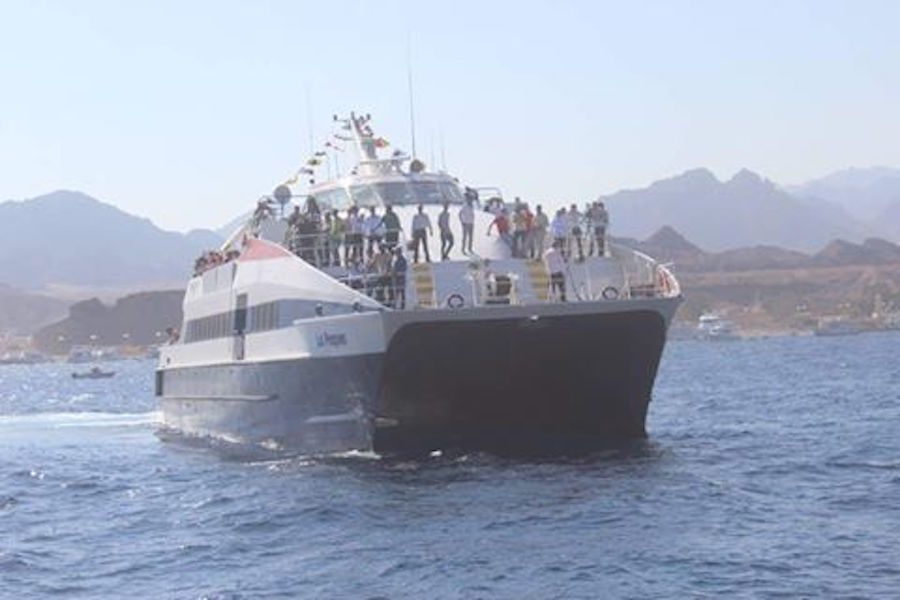 The statement has been building in the months arsenal in the world for this specialized industry of Australia and phrases such means available safety and speed and luxury provided to passengers in accordance with the safety standards specified in the sail by international supervision and Egyptian views
Up the distance between Sharm el-Sheikh and Hurghada are 850 kilometers by road to any overland journey takes more than eight hours while the same distance shorten sea travel from Hurghada to Sharm el-Sheikh to less than three hours
Residents will be able to Hurghada and the Red Sea cities of travel easily and reliably to Sharm el-Sheikh and South Sinai cities of excellence in trips for one day or more
It will also enable residents to travel in Sinai to the Red Sea and Luxor, and the cities of the valley using the ferry from Sharm el Sheikh to Hurghada then booked a way appropriate ground transportation from Hurghada to the southern valley of destination
Gateway to Abesbs nine to 304 seats and is equipped with air conditioning and salon glass windows provide a panoramic view of landmarks Red Sea as it is equipped with Bkavtaraa offers snacks and drinks during the trip and television screens
Ferry crew and administrators are better and broader experience in terms of this kind and the administration are in the service of our passengers all the time