The city of Nashik is basically a perfect amalgamation of the dual identity of ancient temples with luxury wine retreats. After all, this particular city is very famous across the globe as the name of the wine capital of India for a reason and provides people with easy proximity to Bombay and Pune, which makes it an ideal weekend getaway destination.
Following are some of the most important places that you need to visit in this particular city while planning your night stay at Anand resort Nashik:
1. Trimbakeshwar Temple: This temple is one of the most respected places in the entire India and must be visited by individuals whenever they are on a Nashik tour. It is very well believed that Lord Shiva appeared as a pillar of light over here, and this auspicious place is also highly successful in conducting the Kumbh mela around this temple. Apart from the Holi ambience, this particular place is very well situated between the three hills, which further makes it very appealing in terms of location.
2. Mukti Dham: This is one of the most important places to visit in the city of Nashik, and this particular beautiful temple is made out of marble. This place also has inscriptions about the Mahabharata and the life of Lord Krishna on the walls, and further, this is one of the prime attractions of the city. The best part is that it is visited by crowds from all walks of life, and the frequency is significantly increasing with every passing day as the Mela is coming nearby.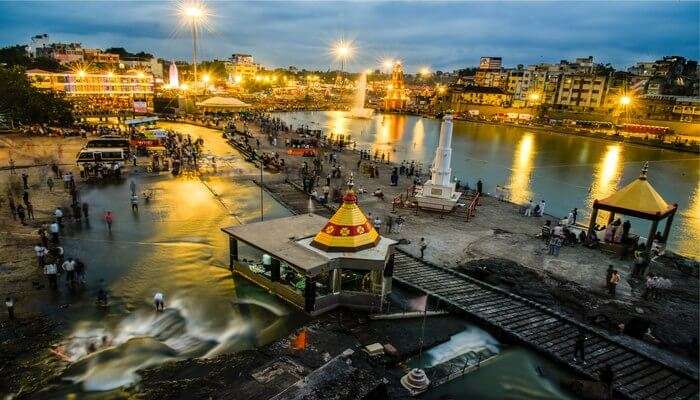 3. Ramkund: This is one of the most important places situated on the Godavari River in Nashik city and is very famous in terms of providing people with the best element of worshipping all year around. It has been very well believed that Lord Rama performed the death rituals of his father here, and further, this place is very well used for the ashes of the loved ones of people so that they can emerge in the water, hoping that they will find salvation. It is very important for people to visit this place to have a good understanding of the historical perspective and the salvation perspective in this case.
4. Pandavleni caves: This particular place is one of the most important places which is associated with Buddhism in the city of Nashik. This place is basically a group of 24 rock-cut caves which are perfectly dating back to the second century A.D. and approximately is located at 10 km away from the city centre. We will be able to find a good number of inscriptions and carvings over here which are directly associated with the inception of Buddhism. Give number 18 is the most prominent option which you need to visit because it also has a prayer hall along with the presence of STUPA. This is one of the most important places that you need to visit to immerse yourself in the serene ambience of this place.
5. Anjaneri Hills: This place is only 10 km away from the city. It is a very beautiful tourist destination that you need to visit because this is the highlight of the place because it is on the top of the cave. It is very well believed that God is Anjana Devi, who gave birth to the Lord a new man over here, due to which this place has a lot of historical relevance. This place has been named after her and ultimately is a very prominent place of worship for all people across the globe. Inside the cave, there is a temple which has been dedicated to Lord Hanuman and also has the image of Lord, which has five heads. Unlike this, there is no other temple of Lord Hanuman, which you can easily find in nations like India. So, visiting this place is extremely advisable for people.
6. Dugar Bari waterfall: This is one of the most important places to be visited in the city of Nashik, especially during the monsoon season, because it is extremely refreshing for everyone. On the other hand, if you are interested in enjoying the monsoon season completely, then definitely there is no better way of enjoying it than witnessing a waterfall. This is located at a short distance from the city and ultimately is a very scenic tourist attraction, which is basically a delight for nature lovers. This route is extremely dangerous because landslides are very common over here, which is the main reason that people need to move with proper planning and precaution so that they can easily witness the beauty and ultimately have a very pleasurable experience.
7. SULA vineyards in Nashik: This place is one of the most important places in this particular city and is basically a state which is gaining a lot of popularity for the wineries present in this place. It is also renowned for the excellent quality of grapes and also provides people with samples of some of the finest wines in the whole world. The USP of this particular place is the process through which it manufactures the wines, and ultimately, people can easily plan a stay over here as well so that they can drink all of them without any problem. This is basically very well surrounded by scenic hill stations which provide people with the best opportunity of enjoying a lot in the lap of nature.
8. Someshwara Temple: This is very well located on the bank of river Godavari and is only 7 km away from the main city. This place is perfectly surrounded by lush greenery and is basically a very important, beautiful site in the monsoon season. In addition to the idol of Lord Shiva, this place also has a shrine which is dedicated to Lord Hanuman, and visitors can easily take a tour of this place to enjoy the peaceful environment very successfully.
Hence, planning a visit to the city of Nashik and booking your room in the Anand Resort Nashik is a great idea for everyone so that they can spend the best time in this city and can easily experience serenity without any doubt.