Skin prep is makeup before makeup! Preparing the skin to receive the makeup application is already half of the work. By the process of removing dead skin and smoothing the skin surface, you will ensure longer-lasting makeup and glowing results.
Step 1: Exfoliate
Exfoliating will give a deep cleaning to your skin and remove all impurities and dead skin from the surface of the skin. The skin will be smoother and ready for makeup application. To exfoliate the skin on a talent you can use a gentle scrub or a mechanic peeling. Simply use circular motions onto the skin to activate the product. You can look at makeup tutorials online or follow a makeup fundamental online course to learn how to place your hands and do the right gesture when applying a scrub.
Rinse off with water or with a cotton pad and a toner.
Step 2: Use a serum
When using skincare products, you will need to make sure that you are using the appropriate skin care regimen. There are four types of skin: normal, oily, dry and combination. Normal skin is usually well balanced and does not have excess oil or dryness as opposed to oily and dry skin. Combination skin is usually oily in the T zone and dry on the outside. If you want to learn more about skin types, following a makeup fundamental course will teach you all the knowledge on selecting products for different skin types.
A serum will hydrate the skin in depth. For dry skin, you can use an oil-based serum and let it soak a bit into the skin prior to applying the other products.
Step 3: Apply a moisturizer
Again, select a moisturiser adapted to the skin type. For a makeup kit, it is recommended to use products with no perfume to avoid reaction and adapted to sensitive skin. You can apply skincare products by doing a little massage on the face. Place your hands underneath the chin and move your way up applying light pressure points to relax the muscles on the face. If you have to build a kit for an online makeup course, selecting a natural moisturizer with no perfume is recommended as it would suit any skin type.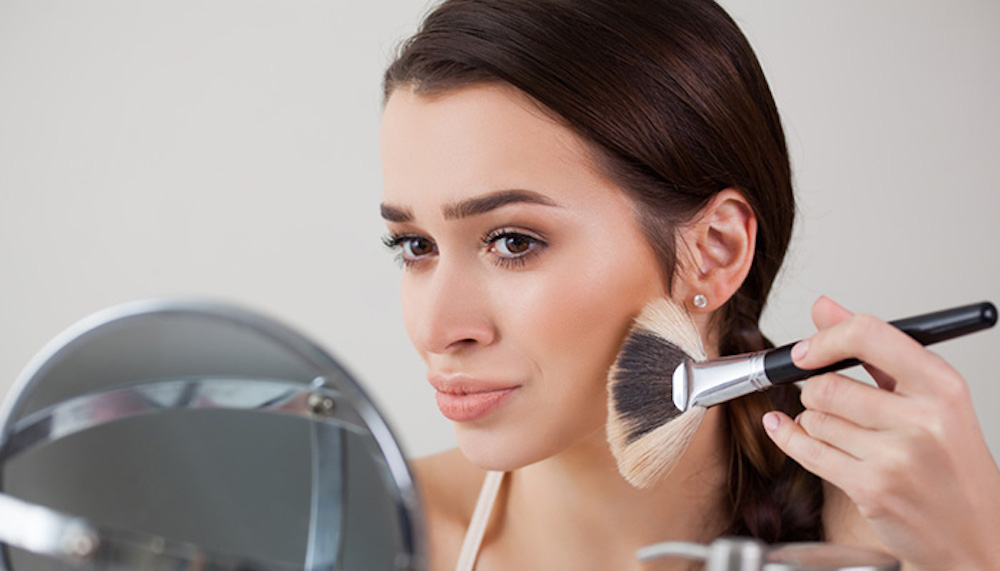 Step 4: SPF
If your client is going outside, Sunscreen is recommended to protect the skin from UVA and UVB. Because this product can reflect the light and leave white marks when photographed, it is recommended to use a sunscreen with no mineral or zinc. Try to use a lightweight texture. If you want to learn more about the makeup products you can use for photography you can enrol on an online makeup course in Australia which will give you access to tutorials and course materials.
Step 5: Use a primer
You can use a smoothing primer for skin with enlarged pores, fine lines or scars. This will smooth the surface of the skin and fill any gaps. The foundation will then blend nicely onto the skin. For oily skin, it is highly recommended to use a mattifying primer. This will block the natural oils to come through during the day. You can also use a luminizer primer or slightly tinted primer to do colour correction. Colour correction aims to remove any unwanted undertone and will be the first thing you will learn in an online fundamental makeup course.
Other tips and tricks! To activate the microcirculation of the skin you can use a quartz or jade roller. This will help the skin look less puffy especially under the eyes. To learn more about placing your hands or the roller, you can follow a fundamental makeup tutorial or online makeup course. You can also use sheet hydrating masks. If you also offer a hair service, leave the mask on whilst you prep the hair and use what is left of the product as a hydrating serum. For skin that is a bit tired, place the mask on the fridge for a cooler and rejuvenating effect. Always wait for the products to dry before starting your makeup application, this will avoid creating any patch onto the skin. Avoid applying foundation or primer onto the eyelid or any oily product as it could make the product move through the day.
For more tips and tricks, following a fundamental online course will teach you how to select the products for your kit, understand colour theory and much more! You can now study at your own pace at home with the option of an online makeup course.