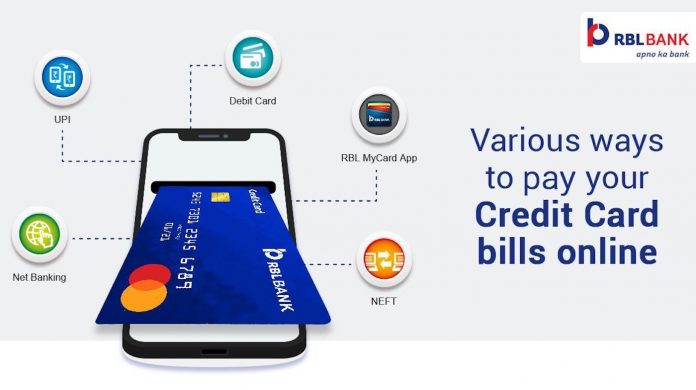 Paying off your credit card debt in time is one of the easiest and quickest methods of boosting your credit score and build a stable financial history. With the integration of online bill payment systems, paying credit card dues have become significantly time-saving and hassle-free, even via inter-bank payments.
Companies like Bajaj Finserv even have dedicated mobile application for their Bajaj Finserv RBL Bank SuperCard, allowing one-click payment with ease from any other account.
Here is how you can pay your card's bill online with the help of the mobile application.
Paying credit card bill using RBL MyCard App
To use the mobile application, you will have to stay logged into your credit account using the RBL MyCard App. You will find the details of the latest billing cycle under your selected card's option. It will carry the credit limit, total balance, available credit and cash limit, and how much payment has been made towards that particular due.
You can make a credit card payment using the RBL MyCard App by navigating to "Make a Payment" option. You will have to choose whether you want to transfer the entire due amount or the minimum due, post which it will ask some necessary details like an account number or UPI ID to transact the amount.
The verification and fund transfer process usually takes less than a minute, and after successful account transfer, it will reflect in the "Payment Due" section. You can further use this application to manage your credit card account from anywhere.
You can also opt for several other methods to pay the outstanding due of your feature-rich credit card. Let's take a look at some of them.
How to pay a credit card bill?
There are several other methods of making a credit card payment. You can pay the due with a cheque, which will have to be submitted to the financial institution that holds your savings or current account. They will process the cheque and pay the amount to the payee.
You can also opt for online payment methods other than RBL MyCard App. Here are some of the options you can use.
● NEFT – NEFT, or National Electronic Fund Transfer is a payment system that allows you to transfer funds from one financial institution to another over the World Wide Web. If you want to make the payment using NEFT, you will need the following details.
Payee account number
Bank name
IFSC code
Branch location
These details will be mentioned in your credit card's monthly statement.
● NACH – You can use the NACH (National Automated Clearing House) facility to automate the payment process every month. You will have to link your existing account with the lender with NACH. It requires you to fill and submit a form which is available on their website.
● IMPS – IMPS transactions can be performed either with MMID and registered phone number, or IFSC and account number. You will have to select the IMPS merchant payment option and fill up the phone number and MMID for your credit card. Next, you will have to enter the details of the payee account along with the amount that will be transferred to your credit account. Its balance will be transferred after submitting the detail.
The availability of multiple credit card payment options makes Bajaj Finserv RBL Bank SuperCard one of the most convenient credit cards available in the market today. Moreover, they also provide pre-approved offers on credit cards as well as personal loans, business loans, and home loans that make the process of availing an advance quick and hassle-free. You can check your pre-approved offer by sharing only your name and contact details online.
Thanks to modern-day integration of technology, paying credit card bill has become a reasonably simple process. The instant availability also helps reduce any chance of a fault or a duplicitous activity.