Your restaurant's menu isn't just an inventory of food and drinks. It's also a key part of your marketing materials. A seasonal menu update could be the perfect way to heat up your summertime promotions.
Thinking about your menu as a marketing tool can provide you with opportunities to engage with your customers before, during, and long after your menu's launch. It gives you the chance to post sneak peeks and social media contests, throw a menu launch event, brag about your ingredients, incorporate summer holidays, create urgency, and highlight all that your restaurant has to offer customers this summer.
And you don't need a degree in graphic design to create an eye-catching menu that can work as the heart of your seasonal marketing. You can find customizable menu templates online to fit any brand or aesthetic at services like MustHaveMenus.
Here are some ways beyond your food and drinks that a summer menu refresh can elevate your marketing efforts and bring in more customers.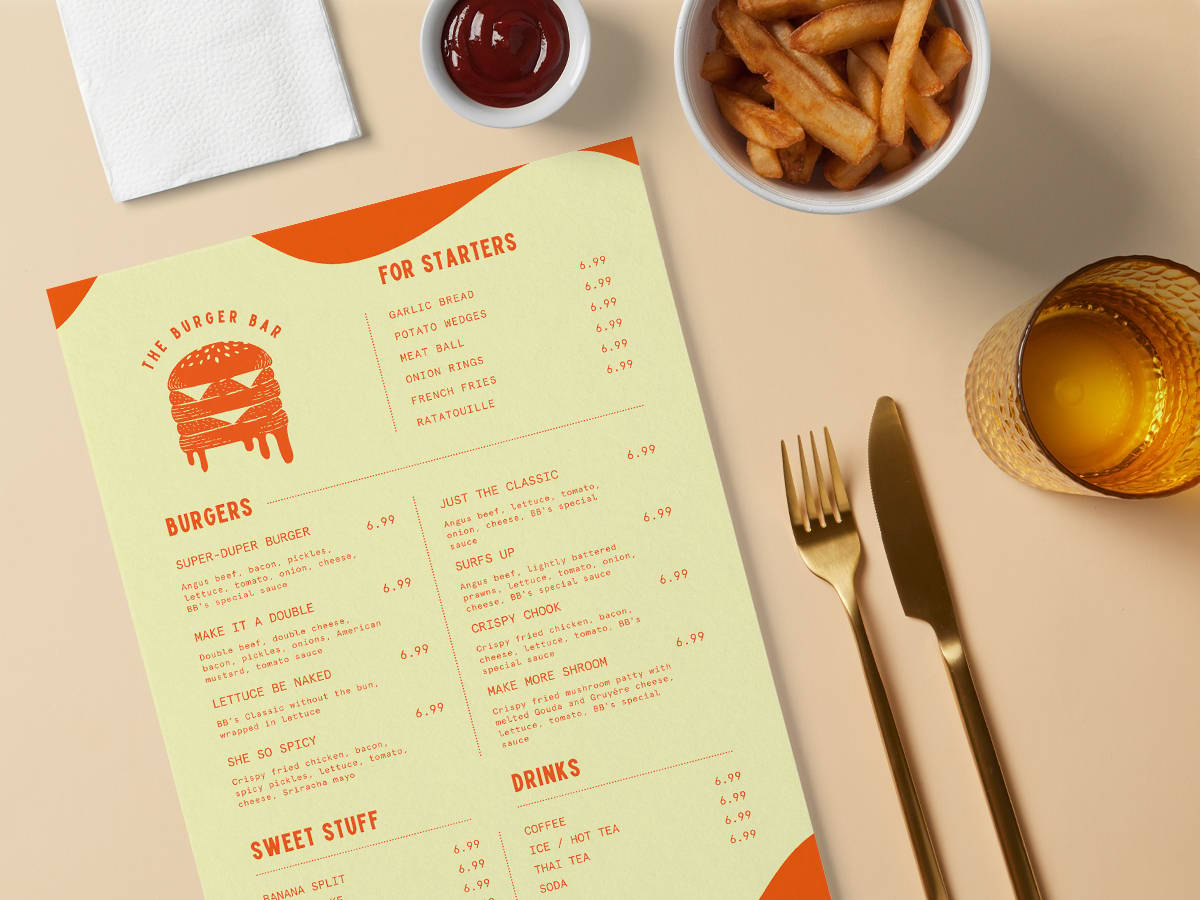 Show Off Your Summer Dishes
A seasonal menu can reduce food costs. When ordering out of season, your ingredients come from farms in other parts of the world. Not only are these ingredients in transit for longer, making them less fresh when they arrive, but the transportation costs can double or even triple the price.
By swapping out things like winter brussels sprouts and citrus for sweet corn and blueberries or watermelon, you can keep your dishes fresh while also avoiding those expensive out-of-season ingredients. So, out with the old and in with the new, but don't forget to tell your guests about it! Fresh and locally-sourced ingredients make great dishes and even better social media campaigns.
Developing a new menu can create a lot of content for your social media feed. Menu sneak peeks allow your staff to do what they do best, as they experiment with new ingredients, flavors, and dishes. Sneak peeks can include snippets of the entire process, from preparing to plating, all in one Instagram reel or TikTok. Or a sneak peek could be simply a photo of your latest summer-inspired cheeseburger on a plate, or being enjoyed by a happy staff member.
For whatever reason, people love to watch others prepare and eat food. And many of your guests will love to see what's going on in the kitchen of their favorite restaurant. A sneak peek is also a great way to highlight your staff's creativity and skill for your customers, and show some appreciation for your employees.
Engage with Your Customers and Followers
Creating a seasonal menu requires tough decisions. Maybe you have three delicious cheeseburgers but only room on your menu for two. Do you keep the burger topped with bacon and kimchi, or the one with melted brie and caramelized onions? Why not let your social media followers decide?
This would be the perfect opportunity for an Instagram poll, or a social media post asking for feedback. You could post two pics of your burgers side by side, and let your followers know that anyone who offers their opinion will be entered into a drawing for a chance to win a free appetizer or dessert.
Also, naming contests can help you develop your menu. Maybe you have a heaping bowl of tater tots smothered in hash, or a summery-twist on a cocktail classic, but you don't know what to name it. You can run a social media contest asking for names. The follower with the best suggestion, or the follower with the suggestion that gets the most likes, wins freebies or discounts off of their next meal, along with bragging rights for the entire summer.
These kinds of social media contests are great for marketing your seasonal menu, but they also encourage your followers to engage with your content, let your customers know you value their opinion, and provide you with actionable feedback.
Highlight Your Suppliers
When you're planning your seasonal menu, keep in mind that specialty ingredients, or ingredients that are local, sustainable, or organic, make for great marketing opportunities.
Your guests and social media followers may appreciate a behind-the-scenes look into your decision-making process when working with suppliers and ingredients. You can do this via an Instagram reel or a pic of a dish with a brief explanation of what makes it special or unique. Specialty suppliers often have their own social media accounts and marketing strategies, and something as simple as sharing your post on their account can be mutually beneficial.
These kinds of ingredients are often more expensive. If you take the time to educate your guests with something like a short blurb on your menu, they'll be more likely to see the value and splurge for something that's higher quality, healthier, or more sustainable.
All of this will help your guests understand the work that went into making your menu, and they'll be more likely to appreciate the choices you've made on their behalf by curating top-notch dishes for them to enjoy.
Highlighting your suppliers may also help you negotiate better prices. By marketing their products for them, and by committing to them for the long haul, you show your suppliers the value of your business. Since prices are rarely set in stone, it doesn't hurt to ask. If nothing else, both you and your suppliers will come away from a negotiation knowing a little more about each others' needs.
Create Urgency
A new menu can keep your employees engaged and happy, allowing them to flex their creative muscles with exciting new flavors and dishes, rather than churning out the same appetizers, entrées, and desserts night after night. So while a new menu can be good for morale, it can have the added benefit of creating urgency for your customers.
As old dishes are replaced with new dishes, let your customers know they need to get them while supplies last, or risk missing out on your best. By committing to a seasonal menu, you can create this kind of urgency every few months with promotions that can be effective on regulars and new customers alike.
This works best for those items that are popular, but that you just can't keep around forever. Maybe it's spaghetti squash, or a hardy brisket sandwich. Post mouthwatering photos of the dish that's going away on your social media feed, or market them on menu inserts or table tents. This is a two-for-one marketing strategy, showing your customers what delicious items are on their way out, while also preparing them for your new menu.
Give an Excuse for a Party
The menu launch event is the core of your seasonal menu marketing campaign. As the day approaches, it's important to promote it with festive restaurant flyers around town, table tents, email lists, social media feeds, local newspapers, and any online magazines featuring local events and entertainment.
You want your launch event to be busy, and the best way to make that happen is to promote it. Your promotional materials should be eye-catching and have the date of your event, the time your event starts and ends, and maybe a quick peek of what your guests should expect. Don't forget your summer-themed marketing twist, encouraging your guests to take a vacation with one of your drinks, or to keep that beach bod with one of your fresh salads.
Incentivizing your menu launch might be a good way for you to provide a little extra nudge to pack your house. You could offer many different promotions, but special pricing on your latest and greatest would be a good start. And if you are using incentives to drum up business, don't forget to include them in your marketing materials, along with a clear explanation of any terms or conditions.
Recognize Summer Holidays
Now that your launch party is behind you, hopefully you've thought ahead to the rest of what summer has to offer.
By incorporating a couple of classic, all-American items into your menu, things like gourmet hotdogs, corn on the cob, and apple pie, you can easily use these in your Fourth of July promotions and events. All that's required is a subtle shift in your marketing, creating fliers, table tents, and social media posts that highlight your backyard barbeque inspired dishes, and you are set for your next summer event.
And you can do the same with Labor Day by thinking ahead when designing your menu, or July 20th's National Hotdog Day. A little bit of forethought can help you lay the groundwork for celebrating not just your menu launch, but any summer holiday you want to use to help drive business.
Beyond Food and Drinks
By thinking about your menu as a marketing tool, a menu refresh could be the perfect way to set up your restaurant for summer marketing success. And you don't have to completely scrap your old menu for a new one. You can keep those tried-and-true dishes, the ones you know customers will come back for again and again, while also offering something fresh and different. And if you want a more customizable experience, free online menu makers will help you make your own way though the dog days of summer.
Author Bio
Mark Plumlee is the Senior Editor at MustHaveMenus. He loves all things food and restaurants. His writing has been published in Food Safety News, Full Service Restaurant, Cheers Online, Modern Restaurant Management, Restaurant Technology News, Restobiz, Quick Service Restaurant, Hospitality Tech, Bar Business Magazine, PMQ, That Oregon Life, The San Francisco Examiner, Blazersedge, and several other blogs. You can follow him on twitter at https://twitter.com/plumlee_mark