Introducing World's most popular music producer as well as DJ is Calvin Harris, which was confirmed again when he received British single of the year along Dua Lipa for the song "one kiss" at the BRIT award in 2019.
Calvin Harris also received the BRIT award for being producer of the year. He for sure is a successful musician, who made his career by starting to make music and recording it in his bedroom when he was in his teenage years, but he met his real success in 2007 with his debut album – "I created disco".
He became a real music contender after the release of this 2nd album, "ready for the weekend" in 2009 and then with the release of this 3rd album in 2012, album name- "18 months" he became the biggest name in the EDM industry.
Calvin Harris real name-
The real name of this successful musician is not Calvin Harris but it is Adam Richard Wiles. His fans realized that this DJ's real name isn't Calvin Harris when he dated Taylor Swift in the year 2016. Taylor Swift at her speech in the award ceremony thanked "boyfriend Adam' and there were people with confused faces, that time his fans realized that Calvin Harris has other names which they Google searched.
Calvin Harris girlfriend- who is she?
BRIT award 2019 was attended by Calvin Harris with his Girlfriend however people have been wondering who is girlfriend of his. Aarika wolf is Calvin Harris girlfriend and they have been dating since 2018. They also dated back for a few months in the year 2015 & 2017. They got linked back in 2014 when Aarika starred in his music video for "blame" that featured John Newman.  Blame was his 7th UK number one single.
Aarika wolf is a model as well, who born in North Dakota in the USA as well as has more than 200,000 followers on Instagram. On Instagram, you can see her posts where she has pictures of her and her pet. In 2018, Calvin and Aarika got involved in a severe car crash in California. As per to American showbiz site TMZ, it was Aarika who was driving the white range rover and she hit other vehicles in which there were 2 girls. Photos in the publication showed that vehicle hit by Aarika was seriously damaged.
Calvin Harris afterward tweeted about the incident saying that he promises himself; he will never do anything again which will make him appear in TMZ ever again however he is thankful that everyone is ok.
Calvin Harris birth date and birthplace-
He was born on January 17, 1984, and at present, he is b35 years old but now he looks completely different from when he first appeared on the music scene when he was 23. Calvin grew in Dumfries, Scotland where he lived with his 2 older siblings. His elder brother is named Edward and the elder sister, Sophie. He then moved to London to start up his music business. Sadly, it didn't work it that time and then he went back to his hometown, at that time he also makes his 1st record signing.
Calvin Harris is quite tall which height- 6 feet, 5 ¾ inch and the size of this shoes is also more- 12.5. Before he becomes a successful DJ he used to do a job in the supermarket stacking shelves. He worked to get money enough to purchase the music production equipment. He also worked in the fish factory and he had the aim of becoming a footballer.
About Calvin Harris career in modeling-
Calvin Harris in 2015 started his career in modeling and he becomes the model star of the underwear campaign of Emporio Armani, Cristiana Ronald, and Rafael Nadal have also modeled for this brand and JB stripped down for the Calvin Klein. In black& white shots he positively oozed with confidence and showed off his toned body.
When did he start making music?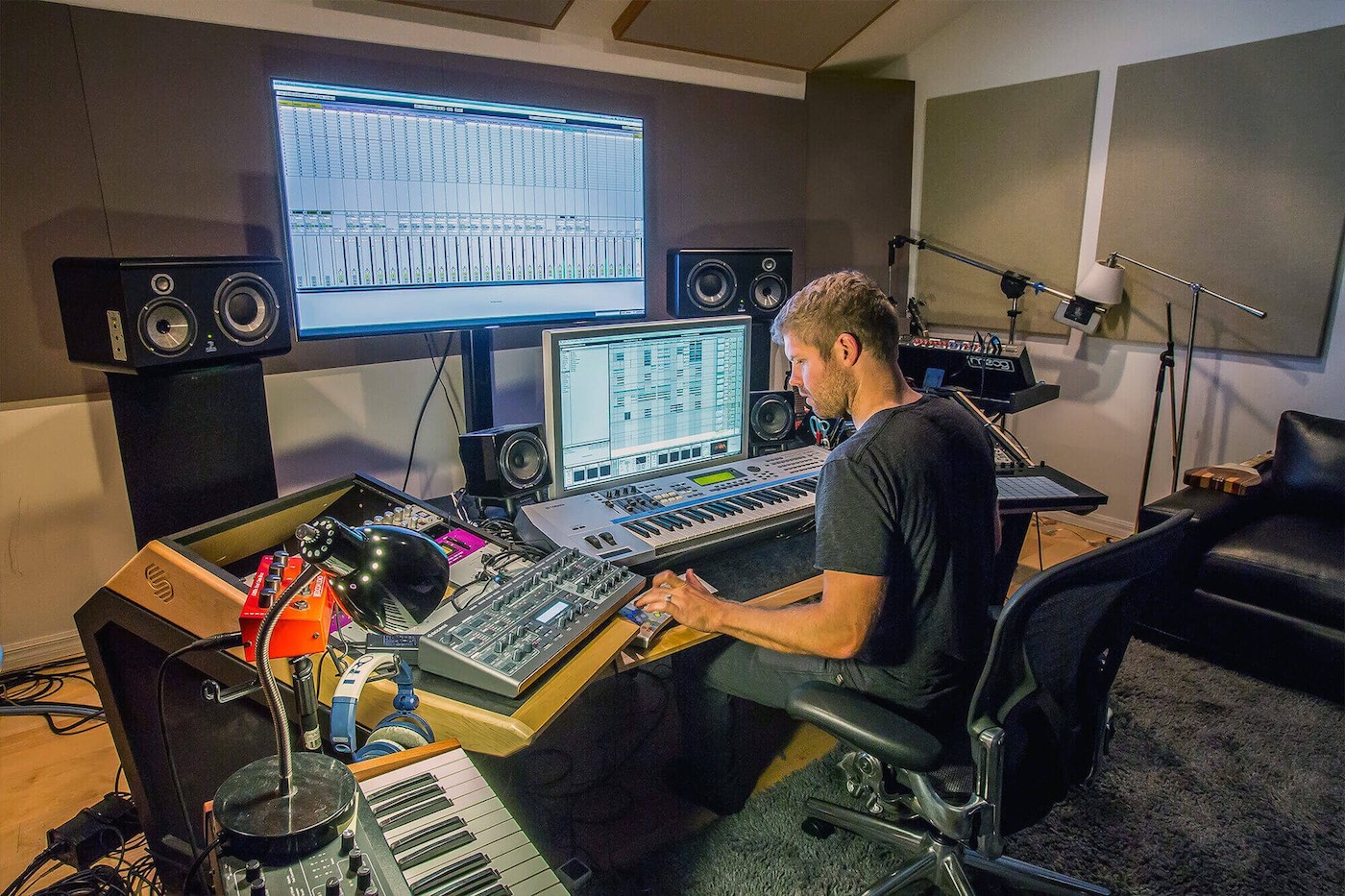 This successful DJ began creating music in the 13-14 year however he first appeared on the music scene with his debut 'I created disco' in 2017 on which he worked after going back to his hometown from London. He made his 1st album using AMIGA 5000+.
What made Calvin popular?
Calvin Harris was discovered via social media site named MySpace. He recorded his debut in his bedroom 'I created disco' and then uploaded his tracks on MySpace. He was searched by the record company and signed prior to being officially releasing album having hits 'acceptable in the 80s' as well as 'the girls' included in it. His second album in 2009 'ready for the weekend' become No. 1 in UK chart, and released more hits like 'I'm not alone' and 'you used to hold me'.
In 2012, Calvin Harris star status rose with '18 months' and he recruited the list of a guest vocalist like 'I need your love' along Ellie Goulding.  More collabs came up in 2014 like 'motion' as well as 'funk wav bounces vol. 1' and in 2017 came up with 'slide'.
Clavin Harris is best known for his collaboration with superstars but if you are wondering that can he sing then the answer is "YES" He offered his vocals for every track on his debut ' I created disco', 'acceptable in the 80s' & 'the girls'.  In the 'ready for the weekend', you used to hold me' and 'I'm alone' 2009 songs he has sung.
This successful DJ was inspired by Fatboy Slim, the Isley Brothers and Outkast the chemical brother when he was teen.  He also saw Nirvana and 90s his like 'smell like teen spirit' as well as 'heart shaped box' which inspired him a lot.
For more details about DJ record bags check Tucker & Bloom.
He is the one who broke Michael Jackson record for top 10 UK hits from the studio album. From 3 years he is in the row of top paid DJ. His net worth stands $220 million and he is the ricked DJ in the world. It is really amazing that how a small boy made an album in his bedroom become the world's richest DJ.