The global pandemic has changed our lives in so many ways and as the world is slowly preparing to return to normality, we would like to express our gratitude to all the mums everywhere, by giving her a Quiet Mother's Day. You've had to juggle working from home whilst also home-schooling your children. You adapted to the new normal and with it, you transformed into something else. Your strength, resilience and kindness hasn't gone unnoticed, and you deserve to be celebrated.
According to the Quiet Mark National Noise Report, over four fifths (82%) of Brits would like to make appliances in their home quieter, with a further 70% saying they're more likely to buy an appliance labelled as 'quiet'.
This year marks the 10th anniversary of Quiet Mark, which was launched by mother and daughter co-founders – Gloria Elliott and Poppy Szkiler. Together they established the global certification programme as a business model to combat noise pollution and restore the value of quiet back into society.
To help you select the perfect gift for mum this Quiet Mother's Day, here is a selection of 12 Quiet Mark certified products that will give her the peace and quiet that she deserves.
Sweet, creamy vanilla, rich chocolate, salted caramel or summery strawberry – everyone's got their favourite flavour of ice cream, and you can make them all in this Stainless Steel Digital Ice Cream Maker. It's quick, easy, you know exactly what's gone into it (unlike the tubs you buy in the supermarket) and it makes healthier-option lower-fat frozen yoghurt and dairy-free sorbet too.
Ice cream inspiration
You'll find six delicious recipes in the instruction booklet to get you started, from traditional vanilla and strawberry to mint choc chip and pistachio ice creams, plus refreshing lemon and mixed berry sorbets and dark chocolate orange frozen yoghurt. And there's plenty more inspiration on Lakeland's blog, with dairy-free and vegan options too for a Quiet Mother's Day.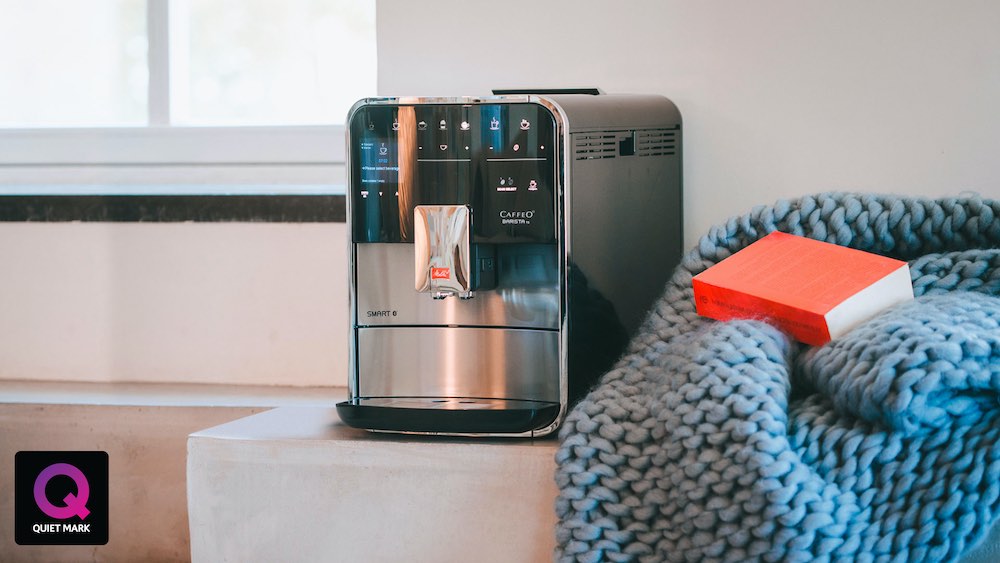 The Melitta® Barista TS Smart® can really do a lot. For example, it can make 21 different coffee specialities. With the right coffee beans, according to the original recipe or your own personal creation.
A special highlight: With the Melitta® Connect app you are able to steer the preparation of coffee and manage many other features really simply with your smart phone.
Lumie Bodyclock Luxe 700FM is one of Lumie's newly updated top-of-the range Bodyclock sleep/wake-up lights, featuring high quality audio with FM radio, Bluetooth speakers, and a selection of over 20 sleep/wake sounds. Other features include low-blue light to be non-alerting at bedtime, fully adjustable bedside lighting, a glass lamp cover; auto-dimming display; sunrise and sunset from 15 to 90 minutes; a nightlight setting; 7-day alarm; dimmable bedside lighting; tap-control snooze; power failure back-up. Which makes it a perfect gift for a Quiet Mother's Day gift.
Hair dryer design hasn't fundamentally changed since the 1960s. Most still use large, bulky motors that can only fit in the head of the machine. The Dyson Supersonic™ is different. It's re-thought. It's small yet powerful digital motor sits in the handle, completely changing the way it works.
A glass bead thermistor measures the air temperature 20 times per second, guarding against extreme heat damage to protect natural shine.
The heart of the machine is the small and powerful digital V9 motor for fast drying. Conventional motors can be slow as 12,000RPM. The Dyson V9 motor is fast, at 110,000RPM, moving 13L of air each second to create a controlled, high velocity airflow.
It's engineered for balance, with a motor that sits in the handle, for a new kind of drying experience.
It's acoustically tuned for conversation. The powerful motor is tuned to produce one inaudible frequency. And it's enveloped by a vibration reduction system, further reducing the transfer of noise between the motor and the case, for an excellent Quiet Mother's Day gift option.
There's nothing more delicious than the smell of freshly baked bread… except for maybe the taste! With a double-paddled loaf pan and multiple loaf sizes to choose from, this easy-to-use Touchscreen Bread Maker does all the work so you can easily get your bake on whenever you fancy a fresh loaf. And because the touchscreen panel is on the front rather than the top, it's really easy to access and use.
Whisper-quiet, cordless AirCraft PowerGlide will quickly, easily and effortlessly clean, polish and buff all your hard floors to a streak-free, professional-grade finish, with no need for soggy mops and easy-to-knock-over buckets.
The HSA 26 battery-powered handheld shrub shears are brilliant for use in small and large gardens alike, as they make pruning small-leaved trees and shrubs so easy!
With plenty of power, the HSA 26 delivers a precise, clean finish when maintaining topiary or hedges using the shrub blades. The teeth on the shrub blade are specially shaped to hold the branches in the cut for a neat cut.
The HSA 26 also comes with an interchangeable grass trimming blade, which is quick and easy to switch over, and is perfect for quickly tidying up lawn edges. It all comes in a handy canvas case to conveniently carry and store the shears, both blades, the battery and the charger.
Designed for large families and entertaining, an invaluable addition to any kitchen and for a Quiet Mother's Day.
Multifunctional 9 in 1 solution
Slices, Grates, Chops, Whisks, Blends, Kneads, Juices, Presses & Dices
Perfect for 6+ people
Chops up to 1.4kg vegetables in the main bowl
Built better to last longer
30 year motor guarantee
3 year parts guarantee
Good Housekeeping approved
The slow juicer that crushes and squeezes to make more juice, with more nutrients and a little fibre for a thicker, smoother texture. A great method for extracting high yield juice from items like wheatgrass, small berries and tomatoes to have a healthier Quiet Mother's Day.
Plants boost people's happiness, creativity and focus. BuzziPlanter adds an extra feature to that list. The upholstered colorful pot, made from high-density foam, has the acoustic superpower to absorb excessive noise in open spaces, creating healthier environments for people to thrive.
BuzziPlanter divides open spaces into luscious green micro-environments, creating calm and peaceful areas to work, gather and relax. Each pot has a built-in plastic container, making it suitable for both real and artificial plants. Thanks to a wide variety of colors BuzziPlanter easily fits into any décor, adding a dash of fun and a lot of silence.
The BuzziPlanter's high-density foam core and breathable fabric covering will help to soak up sound energy emitted from HVAC, speech, and high-pitch sounds such as ringtones and coffee machines. A thick high-density foam layer can be found underneath the plant basket as well, helping to soak up and absorb low frequencies. Additionally, the type of flowers or plants placed in the BuzziPlanter will also help to diffuse sound and respread the diffracted sound waves evenly and break down the energy of wavelengths.
Boil your favourite hot beverages in no time with this 3kW kettle, in a contemporary black and rose gold finish. Equipped with quiet boil technology, you can boil drinks with minimal noise disruption within open living spaces.
Its 1.7 litre capacity can provide up to 7 cups from one fill, while its 360 degree base makes it suitable for both left and right handed use. The boil-dry protection and automatic cut-off safety features make this kettle reliable and practical for everyday use.
Quiet Mark has established a unique alliance of partnerships with leading retailers who are helping shoppers to find the quietest appliance technology available on the market including John Lewis & Partners, Argos Sainsburys, Currys Dixons, ASDA, Lakeland and British Independent Retailers Association.
Quiet Mark  has announced a new partnership with NBS, a leading construction data and specification platform, to empower architects to specify 'acoustics first', by providing a short-cut for specifiers to source responsible products.  The new partnership will enable the 3,600+ practices that use NBS to create specifications to easily source and find Quiet Mark certified products and materials.
Quiet Mark is working in partnership with the US Good Housekeeping Institute, one of the most trusted and respected names in America, acoustically testing and reviewing products for the benefit of its readers and raising the bar for quality acoustic design to support consumers health.
By highlighting the distinctive purple Quiet Mark as a trusted symbol, retail partners are enabling consumers to make a more informed choice about quieter high-performance products they share their homes with. This is a powerful example of collective customer care to combat stress-related noise; an important health and environmental issue.
QuietMark.com currently lists more than 350 certified products by over 80 household name brands. When consumers see their purple Q logo, the Quiet Mark, alongside a product, they know it's been tested thoroughly and can be trusted to be one of the quietest available on the market.
Quiet Mark is working in partnership with the US Good Housekeeping Institute, one of the most trusted and respected names in America, acoustically testing and reviewing products for the benefit of its readers and raising the bar for quality acoustic design to support consumer health.
In February 2020, in a move to further expand its service to tackle noise related problems in building design Quiet Mark launched its Acoustics Academy to include third-party verification of specialist acoustic materials for the building sector including – walls, floors, ceilings, doors, windows etc. This brand-new online platform further equips and empowers architects, builders and designers with a guide to expertly verified leading acoustic solutions for every building application area.