From redoing the paint to adding new furniture, several changes make your home more appealing. Similarly, there is space outside your home that also needs your attention.
Patios or backyards are a part of your home and require as much attention as the indoor space. You could make slight additions to provide a unique and modern look to your patio. Homeowners often think redoing a patio would cost them a fortune, but they are mistaken.
Upgrading your patio is possible without emptying your bank account. All you need are some simple ideas. These given methods are truly helpful for making an ideal patio.
Install New Doors
The first modern touch you could give your patio is a brand-new door. Those times have gone, when people preferred simple wooden doors. Now, we have new and improved glass doors, motorized power screen doors, and more. When you install such options on your patio, it makes your home appear modern.
The best part about having such doors is their custom design and top-notch quality. You could get a glass door that allows light to enter your patio. A glass door looks extremely chic. It provides a mind-blowing view for the homeowner and peace of mind.
Strategically placing a new door in your patio improves the curb appeal of an average home. You could install an automatic glass door for your patio. That way, it would connect the interior of your home to your deck and enhance the appearance of the entire space.
If you think your patio's old door doesn't complement anything, replace it with these new options. Choose something that provides a great outdoor view and looks elegant. Once you choose the right door, your patio looks perfect.
Opt for Stone Pavers
There are tons of ways to improve any space in your home. The same goes for a patio. It's part of your home and deserves all your attention. That is why opt for stone pavers. If your existing place only has concrete slabs, you could add more style with stones.
Pavers allow homeowners to move around swiftly. Thus, you could place stone pavers right on top of your existing patio ground. It would save you money and help the place look modern.
A great thing about concrete pavers is that they don't break under pressure and provide an overall appealing look. Concrete starts to show wear and tear in a few years. Therefore, you will need to replace it. Instead of concrete, it's safe to pick stone pavers for your patio.
There are several options to consider when it comes to stone pavers. You could pick from a variety of surface finishing's, shapes, and colors. Choose something that goes with the overall theme of your home. It's the best option to consider when redoing a patio.
Prefer More Plants
A significant advantage of having a patio is that you can fill it with greenery. Everyone loves to have beautiful plants and flowers in their home. Well, your patio could be the perfect spot to store all of them.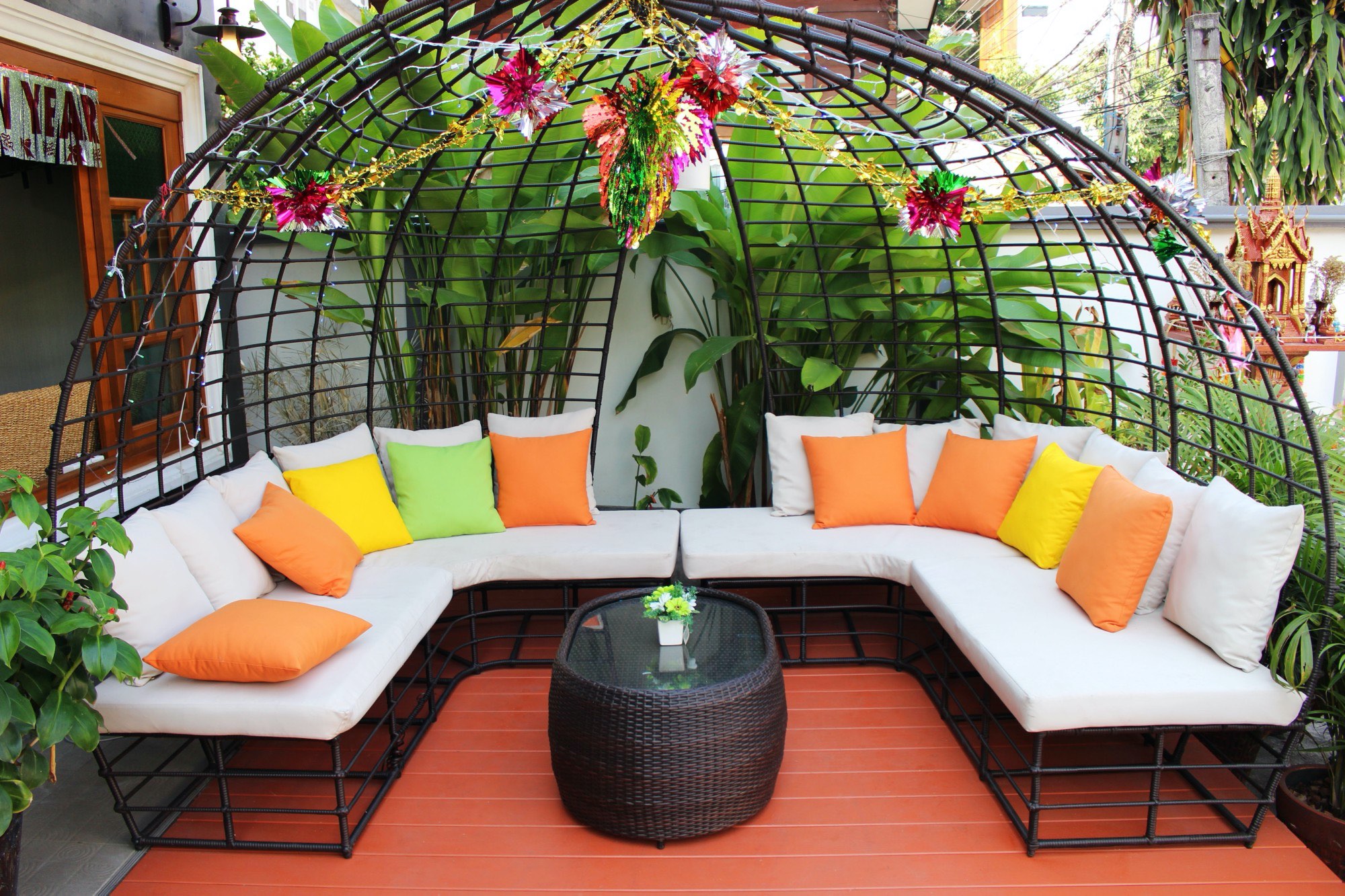 Try adding planters in every corner of your patio. Liven up the space with colorful pots and various species of flowers. In addition to getting fresh air, the patio will look majestic. Being surrounded by greenery at all hours is the best part of having such spaces.
So, have as many planters on a patio as possible. Try placing plants in colored containers that match the overall color scheme. You could even grow herbs or fruits in the space. It would be beneficial and fill any empty spaces.
Choose Quality Furniture
You can also upgrade your patio with quality furniture. Patios are built to provide comfort. One can enjoy evening tea with their family or have a small barbecue. However, to enjoy any gathering, you must also have adequate furniture.
You can give a new look to your patio by adding some stylish seats, a comfortable couch, and a center table. These can be easily found in any home décor store or furniture shop. Think of a theme and pick out furniture pieces accordingly. Your patio looks out of the world when you have the right sofas and chairs.
If you wish to save money on furniture, there are ready-to-assemble options that instantly complement the natural setting of the patio. There are even end-of-season sales where you can find affordable patio furniture.
Build a Fireplace
One unique way to enhance the appearance of an ordinary patio is by adding a modern and stylish fireplace. Whether summer or winter, you can always use the fireplace to cook food or enjoy roasting marshmallows.
Most importantly, a fireplace lit in the evening illuminates the entire space. That is why having a fireplace or fire pit is gaining popularity. These fireplaces, no doubt, make enhance the patio's overall look and are great for bonfires.
You could go online for some inspiring outdoor fireplace ideas that match the theme of your patio. Once you finalize a design, getting started won't be an issue. The cost of outdoor fireplaces is relatively low, and setting them up isn't technical.