The bathroom is one of the trickiest areas in a house to decorate. Unless you're an experienced plumber, you probably don't know the first thing about replacing bathtubs, toilets, or sinks, so your options for decorating the bathroom are somewhat limited.
Don't worry though -you can have the most outdated bathroom appliances out there and still make your personal lavatory feel like a peaceful haven for you to wash and find relief. Here are seven easy changes you can make to your bathroom that you'll absolutely love!
1. Get new towels
Bathroom towels are some of the most underrated decorative items you can have in your bathroom. It's so easy to forget just how long you've had the same set of bathroom towels that once you finally replace them, it'll feel like you're in a completely different bathroom!
For your new set of bathroom towels, skip the sewn-in design that you can never use. Get yourself a set of high quality, fluffy towels that'll make you feel like you're in a luxury hotel every time.
2. Replace your shower curtain
The shower curtain is another commonly overlooked bathroom decoration. The inside of your existing shower curtain has probably been there for too long, and unless you've cleaned it regularly, it probably has a nice collection of mold and mildew near the bottom.
Nobody wants to see (or smell) that, so do your bathroom a favor and replace your shower curtain! Use this opportunity to get a design you love, which you can even use as the basis for your new bathroom theme!
3. Introduce some greenery
Plants bring a sense of calm, coziness, and nature into any interior. Many plants are great for indoor keeping, but not all can handle the humidity of your 20-minute hot showers. Make sure to keep this in mind when looking for the best plants to keep in your bathroom.
Adding a plant or two to your bathroom decor won't just make the room feel more comfortable -they'll help to absorb odors too!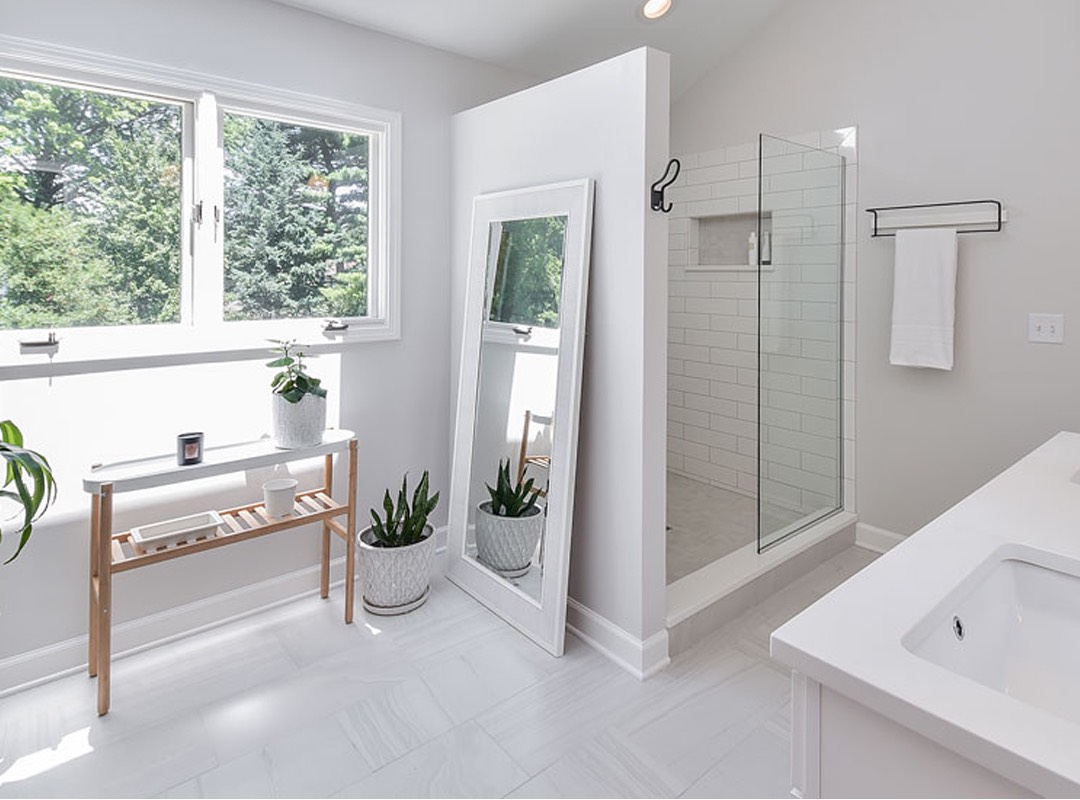 4. Replace your bath mat with a rug
Adding a rug to any space will automatically introduce a sense of comfort, warmth, and completeness. Rugs tie any room together, making them feel finished, and there's no reason not to add a traditional rug to your bathroom for a more sophisticated feel.
You can have the nicest bath mat available, but it's still going to look like a bath mat. In order to elevate your bathroom decor, you're going to need to elevate your toe-comforting game. Whether you go with a high-quality traditional rug from Lawrence of La Brea, or a regular factory-made rug, adding one to your bathroom floor will feel like a great move.
5. Utilize mirrors
Mirrors are easily overlooked because people usually spend time looking at themselves rather than the mirror itself. But if you're after more than just practicality, you might want to consider replacing your mirror, or even adding a new frame for your existing mirror.
If your bathroom is small, you might consider using a mirror on an entire wall to make the space feel and appear larger, or simply adding more than one mirror to amplify the space.
6. Clean the tile grout
Tile grout has a nasty habit of collecting dirt and grime over time, and unless you've cleaned it regularly or have it serviced or repaired by professionals like The Grout Guy, it's likely that your tile grout has turned a nice poop-brown color -exactly what you want on your walls or floors in the bathroom.
In some cases, you can take the time to scrub and put in all the elbow grease you can, but your tile grout is still discolored. If you've found yourself in this situation, you can always paint over the grout for a tedious but worthwhile solution!
7. Add some shelves
We're not talking about those bulky and complicated cabinet shelves you find in the kitchen and hardware stores. If you want to maximize the usability of your bathroom space, consider installing some small free-standing shelves on a wall.
Adding two or three shelves gives you plenty of extra space for your extra toilet paper, plants, towels, and any other bathroom accessories or decorations you'd like to store in the open. Installing isn't complicated, and you'll walk into your bathroom feeling like you've stepped into someone else's home!
Conclusion
Sprucing up the bathroom isn't always an easy task, but if you try these seven changes, we think you'll fall in love with the result!