The world is constantly changing, and your lifestyle might be doing the same. Maybe you've been doing more remote learning, are starting an at-home side hustle, or just need a comfortable space that accommodates your needs as the social, educational, and gaming landscape changes in our world. You're not alone: more than ever before, young people from every walk of life seek to make their space more comfortable, look for the best ways to promote personal well-being, and be more productive as we adjust to spending more time at home. Students, in particular, have been researching ideal writing desks that will make their home a perfect location for work, study, and virtual socializing. Looking for modern writing desks that will meet your needs on a functional level and features design elements that align with your taste? No problem. We've got you.
Here are 7 of the most popular, stylish, and practical modern writing desks that will fit any space in 2021 (and beyond).
The UPLIFT standing desk is a trendy choice for a reason: with a wide array of color combinations, innovative built-in cord organization, and an adjustable option for sitting, it's the ideal surface for both work and play.
You can choose a size that's right for you and customize everything from your desktop surface to the sturdy metal base and hardware so it fits right into your lifestyle and existing decor.
Extra perks include the option to add functional accessories with minimal effort and a 15-year warranty that guarantees product quality and your overall satisfaction.
With a one-touch height adjustment control feature and assembly in as little as 7-minutes, get ready to say "yes please" to productivity.
Are you spending more time studying or working from home now and wondering how to make it work for apartment life?
Not to worry. Even the most compact apartments are fit to accommodate these modern writing desks amidst your trickiest space-saving challenges. Yes, even during those dreaded semesters when you're taking a full course load and trying to keep up with your job, blog, side hustle, or influencer account.
You might even be surprised to learn that flexible, functional furniture designed specifically for smaller spaces can actually be attractive and affordable.
Get ready for those compliments to start flowing in.
It all starts with the cleverly functional WFH (Work-From-Home) desk, crafted from 13 layers of quality wood that can be set up quickly with no tools, then collapsed and stored flat when your workspace needs to become a shared living room at the end of the day.
It's the perfect pop-up workspace for when you need a stable, attractive place to focus and be productive, but also the last thing on your mind when you fold it up to store it under the couch and use your space for entertaining friends.
A desk that's perfect for studying, gaming, streaming content, virtually socializing, or any other type of digital experience can be tough to find when it comes to an affordable home setup.
That's especially true when your entertainment and study space is shared, serves multiple functions, or both.
The solution? A converter that transforms your desk, dining room table, countertop, or a surface of any height and location into the ideal spot for both work and play.
This StandSteady version has been a home productivity favorite due to the electronic adjustment features and human design approach. Gone are the days where everything had only one purpose; make your home multi-task for you!
Sticking to a frugal budget doesn't mean you're obligated to settle for outdated thrift store furniture or sub-par items listed on resale apps.
If a shabby, boho aesthetic just isn't your style, visit a nearby IKEA or find out if their modern and practical Micke desk is available for delivery.
At under $80 MSRP, you can enjoy the aesthetics and functionality of current Scandinavian design without the hefty price tag you'll find in designer furniture showrooms.
Are you going green? Go you!
Remember, though: you don't have to choose between quality and design or an eco-friendly furniture product to meet your day-to-day needs.
The Farmhouse Reclaimed Wood Desk designed by What We Make (or WE for short) is just one example of the brand's personalized craftsmanship and care for the planet we all share.
Using reclaimed wood from the midwest, every piece of WE furniture is proof that sustainable craftsmanship can be accessible to and affordable for everyone.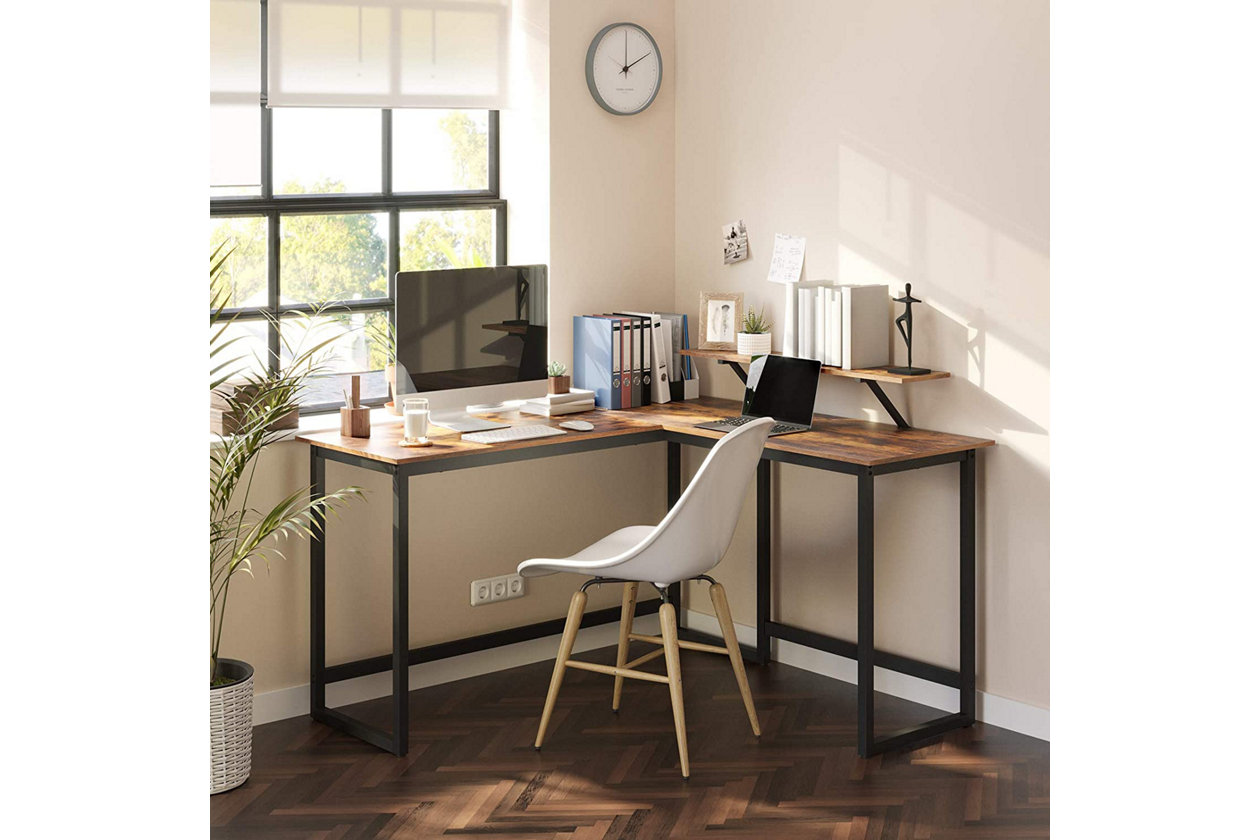 Are you craving a seriously savvy desk design without the expensive delivery fees or a complicated, intimidating assembly plan?
Don't stress: one of America's most trusted furniture brands offers the perfect solution (and for a remarkably affordable price).
The Alinru Writing and Computer Desk from Ashley Homestore features a modern farmhouse design that perfectly fits most spaces.
A charming, attached side table provides space for a printer, file folders, or lamp. Despite the compact size, you'll have what you need to get (and stay) organized with this clever desk.
The main perk: assembly is a breeze with accurate instructions to build these modern writing desks step by step.
If you're interested in spending a decent amount of money to invest in a writing desk as EverDesk+ crafted from the highest quality, you can't go wrong with the natural approach. Natural materials and features are timeless design elements that won't ever go out of style and, if that natural build sounds like your kind of desk, check out the Humanscale Float + Sit desk offered by Rejuvenation.
This option is a unique product crafted from a solid wood tone of your choosing, featuring a patented one-hand adjustment mechanism that allows you to switch from sitting to standing effortlessly.
Besides the aforementioned design and quality perks, you can enjoy the Rejuvenation White Glove Delivery Service. That means your desk will arrive at a time of your choosing before being assembled by pros familiar with the product, who can then haul away the packaging for you.
If you're going to invest in quality and superior design, it doesn't get much better than those modern writing desks.
Conclusion
While it may not seem like a big deal to choose the most inexpensive or attractive desk available, you may want to think again.
A demanding load of coursework means long hours at your desk, so it's essential to invest in the one that meets your needs and fits your budget.
Best of luck finding your ideal desk! With these suggestions, you can't go wrong.
AUTHOR Bio
Ryan Sundling is a Group Marketing Manager at Cardinal Group Management. He has over 10 years of experience in the conventional housing industry and works with The Depot at Akron on a daily basis to help them with their marketing efforts.