Are you buying a new home or remodelling your old one? This is an ideal period to design and create the bathroom of your dreams. Seeing all those beautifully designed modern bathrooms in various magazines and TV shows won't make you drool anymore. By sparking your creative side, you now have a chance to create a perfect eclectic lavatory that will make everyone gaze in awe.
What does an eclectic style actually mean? The eclectic style uses the best of all worlds. High-end and modern? Sure. Retro and rustic? Bring it on. Bohemian and hippie? Why not? Even though at first glance, it may seem like a bunch of random stuff thrown together, an eclectic bathroom can look magical if styled correctly.
1. Mosaic
Imagine having an artistic masterpiece in your home and it is your bathroom. No, it's not a typo, we literally meant that your washroom might be a masterpiece. How? One word: mosaic. Using various glass or stone pieces, you can create a beautiful pattern on your bathroom wall. Tiny pieces don't have to be your only option. Consider using tiles of different designs, patterns and sizes to create a unique art piece in your washroom.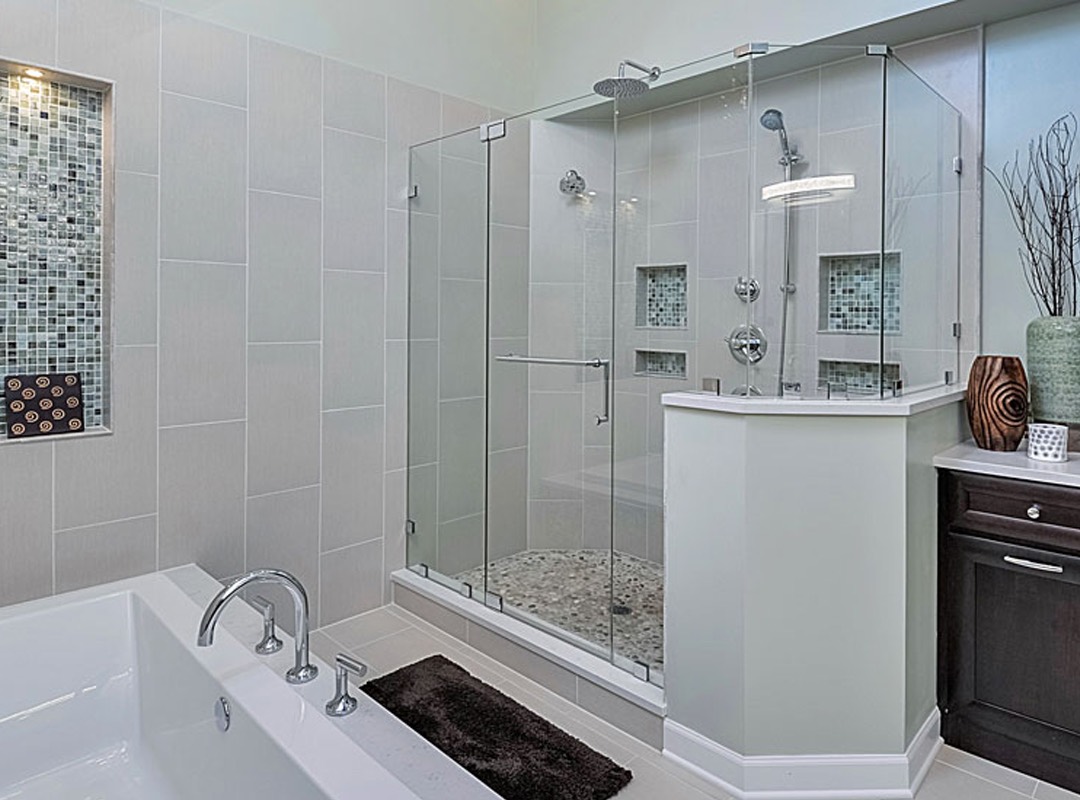 If you fancy the classy style more, opt for two to three neutral colours, such as blue, white and brown, that will calm your eyes and mind. If you're an artistic person with a desire to experiment, bring everything in. From yellow to grey, from blue to red and orange in the middle, colours can be the best feature of your bathroom.
For free-spirited, open-minded creative individuals, this type of design is a paradise. Since many famous scientists and artists have thought of the ideas for their most remarkable works in the bathroom, why don't you find inspiration in there too? Looking at the breath-taking design you've made, flows your creative juices indeed.
2. Luxe look
Contrary to what people say, having money doesn't mean you'll succeed in your mission to create a modern, eclectic bathroom. An expensive bathroom does not equal a beautiful one. That's why there's a way in which you can design the best but inexpensive bathroom in your home.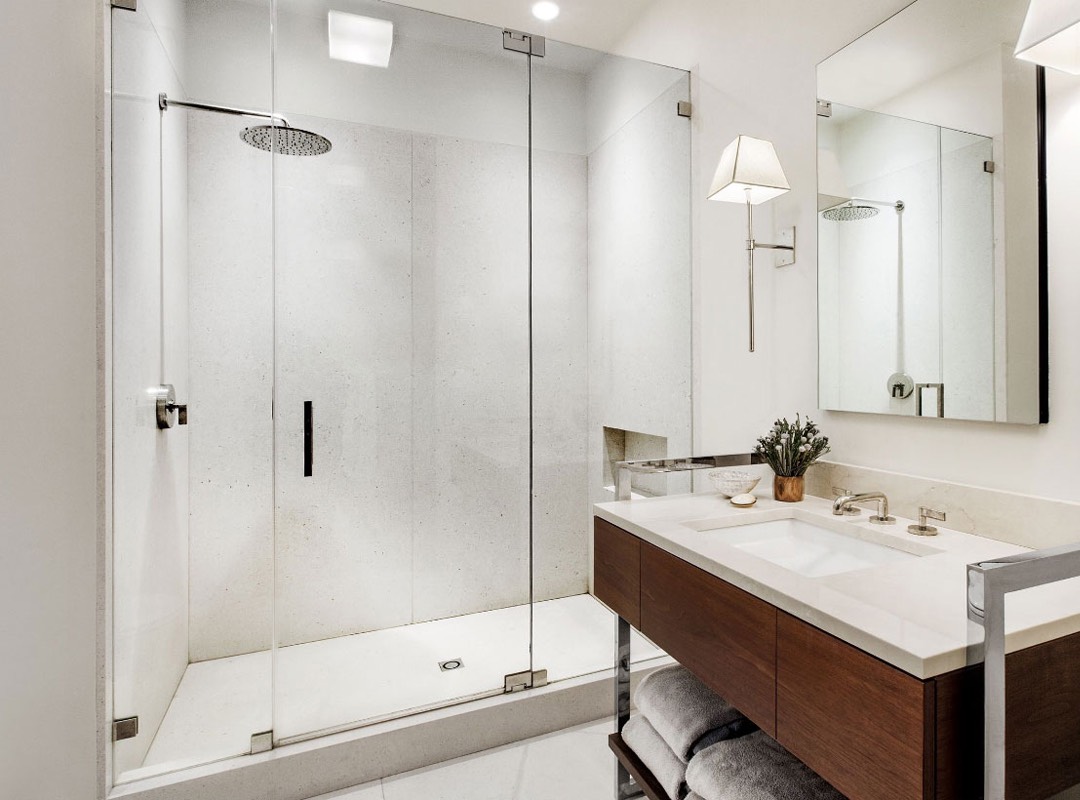 For a luxurious look, consider picking a certain style for your bathroom. For example, darker shades such as blue or brown, go well with a stone wall or wallpapers with simple but elegant patterns. If you add classic white bathroom components and some accessories, you'll design a bathroom of your dreams.
Another option is a marble. Where doesn't it look luxurious? From temples to monuments, marble is a classy and sophisticated addition to your new or remodelled bathroom. However, more affordable and long-lasting replacement of marble is quartzite. It looks just like marble, but it's heat resistant which means that you can shower with steaming hot water without damaging it. Combine it with a darker coloured carpet and bathroom elements, and you'll have your luxury lavatory.
3.  A bathroom with a view
Do you have a beautiful view from your house you wish you could look at no matter what you do? A bathroom with a view is heaven-made for you. Imagine having a large tub, filled with hot bubbly water, a glass of cold beer in one hand and a full view of house roofs or nature. Is there anything more relaxing? So, instead of the plain wall, think about installing a huge window.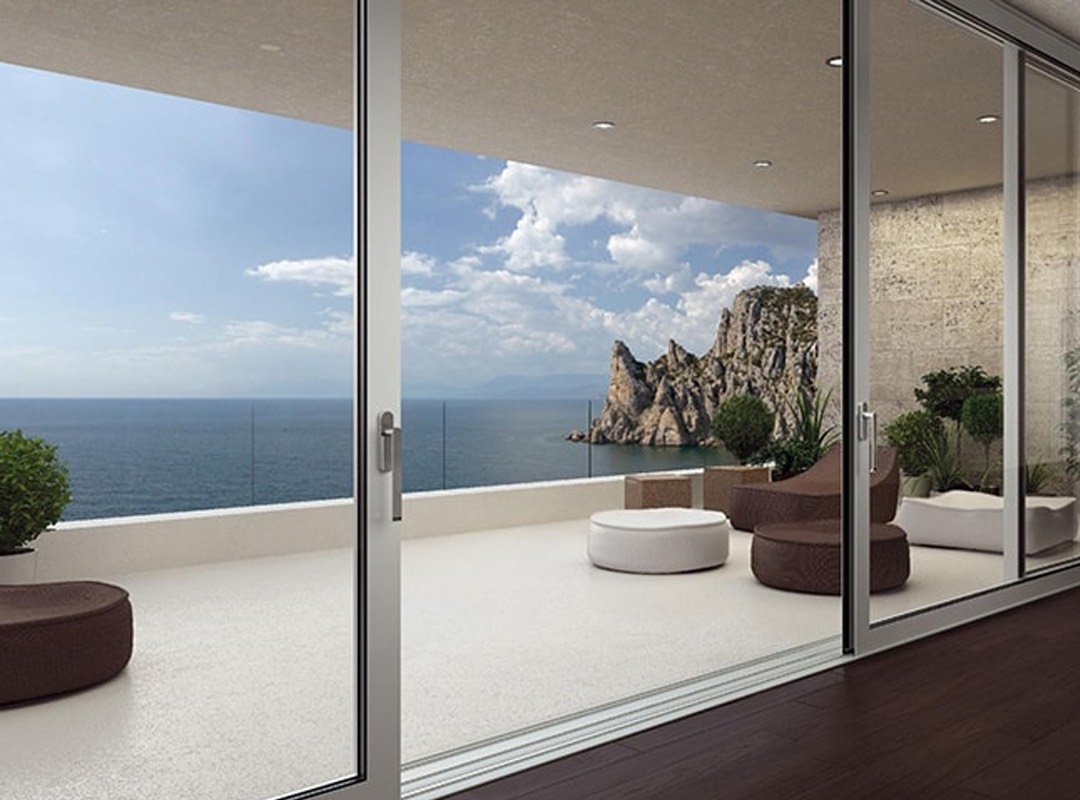 The only problem is a possible lack of privacy. Luckily, things like two-way mirrors exist. You can admire a gorgeous green space in front of you while staying away from the eyes of the public. If that isn't good enough for you, you can always get full-length curtains that match your bathroom's aesthetic, but that beats the purpose of a bathroom with a view, doesn't it?
Another, a bit controversial, idea is to install a TV in your bathroom. You can watch your favourite team play while relaxing in the tub or jacuzzi, but be careful not to stay in the water for too long.
4. Comic strip style
Are you a fan of comic-strips? Why don't you make it your bathroom theme? Turn your passion into an amazing decoration. You can take this idea in two directions. Firstly, you can buy or make comic strip wallpapers for your bathroom. Make sure that they are water-resistant. If you opt for this, don't overdo with other accessories. Implement simple white or black bathroom elements with no other colours. Comic strip wall will make your boyhood dreams come true.
For more mature version, try framing a couple of comic strip heroes and hanging them on your bathroom wall. Even though this design is pretty original, for a more unique style, try frames of different sizes and shapes. There are no rules when it comes to hanging a framed image in the eclectic bathroom. Do you want to hang it by the floor? Sure. On the ceiling? Great idea. Let your creativity break through.
If neither of those is your go-to, try placing action figures to spice up your bathroom. Match them with a superhero bathroom mat and a shower curtain, and your eclectic comic strip bathroom is complete.
5. Mirrors
Not many people are lucky enough to own a spacious bathroom but don't worry, that doesn't mean you can't have a beautiful, eclectic one. There are various tips for designing a small bathroom interior, and tricks to visually enlarge the space at your disposal. The first hack is a full-length mirror. Mirrors are an optimal solution if you want your washroom to appear more spacious. Besides, they are a great bathroom accessory.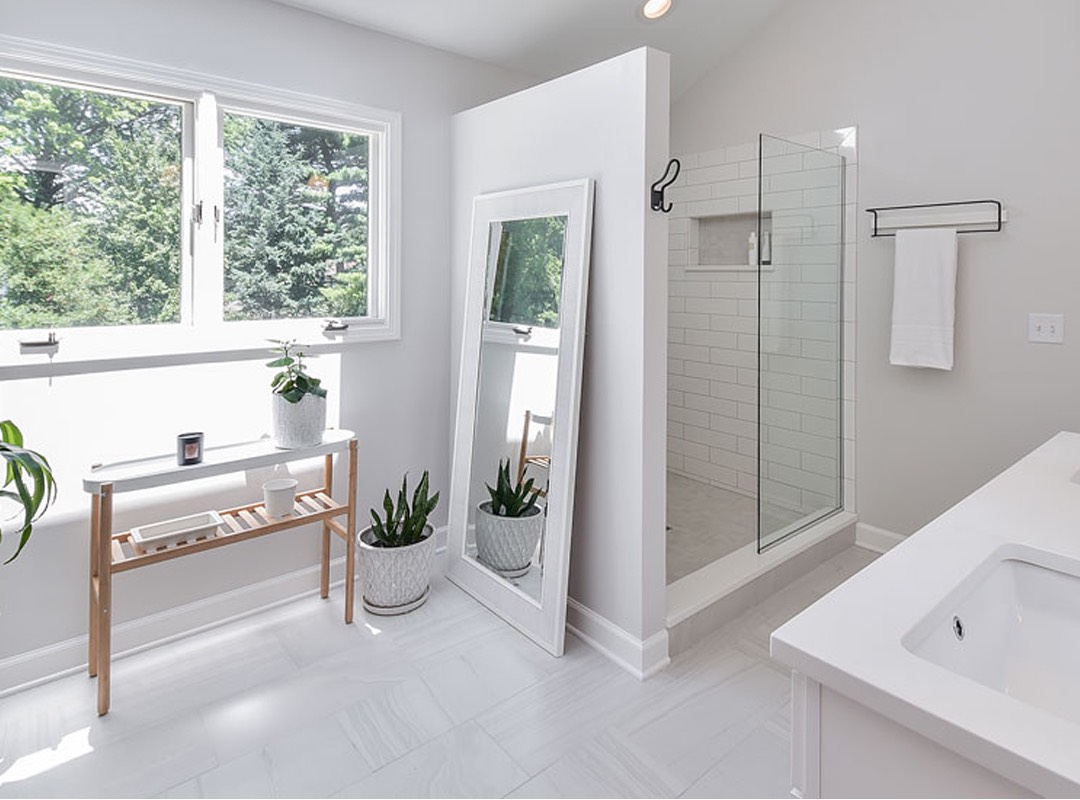 Alongside with a mirror, you can organise your bathroom necessities in levels with strong, classic wooden shelves. When it comes to small bathrooms and spaces in general, it's important not to overcrowd them. That's why installing shelves at different levels saves the spaces, looks modern and eclectic and doesn't overcrowd your washroom.
Additionally, don't use dark shades or colours in your small bathroom. Even though they may look beautiful on spacious ones, they will make your bathroom seem even smaller, creating a claustrophobic feeling. Instead of that, try with lighter colours such as light brown, white or light grey. They are still stylish but light enough to make your bathroom look bigger.
6. Minimalism
Minimalism has been a trend for years, but adding an eclectic touch to it makes it innovative. The main motto of minimalism reads "less is more", but wouldn't that make it contrary to the eclectic design? Not at all. Various structures and patterns can be combined with any style in any room, especially in the bathroom.
For example, many Australian houses have modern bathrooms, but they all look the same which makes them unimpressive. Lightly coloured tiles with basic expensive elements and no tasteful design, that's how an average Aussie bathroom looks.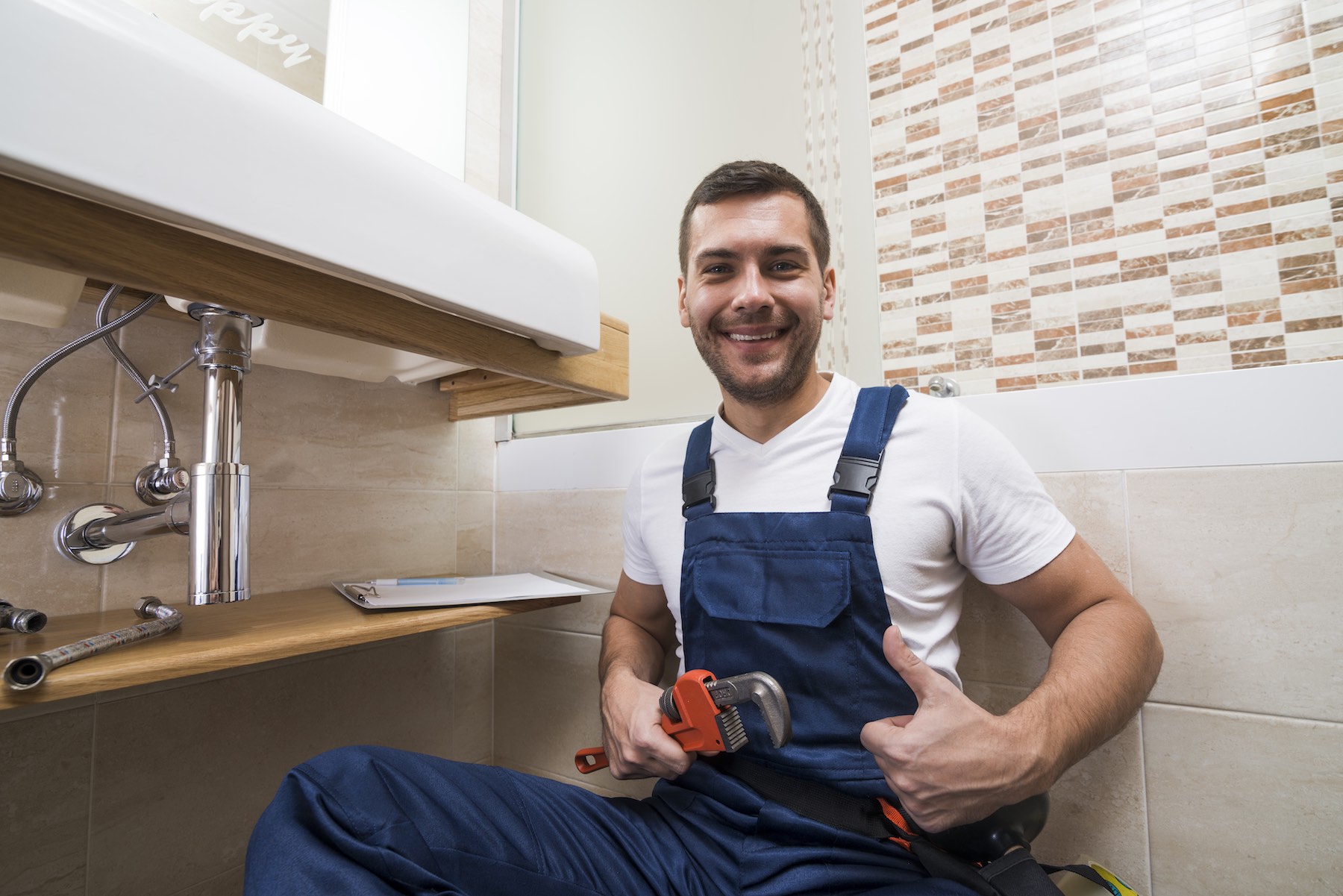 Applying this innovative and unique combination to your bathroom will make everyone in your Aussie neighbourhood green with envy. To achieve that, firstly you'll need to equip your washroom with high-quality bathroom supplies from Sydney. Those metallic, modern basin mixers, white, porcelain basins and a matching white free-standing bathtub are a perfect start for bathroom from your dreams. Combining that with wooden shelves for towels and green plants, you'll have a match made in eclectic minimalistic heaven.
7. Accessories
For an eclectic style, bathroom accessories are a must-have! Whether you'd go for classic or modern, adding a potted plant or a carpet here or there will do wonders to your usually dull space. Don't be afraid to experiment with various accessories, but don't overdo it. You don't want your washroom to look like a hoarder's warehouse.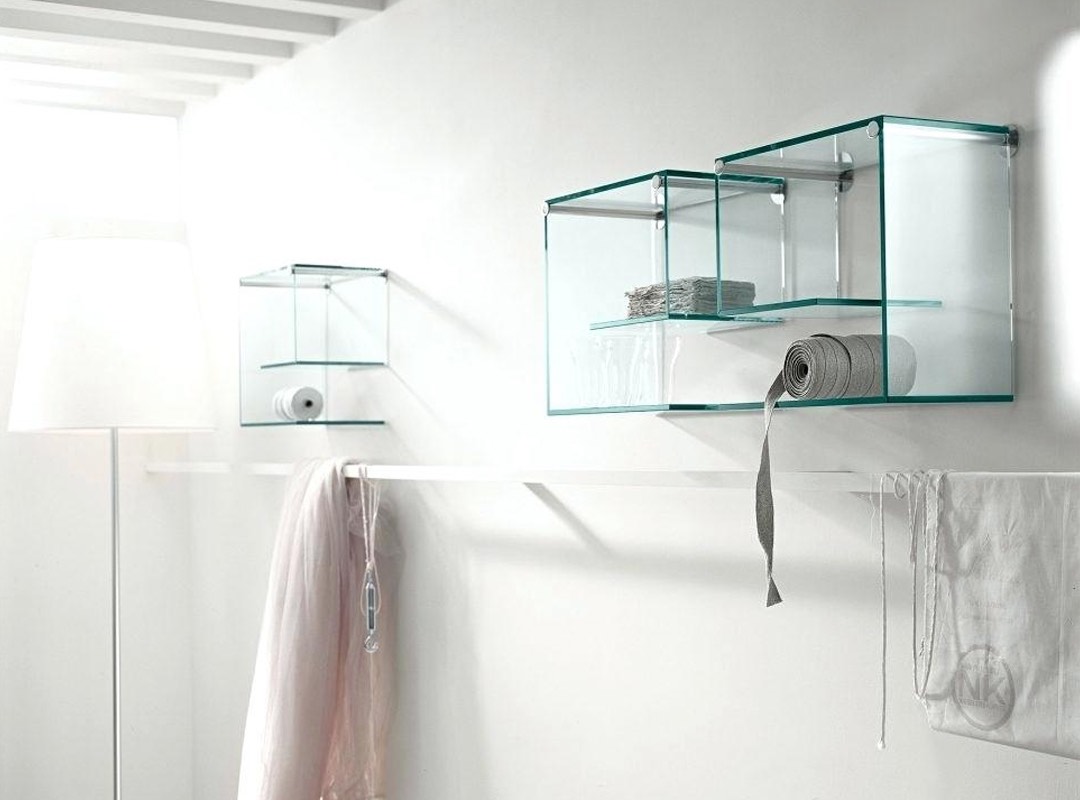 For example, you can add a unique shower curtain that will stand out in the darker coloured tiles. Experiment with the light. Add a neon light for that 80's look or unique light bulbs for a stylish touch. Don't forget to include a mirror or more mirrors various sizes as special details.
You can even make your bathroom accessories. Decorating a living space doesn't make you less of a man, so put those curtains up or implement the hanging lights. You can even create an interesting memory lane using old photographs to add a special rustic charm to your bathroom.
Conclusion
Designing a bathroom can be a wonderful and enlightening experience. You'd be surprised how many different patterns, shapes or colours go well together. If you aim for a classy eclectic look, go for the darker shades or mix different patterns. Artistic designs always go with more colours or something daring, such as a mosaic art piece in your lavatory.
There is nothing wrong with experimenting with different styles, besides isn't that the purpose of the eclectic style? In case you don't like the outcome, you can always add a little something here or there to spike it up.
Having something unique, that defines you is the key component of this style. So, take the matter into your own hands and create a bathroom of your dreams using whatever comes to your mind!