Like everything else, some styles also keep coming back so that you can refresh your lifestyle choices. For example, you can think of a gold color. A sign of luxury and richness once, golden hue used to dominate home interiors, from living rooms, bedrooms, kitchens, and bathrooms. But the shiny surface couldn't survive in modern times for its failure to match evolved sensibilities. The loudness of the tone diminished its popularity with urban people. However, everyone has waited long enough for this color to make a comeback. Today, you can find it as an integral part of luxury bathrooms and kitchens.
You may wonder how that old polished brass finish can gain ground when it is so flashy. Well, you no longer need to rely on it to enjoy a touch of gold in your bathroom. The finish has undergone a massive transformation to embody an inescapable decorative and designer appeal. If you can't believe, check a modern gold bathroom faucet. The brushed gold look can leave you awestruck for its new golden age avatar that can easily uplift any home décor in a snap.
Difference between brushed gold and polished gold
It has been many decades since the gold hardware ruled almost every bathroom that craved for luxury, becoming a staple choice for them. In the 21st century, you may not be open to adding something with an outdated aura about it. You can feel tempted to change your faucets and other things with contemporary brass or chrome. But you don't need to miss the trend of golden accents in modern bathrooms any longer. The brushed gold hardware can change your bathroom decor from boring to stylish. It stands out from others because it has transitioned from its loud brass existence to adopt a more sober and sophisticated brushed gold appearance.
The muted gold-tone doesn't require you to be extra careful with its maintenance, which you could not imagine with polished brass. Since it is classic and modern, you can trust it to serve you for a long time. Its transitional form makes it an ageless choice.
As far as polished gold's option goes, its reflective surface allows it to blend with only traditional décor. You can keep calm if you want to create a Victorian charm. Otherwise, it may look out of place. Plus, shiny structures tend to get tarnished soon. Discoloration and fingerprint marks can cause the polished gold finish to lose its novelty within a few days of use, which may not be favorable for many homeowners.
Suppose you have been rejecting the idea of experimenting with gold fixtures and accessories in your home because of the memories of outdated shiny polish. In that case, it is time you revisit your designing goals. The latest brushed gold surface on the market can be a perfect addition to your luxurious bathroom. The modern color with assurance for spot-free experience can mingle with any interior scheme. It can be a valuable addition, especially in a high-end bathroom.
The use of brushed gold in the bathroom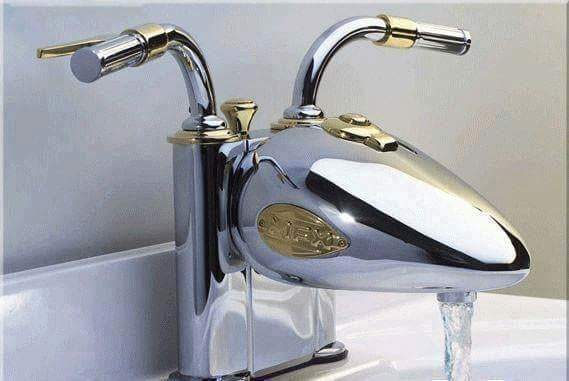 The main hero of most of the bathrooms tends to be the sink area. The combination of sink and faucet can play a massive part in this. For instance, you can have a white undermount sink and pair it with a brushed gold faucet. While white is elegant and soothing, brushed gold can attract your attention to its warmth and richness. As such, the union of white and gold has always been a symbol of flawless opulence. So, you can't go wrong with this.
When you install a golden faucet in your bathroom to complement its décor, you get the liberty to play with many textures and colors in the surroundings. To be precise, if you want this theme to take over, you can place a brushed gold mirror behind your golden faucet. The bathroom shelves can be glass material with golden borders. The power outlets and vanity cabinet can be black with pewter handles. You can choose a teardrop shape for the handles. Step back a few feet and imagine your space in white, gold, and black. Some homeowners love this mixture too much because black cabinets, white sink, and golden faucet and accents in a white bathroom lend an immediate sense of spaciousness and upscale feeling.
It is only an example. The possibilities of working with brushed gold faucets and accents are endless. You can continue to explore your ideas until you reach the final decision. The old, shiny brass finish may have been challenging to match with anything in the décor. The new subdued golden tone on the other side is soft. It has become an excellent team player, shunning its leadership image, the one that you don't regret.
You may think if this is a good idea to add two golden faucets in your bathroom. Well, if there is enough space for two sinks, you can bring two brushed gold taps for them, hesitation-free. It would not look overwhelming if that were your primary concern. You will have two sinks only when there is enough space in the bathroom, and hence, you don't need to worry about it.
A lot of people explore brushed gold options to elevate the overall interior theme of their bathroom. It is easy to believe also because brush gold finish has a class. It is bold but not flashy. That's why it has become a typical feature in bathroom remodeling projects. If you want to try it, search branded stores for golden faucets. Visit well-known places to discover the right appliance for your bathroom. With them, you don't have to think about quality and durability. The leading companies use only high-quality materials to give you satisfactory customer experience.
The prices can vary. But paying little more for something better doesn't pinch as much as it does when you compromise with lower quality material. Your entire investment will be a waste if it doesn't function the way you desired. So, if you like anything in terms of style, design, strength, and technology, it will be best not to let it go for a few extra dollars. You can recover this one-time cost over time.