It's a design staple that has been around for centuries, but a new tile collection from Porcelain Superstore is putting a contemporary spin on traditional Terrazzo.
The Modern Terrazzo collection uses statement colour combinations to bring a contemporary feel to this most evergreen of tiles.
From the brooding Tutti Frutti Dark – which combines pastel chips against a black background – to the freshness of Arlo Blue, a striking tile combining neutral chips with sky blue porcelain, the Modern Terrazzo collection brings contemporary styling where tradition has previously reigned.
Porcelain Superstore's Abbas Youssefi said:
"When it come to Terrazzo, the real deal is eye-wateringly expensive and achingly traditional.

"However, our porcelain alternatives are not only kinder on the bank balance but have a modern edge with plenty of colour options for those who want an injection of modern style while still paying homage to a design classic.

"This collection of tiles oozes an ultra-cool vibe that is perfect for contemporary interiors."
Arlo Blue: £49.50 per square metre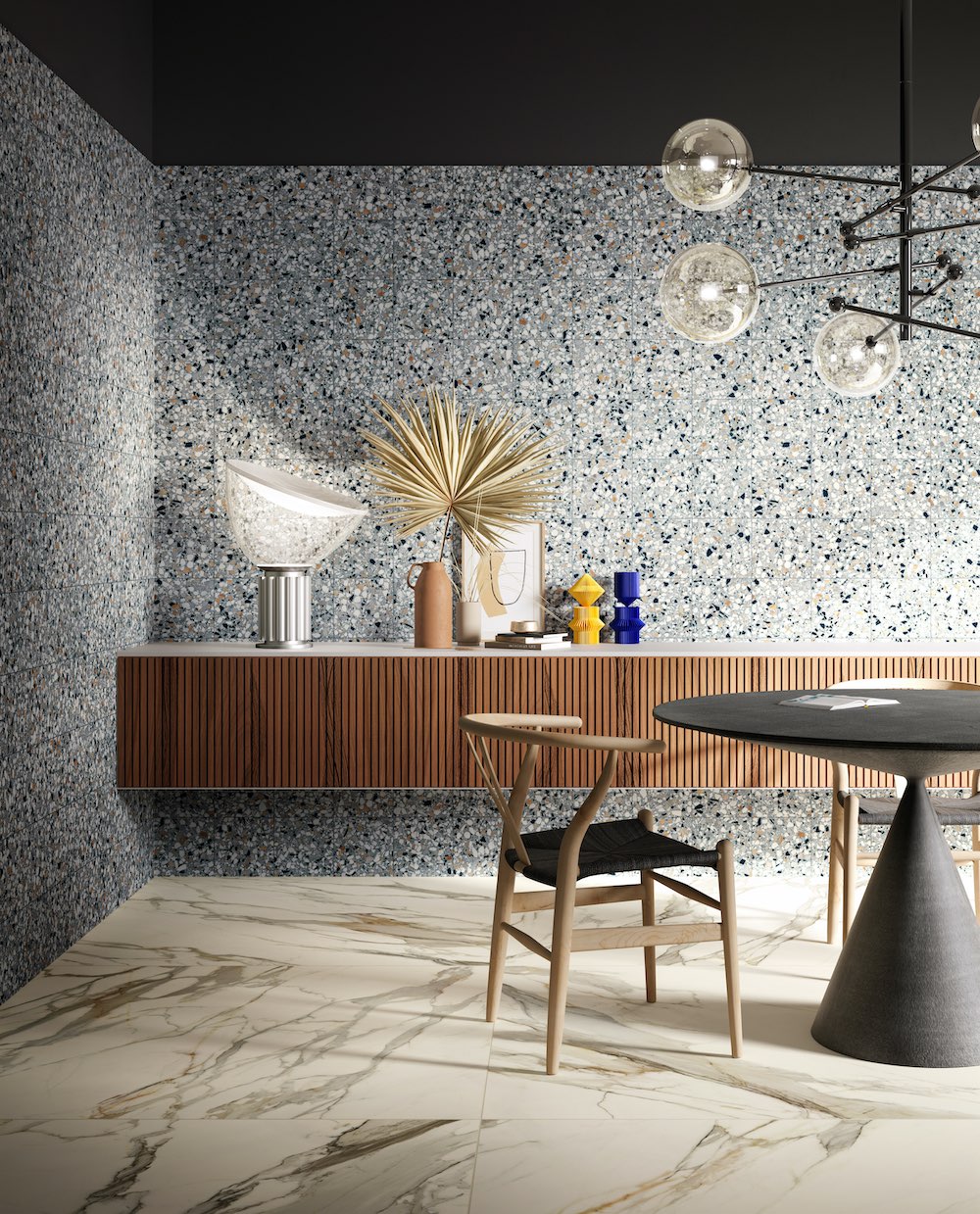 The striking design of these tiles is inspired by the traditional Terrazzo flooring found in Venice, with randomly assorted fragments set against a mid-blue background. This retro styling is perfect for all interior styles, from period to contemporary; they will naturally work as an eye-catching maximalist feature floor, and are perfect for adding a pop of interest in a more neutral setting.
Compared to real Terrazzo, these authentic lookalikes are incredibly affordable, putting otherwise unattainably expensive flooring within reach. And best of all, they can be used on pretty much any wall or floor throughout the home.
Arlo Light: £49.50 per square metre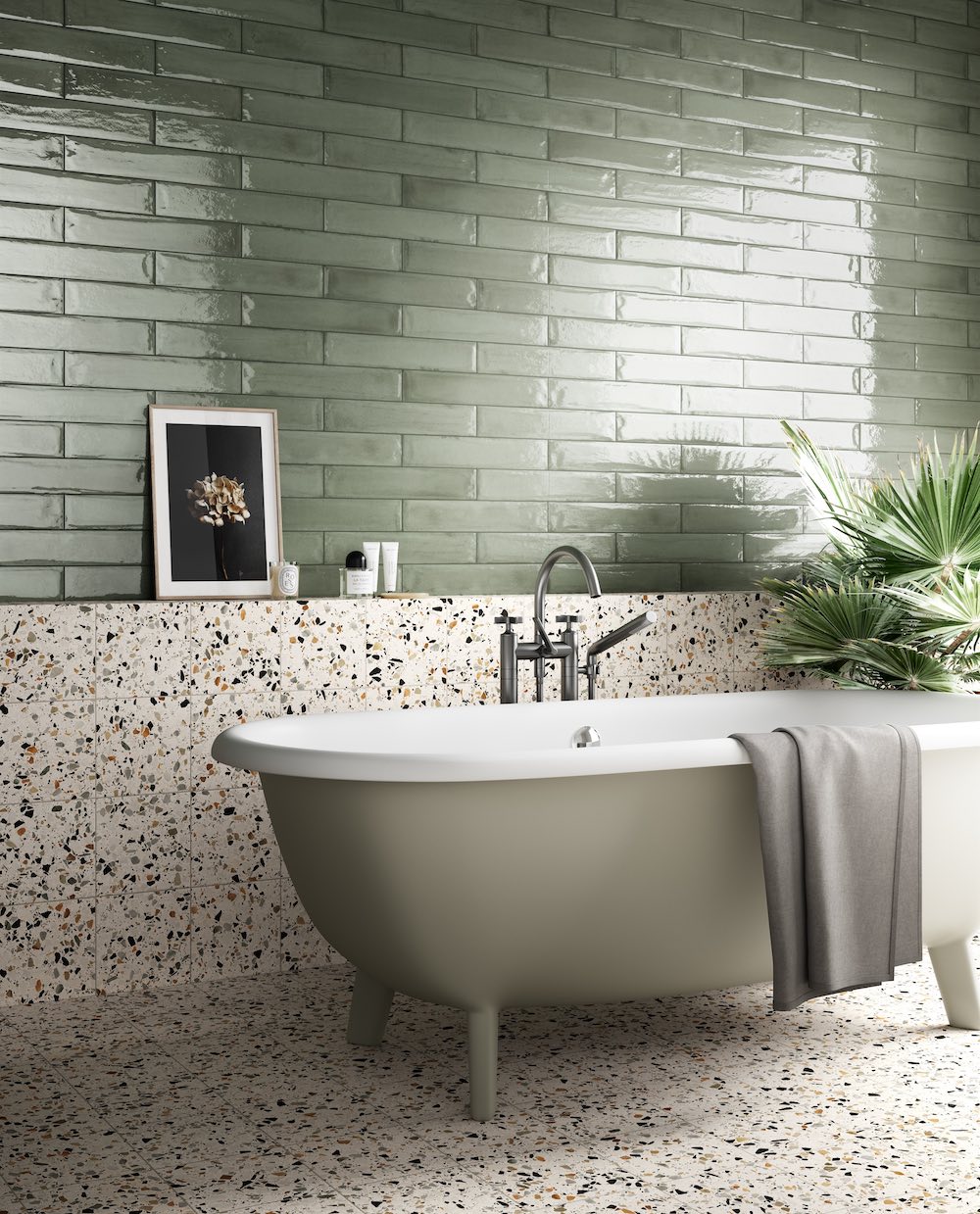 Like authentic Terrazzo floors, these tiles ooze laidback style, ideal for modern interiors.
The super-realistic chippings add depth and colour, some even boast a subtle shine for added eye-candy points, giving a strong aesthetic that is sure to stand out in any space.
Available in a relatively small size (20cm x 20cm), these tiles are extremely versatile and will look fantastic whether they're adding style to a floor, pizazz to a porch or making your walls go wow.
And to top if off, they are made in tiny San Marino. How is that for additional hipster points?
Tutti Frutti Dark: £44.81 per square metre
Inspired by the elegant poured floors found throughout Venice, Tutti Frutti Dark feature coloured flecks of blue, orange and green (among others) – designed to look like embedded glass fragments – set against an almost-black background.
These porcelain tiles are anything but boring and can be used to create truly original spaces on both the walls and the floor. So if you fancy a striking spashback or a fabulous feature floor, this is the tile.
Fancy something a little more pared back? Team with a plain white tile for a scheme that packs a very stylish punch.
Tutti Frutti: £44.81 per square metre
This playful take on Terrazzo is inspired by colourful confectionary and features a rainbow of colourful chips, set against a plain white background.
You don't need to have a sweet tooth to love these tiles, which are perfect for just about any space. They are a great starting point around which to build the rest of your décor. Choose to keep things simple with a plain complementary tile, or go all out and choose something bold from our Modern Terrazzo range.