Alfred Hitchcock once said that 'happiness is a small house, with a big kitchen'. And we'd totally agree! Unless your kitchen's grown old, outdated, and a bit tired around the edges…
After all, your kitchen should be the heart and soul of your property.
Nonetheless, the kitchen has become an integral part of most homes over time. It should be a place where you can entertain guests, cook or share delicious food with family, and be well-equipped with essential
kitchen appliances
. Having these modern kitchen equipment's will make time spent in the kitchen more useful, relaxed, and pleasurable, and everyone in the house will be able to catch up over meals in peace Most individuals, who desire a modest lifestyle, buy these modern household appliances because they are the most efficient to use, saving money and time. You've come to the perfect site if you're looking for advice on how to make your area well-designed, spacious, and modern. Continue reading for our best tips on how to design a kitchen that gets everyone's attention.
Would you like some help modernizing your outdated kitchen space? You're in the right place. Keep reading for our top tips on how to create a kitchen that's for 2021.
Out With the Old
You could start by clearing out anything that's grown old and tatty. Outdated kitchen cabinets (including the knobs and handles), appliances, and countertops are all prime suspects here. They might be discolored, broken, or functional relics from decade's past- any of which would be reason enough to replace them in the bid for a modern kitchen.
Cast an eye over the area and consider chucking out, selling, or giving away anything that's become an eyesore. However, try not to be too wasteful. Look closely and you'll see plenty of opportunities to repurpose and/or bring a fresh lease of life to otherwise weary equipment (more on this next).
Repurpose Where Possible
Replacing everything in your current kitchen with modern alternatives is a sure-fire way to resolve this problem. But it's definitely not the cheapest or most environmentally-friendly!
Thankfully, most outdated kitchen spaces have huge amounts of hidden potential that mean you don't need to go to this extreme. With that in mind, always look for opportunities to repurpose what's already in place.
For example, you could repaint the kitchen cupboards or remove the doors to expose the shelving underneath. How about displaying your antique kitchenware on a central shelf, putting hooks on the wall and hanging pots and pans from them, and so on? You'd be amazed at the difference a few simple steps can make.
Refinish Your Countertops
Refinishing faded kitchen countertops is the perfect example of repurposing. Of course, you could rip out your old ones and replace them with something more modern. But why go to all that trouble (and expense) if you can attain similar results by refinishing your current countertops instead?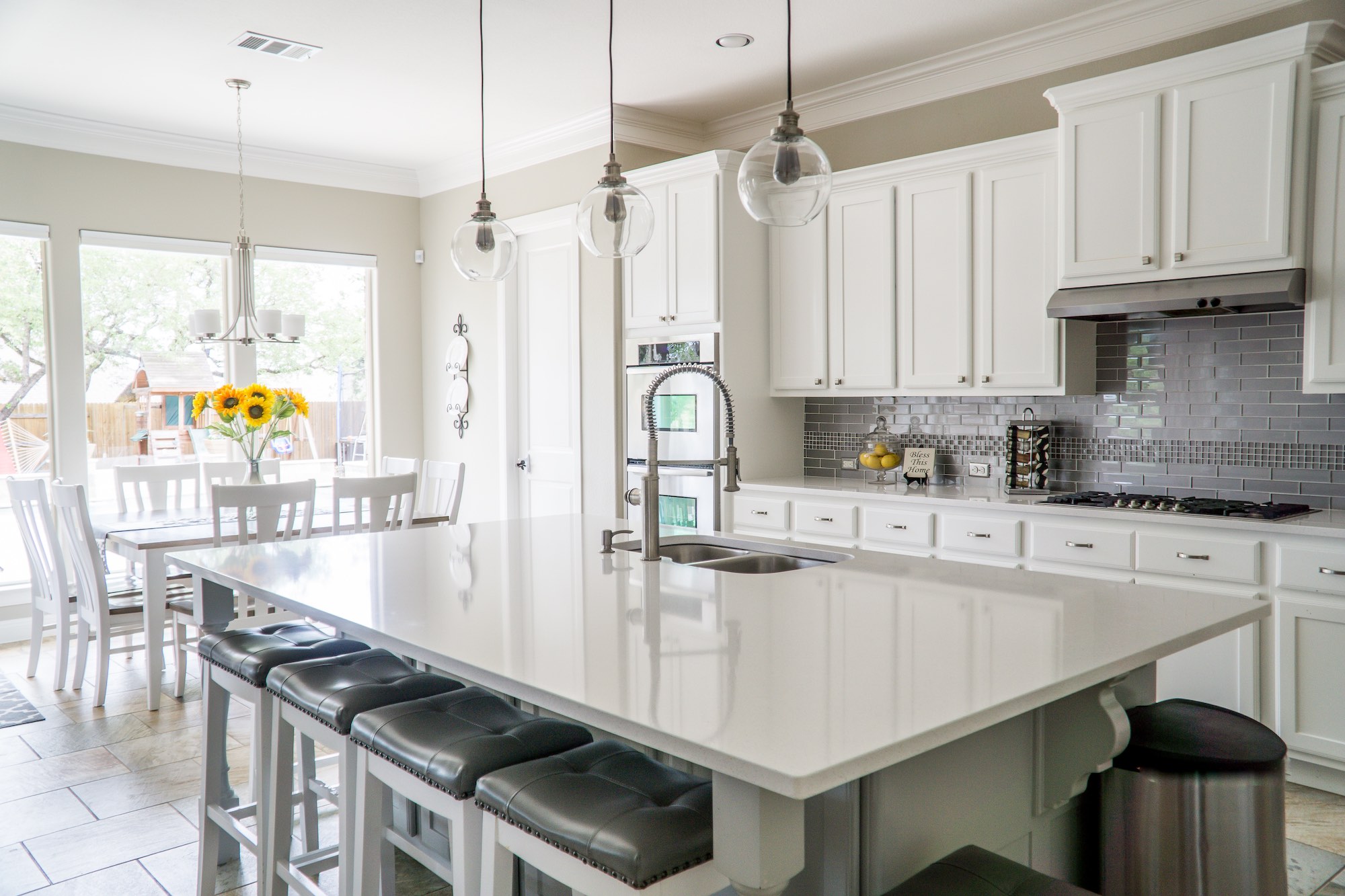 Whether you choose spray paint or polish for the task, you can transform the appearance of your kitchen for less than $20. These types of products can cover old marks and stains, fill scratches and dents, and replenish colors as well.
Replace Your Flooring
Many homeowners forget to look down when they're renovating their kitchen space. They're so focused on their appliances, cabinets, and countertops that they forget about flooring. Alas, swapping out old linoleum or vinyl floors for something timeless (such as hardwood) makes a world of difference.
We know, this isn't the cheapest way to modernize an outdated kitchen. Yet you can definitely see it as an investment! As well as being beautiful to behold, hardwood flooring is durable, resilient, and highly sought-after by homeowners everywhere.
It costs a lot upfront, but it won't require repairs or replacements anytime soon. Even better, you'll recoup some of the cost whenever you sell the house.
Install New Lighting
No kitchen updating process is complete without installing new lighting in the room! Even something as simple as installing LEDs can rejuvenate a tired space. Feel free to get creative with it though.
How about dangling pendant lights from the ceiling at different heights? Using wall sconces to shed ambient light around the room? Or even installing a full-on chandelier?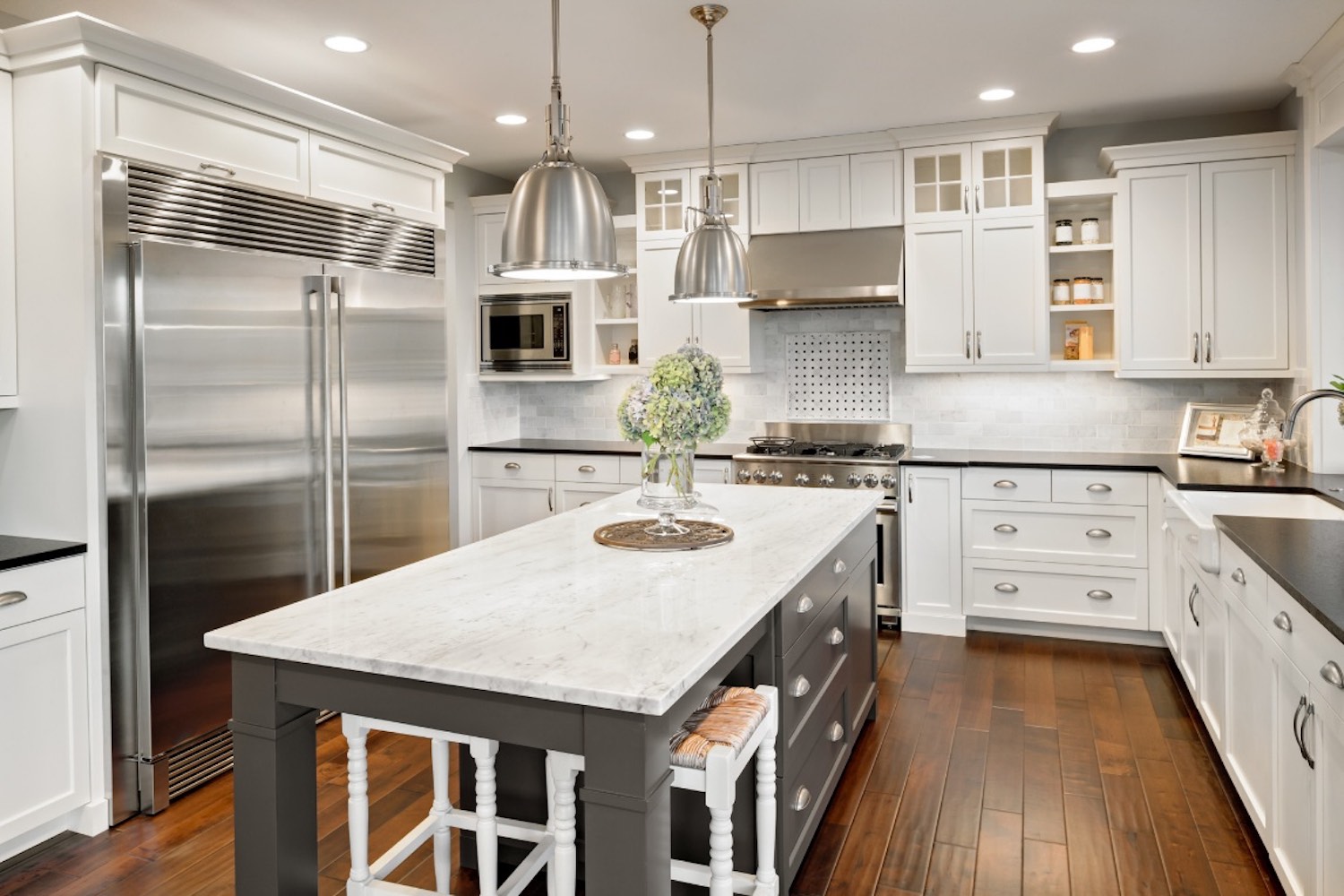 Just make sure whatever changes you make to the lighting are as functional as they are aesthetic. Low lighting might be lovely and modern, for instance. But with sharp knives and scorching stovetops around, you have to be able to see what you're doing too!
Replace (or Install) Your Backsplash
The backsplash behind your stovetop might be in desperate need of attention. Or, worse still, you might not even have one! In either case, this is another quick and easy fix that can make a big aesthetic difference.
You could go the whole hog and install real tiling, but stick-on backsplashes offer a cheaper solution that you can install yourself. Snip them with scissors into the right size/shape, fix them in position, and voila, you're good to go. You'll end up with faux-tiling that protects your paintwork from splashback and looks far more modern as well.
Remove Unnecessary Walls
Willing to make major renovations? Why not knock down any unnecessary (AKA non-load bearing) walls that enclose the kitchen? You'd open up the room, creating a lighter and more modern open-plan layout for everyone to enjoy.
You'll also establish more space in the process. With fewer walls in the way, your kitchen will extend out into adjacent rooms in the house. Everything from entertaining guests to cooking with your partner should become easier thereafter.
Hire the Professionals
Modernizing an outdated kitchen doesn't have to be a DIY endeavor either! In fact, for the best results, you could seek out professional support with the task. From interior designers to kitchen renovation companies, these kitchen remodeling services have all the experience, insights, and equipment to improve your kitchen's décor in no time.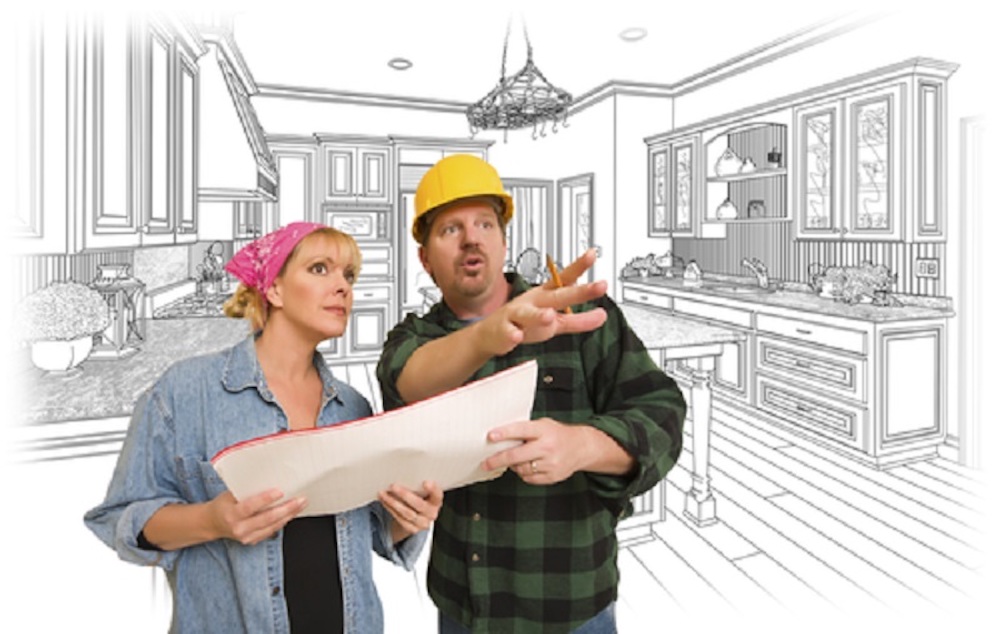 It's definitely the more expensive option. But if you're short on time, ideas, or inspiration, then you'll never regret the decision to hire professional help. They'll call upon their expertise and work with you every step of the way to create a dreamy modern kitchen.
Time to Modernize Your Outdated Kitchen
Have you been thinking of modernizing your outdated kitchen? Well, we don't blame you! Kitchens are the heart of any home and bring friends and family together around a love of food.
For the sake of entertainment, functionality, and general enjoyment, giving your kitchen a new lease of life can make an almighty difference. With any luck, the kitchen trends of 2021 in this post will help you do it! Keep them in mind and you'll be one step closer to cooking in the modern, pristine kitchen of your dreams.
Would you like to read more articles like this one? Search 'renovation' on the website now.