What happens when you live in a house with a beautiful garden and a patio that you want to spend time in, but simply can't? The reason may be that your patio isn't covered and that spending time outside can be a bit of a drag for you. A patio is a wonderfully functional part of your house, so why not make it even more functional, by adding a nice cover. This gives you the possibility to enjoy all four seasons without worry that you will get sunburnt, or that a leaf will fall in your coffee. If this sounds like a dream come true, keep on reading and we will show you how to cover your patio and don't break your bank.
Wood slat patio cover
Using a wood slat is a creative way to cover your patio. It will give you a warm and rustic vibe. It can almost be considered another room in your house, lacking that extra fourth wall. But, it is perfect for hotter climates, since you can install a lamp with a fan to provide more airflow and maybe drive away all the flies and mosquitoes.
To get rid of mosquitoes and other bugs, you can also use mosquito trapping lamps like Buzz B Gone. Its sleek and modern design will blend well with your patio, and it traps mosquitoes without making a mess. It is portable, and you can power it with a USB cable.
If you pair this rustic looking patio cover with a brick fireplace, instantly you will have a space to spend colder nights, curled up in front of the fireplace with a blanket and a nice mug of mulled wine in your arms. This patio cover also allows you to put a dining table there, for entertainment, since no dust or leaves can fall on the plates. So you can entertain away in your beautiful, country looking patio.
Narrow-slat pergola patio cover
We know that pergola technically is not considered a patio cover, but in this case, it is. Its frame stands on the patio itself and you can add a wraparound screen for a little more protection from the sun. Or, you can leave only the pergola roof, to partially protect you from the sun, but still, let you enjoy on a sunny day.
Mind you, this patio cover is not ideal for protection from rain and snow, and it doesn't provide full protection from the Sun, so it should be used in mild climates – to serve the purpose of letting you spend more time outside. However, if you are the type of person who would spend only summers outside, this can be a perfect option for you, since you can dress up your pergola cover with pendant lights and curtains for a more relaxed feel. Perfect for game night with friends.
Sail shades fabric cover
Repurposing something meant for an entirely different use screams budget-friendly. And in this case, it is. Sail shades are an easy and affordable way to cover your patio, which is also creative and will give you endless possibilities. And with a little skill and effort, you can even install them yourself. Depending on how big your patio is, which part of the year it is and how the Sun moves during the day, you can position the sail shade whichever way you want.
And the best part is, you can reposition them at any time, to fit your needs. Sail shades provide a full cover from the rain or snow, but they are not so effective when it comes to UV rays from the sun. They are too thin and light to provide protection, but you will feel cooler under them, especially if there is a wind to ease the temperature. Pair it with some ice-cold lemonade and friends, and you got yourself a party.
Retractable awnings patio cover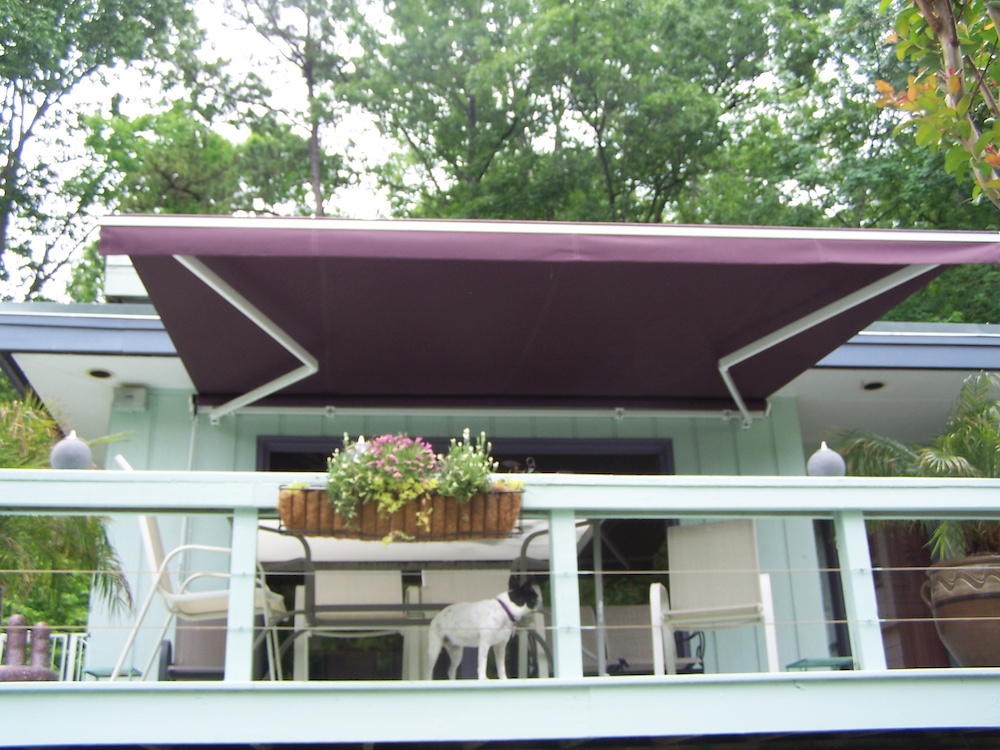 Retractable awnings are in many ways a step up from sail shades. Not only are they more durable, but they also protect from the UV rays that we mentioned earlier. The benefits of a patio cover that doesn't let UV rays through are a smaller electricity bill, and less fading of the furniture and carpets. Electricity bill is smaller because you won't have to crank up the AC as much as you used to, saving you money in the long run. And by preventing the UV rays fade your furniture, carpets, and curtains, you won't have to change them as often as you would without these awnings.
Another positive thing about them is the fact they are retractable – meaning that you can set them according to your needs. If it's hot and you want the protection, pull them out. If you want to enjoy the morning sun with your coffee, retract them and get some vitamin D. However, you will most likely need to let a professional install them, assuring that they will actually work. Contacting a professional company, like Oztech for example, means that you won't have to go with the DIY route. Trust us here, leave your ego at the door, unless you have decades of experience in this field you don't want to install a retractable cover on your own.
Plant patio cover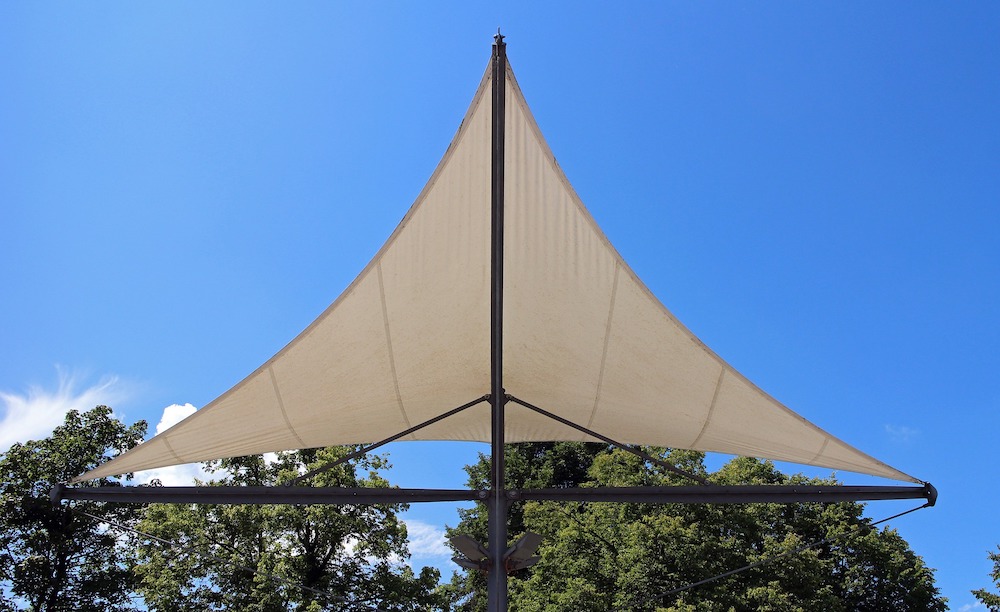 One of the easiest, cheapest and most creative ways to cover your patio is with plants. They are easy to install, give a romantic feel and a boho-chic vibe. You can choose between so many options, like a vine-covered trellis, or large trees, or a vertical garden. Various types of vines are always vigorous growes, and they will wrap around any construction that you setup. However, it may take some time, so if you want fast results, maybe this is not the best option for you. If you are willing to wait for the next season, you will have a beautiful, natural shade that will require almost no upkeep. And you can always cover your construction with a sail shade until the vine grows in.
Large trees, on the other hand, are something you can buy and re-pot the, or plant near your patio. They will keep growing and ultimately be a perfect shade for your entire garden. And if your space doesn't allow for bigger plants, you can always use fabric pocket planters that you will fill with lush plants or succulents. Whichever option you choose, we are sure that it will make a heavenly patio.
Curtain patio cover
If you are in need of a little bit more privacy from your nosy neighbors, then this is the perfect way to go. Curtains will not only block the sun and make a more bearable patio in the summer, but it will also hide whatever you are doing so no one can see it. Double that, the curtains give off almost a Morrocan feel, so you can play around with decorating your patio with rugs, poufs and many colorful pillows. Or you can just leave the patio plain if you like a more toned-down feel. And the best part is, you don't need to have an entire structure to hang them from. You can, but if you don't have the means or the opportunity, you can make simple DIY stands to hang your protection perfect.
Roman shade patio cover
Roman shade patio covers are perfect for areas with mild weather throughout the year. They are not the best option for windy areas since no one wants to see your patio flying off into the sunset. When it's supposed to be styling your perfect relaxing area. The good side of them is that you can retract them or pull them out as you please, and you can even have parts of your patio exposed to sun, and parts in the shade, so that everyone can enjoy themselves in the temperature they like.
Another point for Roman shades is the look of them – they can be made of leather, which is a perfect solution for those of you who are not so much boho-chic, romantic types. This provides a more masculine style that you can dress up or down as you please. So, if you are a bachelor, wanting to entertain people in your back yard, this is a stylish, yet functional way to do so.
Tiki Thatching
If you crave for an island feel but are unable to move to an actual island, then this solution will be perfect for you. The type of thatching you will choose depends on where you live. If you live in a dry, hot and windy climate, the best thatching is the natural tiki one. But if you live in a humid climate and don't want to maintain your patio cover all the time, opt for a synthetic one. There is a downside to synthetic thatching though, it won't look as natural as the real tiki one, and it is a bit more expensive to install.
Conclusion
And there you have it folks, some of the best ways you can cover your patio, while still being on a budget. As you can see, there are many ways to go when choosing a patio cover. And the best thing is, there is something for every taste and preference. We hope you feel inspired by our list and you found something for your patio to go perfectly with your entertaining or relaxing needs.