Jewelry is all about passion, style, heart, dreams, and soul. You can explore a wide range of best talisman men's bracelets on the website of AWNL jewelry to find the one that suits you the most! AWNL, short for all we need is love, is a men's dedicated Talisman jewelry brand with Nordic lineage and elegant style.
The talismans of AWNL'S JEWELS are powerful, protective. They've got a slew of amulets to choose from, for health, wealth, luck, love, etc. The indulging and exclusive selections of AWNL's Scandinavian designs are classic but not boring, elegant but not outdated, collected by top talented Nordic jewelry designers plus high-quality meteorite jewelry of luxurious men's bracelets with a positive meaning.
Get inspired by the Scandinavian style! It was a simple concept, but it challenged the quo, landing somewhere between the over-adorned commercial Scandinavian jewelry of the time and the hardcore style of the Nordic/Stockholm orient. From Talisman jewelry to meteorite bracelet collections, AWNL is the masterpiece of all types of jewelry brands for men. AWNL is still about going out and seeking new ways, new things, and new adventures. It's a living brand in constant development and motion.
For getting the words and vision short, AWNL's jewelry for men is based on a belief of Nordic mythology that is about the ability of material products for holding power, spreading the 'energy' was one of the main reasons of AWNL brand to be launched in the first place. Refinishing and refining modern jewelry design, AWNL is more passionate and consistent with the creation of 'magic' objects that helps to nurture the brand.
From the rare crystals to Swedish meteorite, from Smoky Quartz gemstone to Picasso, from Mosasaurs tooth fossil to Tibetan horn bone, from men's bracelets to rings, just with a handy little piece of AWNL jewelry, you will look distinguished, handsome, dashing, and cool. Along with Scandi designs made up of mixed elements including meteorite, chain, crystal beads, gemstone, charms, etc.
The shapes for AWNL's Swedish meteorite are round beads, star-cut beads, cube/round. All of the single and stacking bracelets are available with many color choices, including purple, red, blue, green, and golden that are strung on a gold/silver chain. One can also choose elastic or braided strands for different outfits and styles according to the situation like for casual wear, work, or sports.
AWNL has a huge collection of men's bracelets and meteorite jewelry that fascinate people from prehistoric times to the present and is considered a cool Nordic gift for men. AWNL incorporated these unusual and unique bits of extraterrestrial debris into mind-blowing designs with eternal love.
You don't need a degree of astrology for the appreciation of these cool pieces of outer space. Learning more amazing facts about the types and terminologies of meteorites can help you immensely when you shop for meteorite fragments or jewelry.
A Brief Primer on Outer Space Debris – Meteorite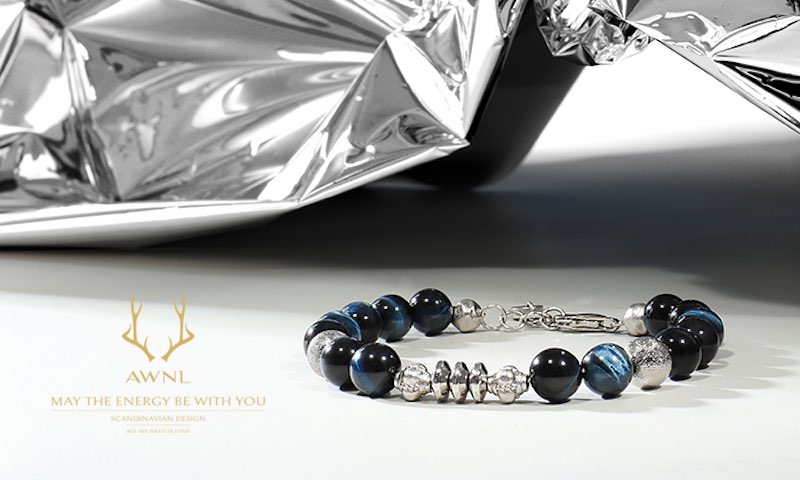 You should distinguish between three terms of meteoroid, meteor, and meteorite. All refer to the same object and denoting some extraterrestrial debris. The small chunks of space debris in outer space are meteoroids formed when asteroids or comets split apart. The meteoroid entered in planet's atmosphere, leaving a visible trail across the sky, then the formed object is a meteor. These are referred to as "shooting stars." The meteors that managed to strike the planet's surface are called meteorites that form craters on impact.
The provenance or source of space debris can add to the interest and value – of meteorite jewelry of real shooting stars made by hand and heart with a Scandi-cool approach to design. These meteorites are so appealing for men's jewelry, especially men's bracelets of meditates gemstones.
On the surface, they are drawn

Life's marks etched from the start

Proof of experiences bygone

Forever living on in your heart
AWNL designs the best evolving and genuine meteorite jewelry for men and unisex that reflects deep values of authenticity, intimacy, and spontaneity with a powerful talisman that helps overcome your fear and inner phobias, adds courage, and achieve self-recognition. Stony, iron and stony-iron are the types of meteorites famous for their rarity and beauty. Meteorite fragments are used as gemstones, mounted on men's bracelets or rings like silver rocks. AWNL brand often incorporates chunks of meteorites into designs by adding a flair of traditional gemstones like amber and fossils to meteorite jewelry designs.
Gemstone Jewelry – Buying Guide of AMNL'S JEWELS
Whether you are a gemstone lover or a gem enthusiast, buying guides are the cornerstones for building confidence to work with gems. Enjoy gemstone-specific buying guides ranging from Amethyst and Onyx to more exotic gems like Moss Agate and Picasso. According to jewelry experts of the AMNL brand, identification and grading of the gemstone are a skill for professionals and enthusiasts alike.
You can learn to use the same samples that professionals gain confidence in and use them to identify gemstones. You need to take one step higher with the latest methods to spot imitations, synthetics, and gemstone treatments. It's a world of brands, so save your heartache, money, and time that comes with random sites, universal sources, and "common wisdom." Go beyond free and typical material, learn tips and identification techniques on destructive tests and difficult gemstone separation. You can connect with the Gemstone Professionals and enthusiasts around the world on the coolest brand of AWNL.
Buying Scandinavian Talisman and Meteorite Jewelry – men's dedicated AMNL's Brand
For centuries, men's jewelry was confined to two times only: a wedding ring and a watch. But now, most people like to buy men's bracelets and meteorite jewelry based on appealing visuals. Men's jewelry will be incomplete without earrings, bracelets, necklaces, or rings. Quality is crucial because better-quality items last longer, and poor-quality metals can cause skin issues.
There is a myriad of jewelry brands out there, but men's jewelry of AMNL's has a wider range of Scandinavian, Talisman, and Meteorite falls and finds. Each piece is one-of-a-kind, with a known shape, size, and pattern for each fragment. Whether you are looking for stylish meteorite rings, ear studs, meteorite jewelry, men's bracelets, men's necklaces, and gemstone jewelry, then AWNL is the one of the best for all specific finds.