So, you have decided to cast aside mainstream trends and launch out with something new and Scottish? Well, the first question you need to ask is what you need your Kilt for. Will you be wearing your kilt for a classy dinner, traditional wedding or the highland games? Or do you simply need a kilt that you can wear anywhere and everywhere?
Knowing exactly what you are looking for in a kilt will help you choose the best one for you.
There are great kilts, ancient kilts and Philibegs too. These are all great for reenactments, momentous occasions and the look and feel of traditional Scottish heritage. Get your Scottish tartan trews here.
GREAT KILT
The great kilt dates back to the 16th century and is the most recognizable and traditional form of kilt. This is often the type seen in renaissance fairs and other revivals of tradition. The first known model of a great kilt was created in 1594. At this time the looms used could only make cloth 30" wide. To make a great kilt you are given two pieces of tartan fabric measuring 4.5 yards by 30 inches.
The two pieces are then sewn together to make a kilt 60 inches wide and 4.5 yards long, which is where the term "the whole 9-yards" has originated. The original style requires the wearer to pleat the skirt as they are putting it on. The only thing that holds the kilt in place is the belt. But. of course, modern technology has circumvented this and now Cheater Pleats are available.
ANCIENT KILT
These are the very same types of kilt we saw showcased in the "Braveheart" movie. While some of the historians may mention that it is not quite historically factual, the look and feel of these classic options is a joy none the less. The kilts hallowed antiquity are the perfect option for use at the highland games, the renaissance fair and those hot summer days when there is nothing better to wear.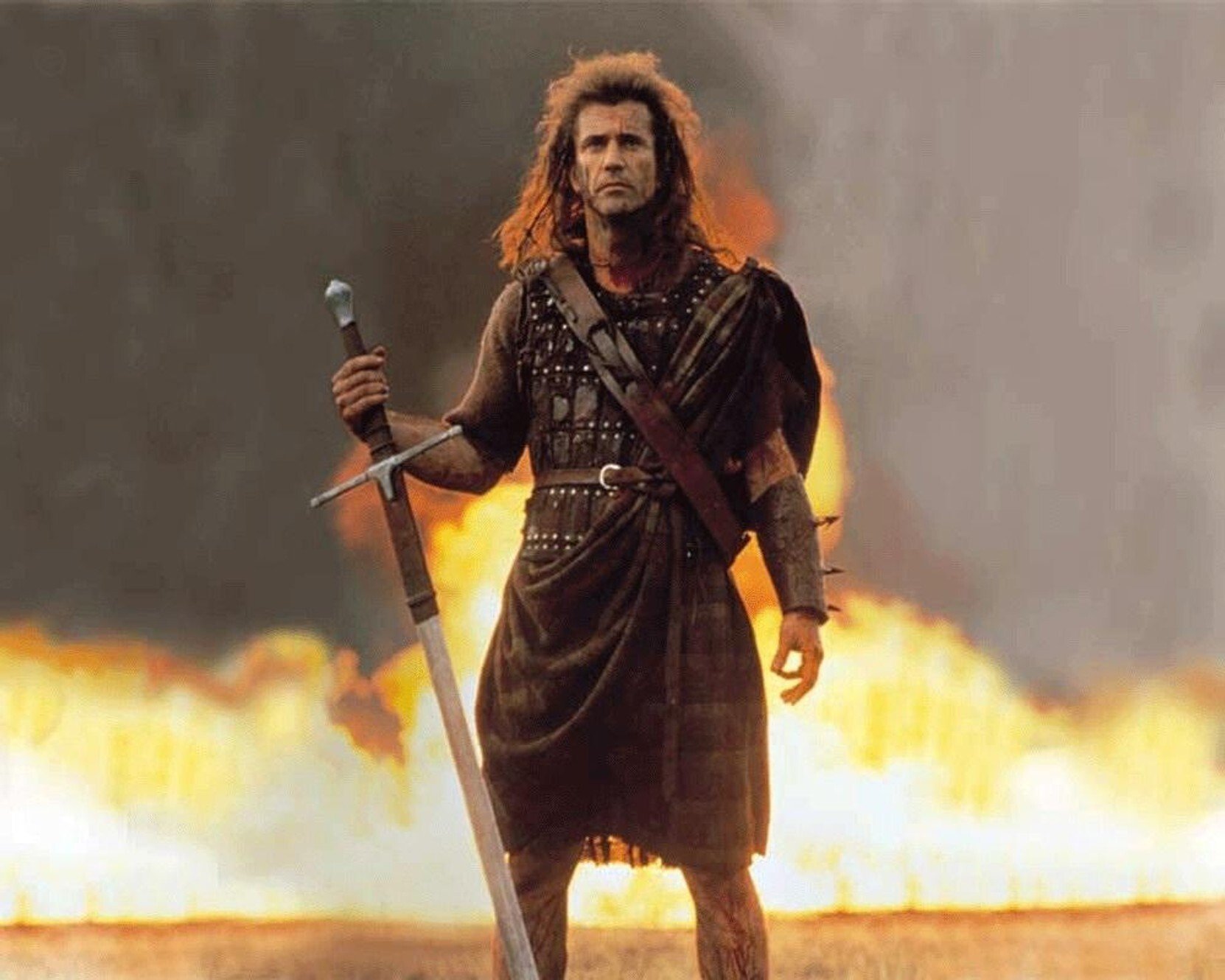 The ancient kilts are pretty much the same as a Phillabeg, except that it has a couple of extra yards of fabric that can be worn as a sash of a fly plaid. This kilt is also pleated and gives the same look as the great kilt without the extra fabric worn above the belt.
PHILABEG or LITTLE KILT
The phillabeg, Gaelic for "little kilt", is the predecessor of the kilt we see popularized on the markets today. But it is not tailored like many of the options you will find today. It is nothing more than a length of tartan cloth that measures 25" and about 4 to 6 yards long. The kilt is also worn pleated and held in place with a belt. This option is worn about half way down to the knee. This option is a little different than the others as it has a bit of cloth coming over the top so that the belt and kilt are held in place. This is important to make sure you are not left standing in your skivvies or buck naked.
KILTS FOR WEDDINGS AND FAMILY HEIRLOOMS
All of the very best kilts are made right here in Scotland from the best wool tartans. You will find formal kilts between 5 and 9 yards that will keep you looking your absolute best. These kilts are great for a variety of occasions including weddings and formal gatherings. Then you can also consider these terrific options from Good Basic Kilt, that is every bit as impressive as these formal kilts.
9 YARD FORMAL KILT
Because they feature hand-stitched pleats and impressive attention to details these are by far the finest kilts in the world.  Each will be crafted from 8-10 yards of tartan fabric as needed for the wearer. The mount you will need depends largely on your waist size. Because it has more fabric than the 5-yard option, this kilt provides that swoosh and motion that is so coveted in the kilt. Musicians and dancers will often choose this option.
Have a dinner or a wedding to attend, or maybe you're a kilt wearer and prefer to use a kilt over boring slacks? This is a terrific option for taking things to a new level without breaking the class and sophistication of the event. Furthermore, you can also pass this item down to future generations to use and enjoy.
5 YARD FORMAL KILT AKA "Casual Kilt"
While it is practically identical to the 9-yard option, you will find that the quality of materials is every bit as high. This option is also made of 5-yards of tartan cloth, unless the size of your waist calls for different dimensions. They must be tailored to fit your size. You will find this option does not have the same depth to their pleats as they have less fabrics than the typical 9-yard kilt. But they still look very good and are a remarkable product. It is almost impossible to tell the 5-yard kilt from the 9-yard option when worn properly.
The biggest difference between the two is the lack of "swoosh" and kilt in motion when moving about. This has also been called the casual kilt as it is not quite as costly as the 9-yard option. Furthermore, it is far easier to combine with the clothes you already have. The 5-yard kilt matches nicely with a sports jacket, vest, sweater or any other clothes you choose to wear. As far as versatile dress options, this is the item to choose.