For the man who has everything! Celebrate the special men in your life with gifts they'll love this Christmas.
From breezy boxer shorts to snug-fitting trunks. Enjoy 20% Off Underwear & Pyjamas. Shop GANT range here – but hurry, this offer ends Sunday, 08th December 2019, while stock lasts!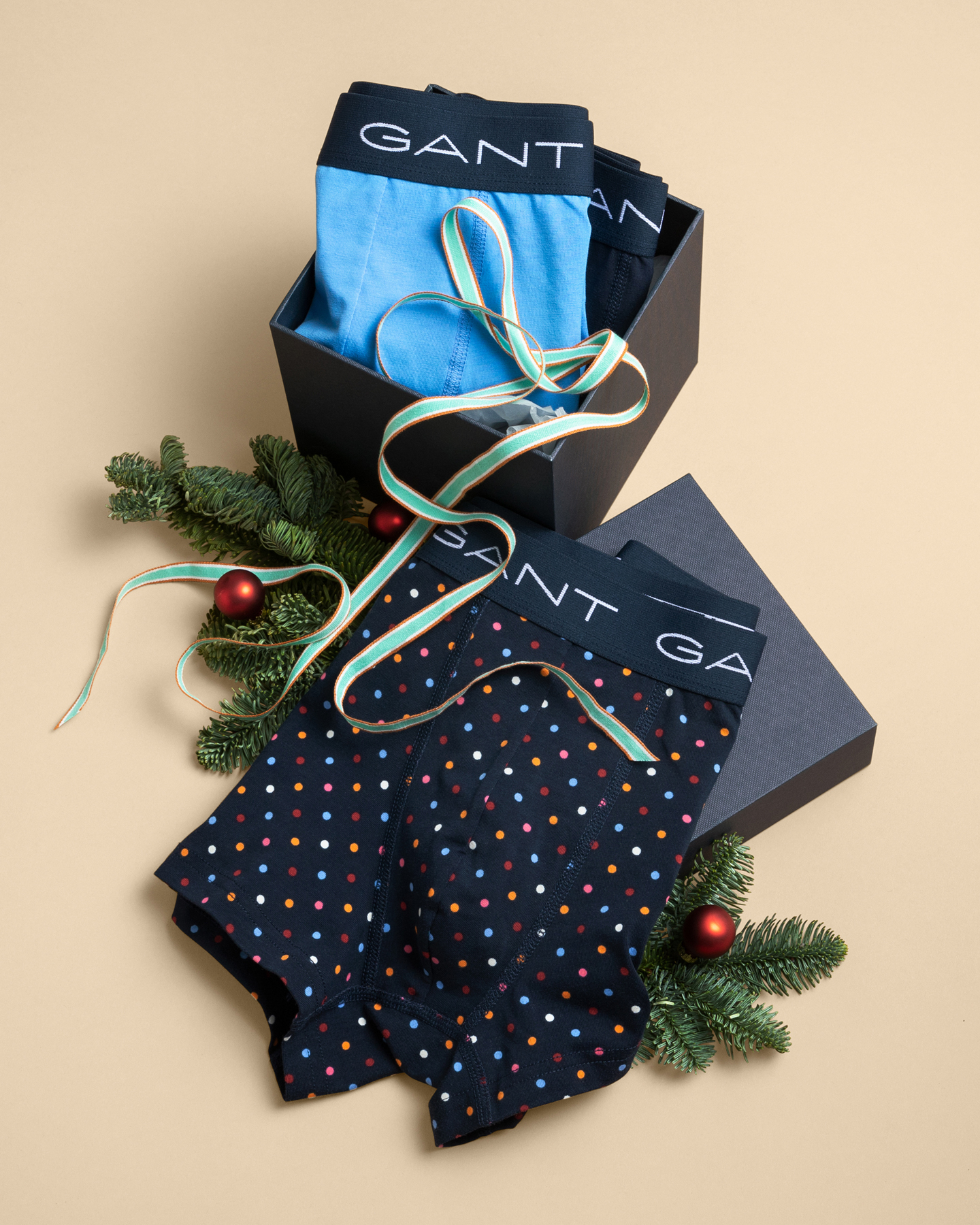 Please note Last Delivery Dates:
Standard Delivery – 17th December
Click & Collect – 17th December
Next Day Delivery – 20th December
Saturday and Sunday Delivery – 19th December
Orders must be placed before 2pm for guaranteed delivery.
GANT Two-Pack Stretch Cotton Crew T-Shirt
Every underwear drawer needs a couple of basic t-shirts. GANT two pack contains two super soft stretch cotton tees, perfect for layering under your look, or teaming with sweatpants for casual days. Was £32.00 Now £25.60
GANT Stretch Cotton Hip Briefs
GANT Stretch Cotton Hip Briefs feature a higher cut for added comfort and movement during physical activity and a seamless elasticized waistband with a knit GANT logo. Was £18.00 Now £14.40
GANT 3-Pack Etching Floral Trunks
3-pack trunks in cotton stretch jersey with a close fit, short legs, and normal waist. The trunks come in a seasonal floral print and are packed together with solid colors with knitted elastic waistbands with repeated GANT logotypes. Was £35.00 Now £28.00
GANT Blue Check Pajama Pants
Get cozy in these woven pajama pants, featuring a relaxed fit and a straight leg. This yarn-dyed seasonal check was inspired by GANT shirtmaking heritage. Features a jacquard knitted waistband with repeated GANT logotypes. Was £40.00 Now £32.00
GANT Jersey PJ Set Gift Box
This jersey pajama set includes a crewneck T-shirt and pants with a straight leg. The T-shirt features a seasonal GANT graphic chest print, and the set is packed in a holiday gift box for easy gifting. Was £70.00 Now £56.00
GANT 3-Pack Seasonal Trunks
3-pack Trunk in cotton stretch jersey with a close fit, short leg, and a normal waist. The trunks come in seasonal solid colors. Featuring a jacquard knitted elastic waistband with repeated GANT logotypes. Was £35.00 Now £28.00
GANT Stretch Cotton Hip Briefs
GANT Stretch Cotton Hip Briefs feature a higher cut for added comfort and movement during physical activity and a seamless elasticized waistband with a knit GANT logo. Was £18.00 Now £14.40
GANT Stretch Cotton Trunks
GANT Stretch Cotton Trunks feature a closer fit and a contrasting stripe along the elasticized waistband with a knit GANT logo. Was £20.00 Now £16.00
GANT 3-Pack Wobble Check Trunks
3-pack Trunk in cotton stretch jersey with a close fit, short legs, and a normal waist. The trunks come in a micro check print and is packed together with solid colors. Featuring a jacquard knitted elastic waistband with repeated GANT logotypes. Was £35.00 Now £28.00
GANT Two-Pack Gingham Boxer Shorts
GANT woven boxers have been constructed in soft cotton poplin with a tailored fit, modest leg, button fly front and normal waist. These feature a tunnel waistband with a GANT logo in the center. All GANT underwear are label free for maximum comfort. Was £34.00 Now £27.20