Pinstripe suits are suits that have thin and fine vertical stripes on them. These patterns of vertical stripes run through the whole attire. Depending on the owner's preference, this suit can either be a two-piece or a three-piece.
Origin and history of pinstripe suits
The pinstripe suits were invented at the end of the 19th century. These suits were invented by the English, and they have been in fashion ever since the 19th century. These suits were made famous by stylish Brits. Historically this suit was worn by people in business, but they have evolved, and now they are worn by both men and women. This suit is worn by those who want to display class and sophistication through what they wear. There are two main theories that explain the history of pinstripe suits;
Banking theory
It is believed that pinstripe suits were worn as the uniform for the English Victorian Bankers. Employees from different banking institutions and the thickness between the vertical stripes were what distinguished them from each other.
Sporting theory
This theory states that pinstripe suits were worn mainly by those who loved water sporting events. In the 19th century, boating was a famous pursuit.
Pinstripe suits became rapidly popular in the 20s, 30s and 40s once they took the American culture after it was worn in the Atlantic. In America, the suit was not a formal wear at first, and it was mostly worn by jazz musicians and gangsters such as the Al Capone since it usually made a statement. But after prohibition, the suit became popular among massive stars, for example, Cary Grant.
Today, pinstripe suits are popular among both genders (male and female) and are mainly worn as formal outfits. These suits have generally crossed the fashion bridge between both genders.
How to wear pinstripe suits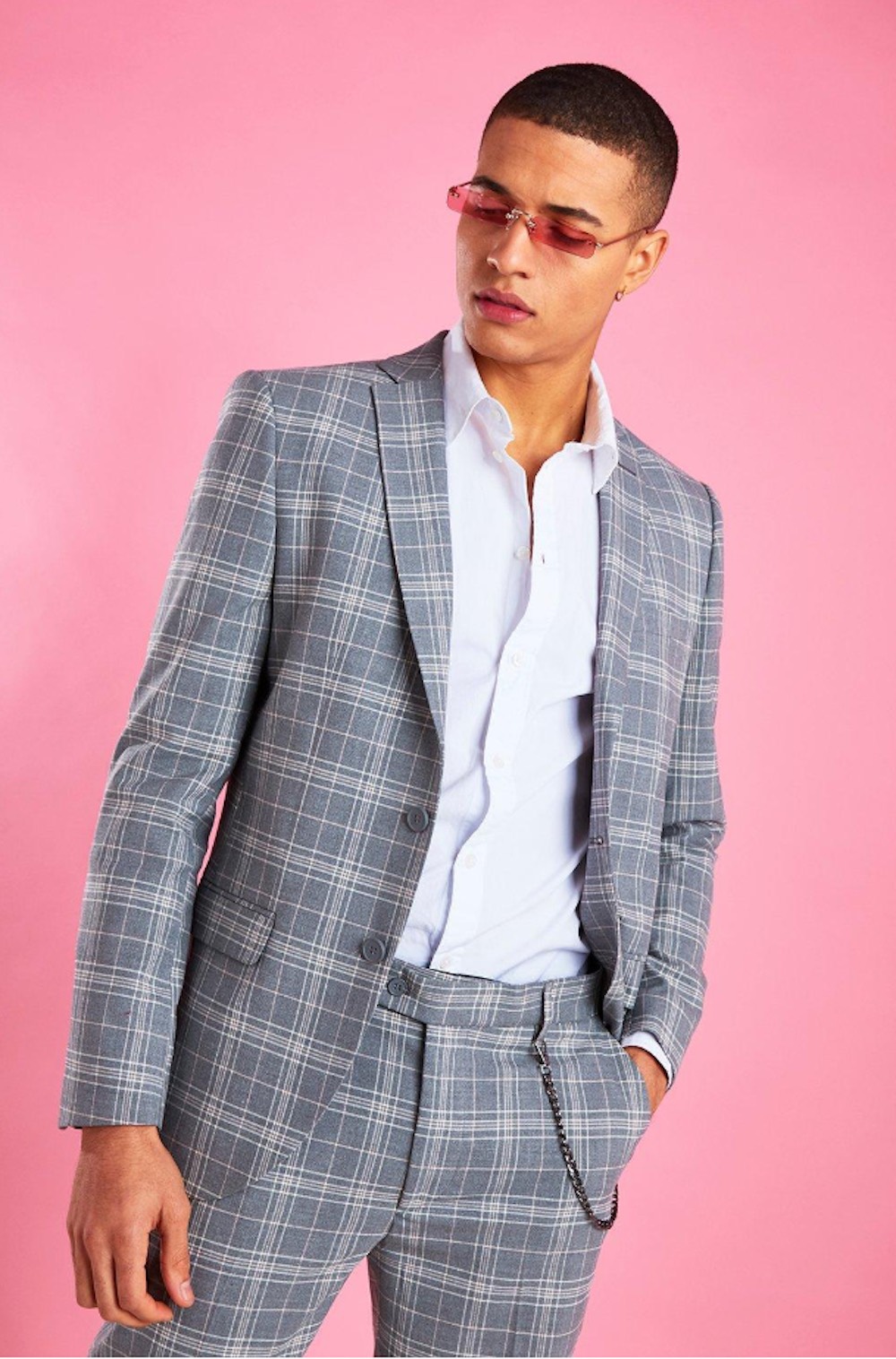 In the modern world, pinstripe suits are popular as formal wear. It is believed that because of the vertical stripes of these suits, they tend to make a person thinner and taller.
For a formal occasion, a three-piece suit is more appropriate. They were worn with a solid tie, a solid dress shirt, dress socks and shiny shoes.
For a semi-formal occasion such as a gala, a dark pinstripe suit can be worn along with a dull-coloured turtle neck or a dress shirt.
To make a statement, you should ensure that your attire's patterns do not contrast. Mostly these suits are more compatible with bottom-down shirts and contrasting ties.
For black pinstripe suits, a white bottom-down shirt and a grey or a charcoal tie could be appropriate. For elegance, you can seal your outfit with a brown pair of shoes and a matching belt.
For a white pinstripe suit, a black bottom-down shirt or a black striped shirt is very appropriate.
A double-breasted pinstripe suit is a formal wear that collaborates very well with dark shades such as navy blue. The tie that you choose to wear should complement your outfit.
What made pinstripe suits popular
The pinstripe suits became popular in the American culture in the 20s, 30s and 40s once they spread across the Atlantic.
How pinstriped suits portray an image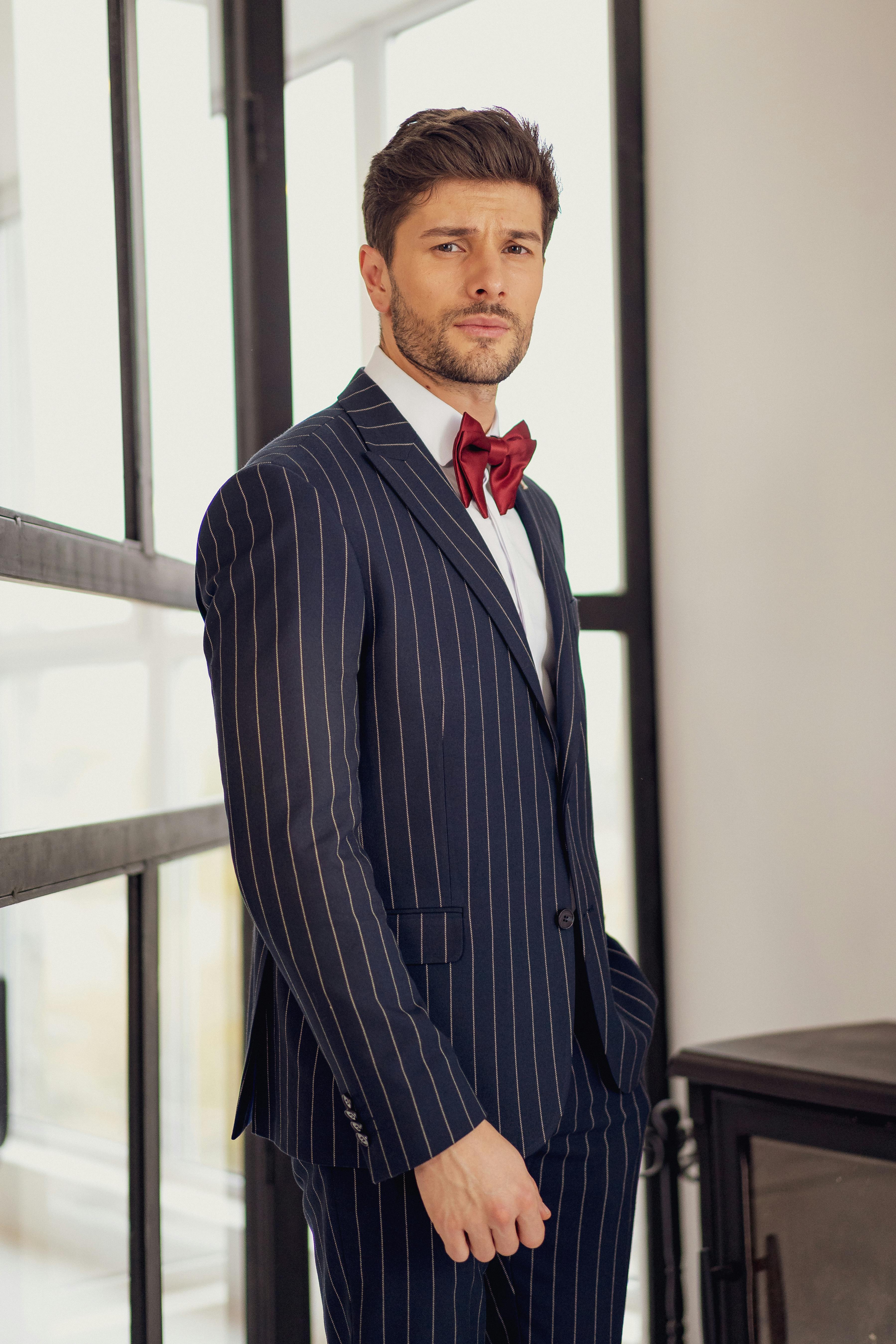 Originally, pinstriped suits were worn by bankers and those who love water gaming. Today, these suits are worn by both genders in a formal setting. When worn with a complementing shirt and tie, these suits can make you stand out in a room because they have a sense of class and sophistication. They portray elegance and composure, and they demand respect from others who are in the room. Pinstriped suits are suits that simply make a statement in any formal gathering.
Every person should own a pinstripe suit regardless of where you work from. Pinstripe brings the confidence and the elegance that we all need to spice up our outfit. They hide any extra pound that you may have gained and make you look skinnier, and make you look appear a little taller because of the vertical stripes.
Weight and height are every person's esteem killer, but with pinstripe suits you get to boost your esteem on these two. If you like making statements by how you look, then pinstripe suits is what you should wear.