In a previous article, we talked about the 6 best watches of 2020. There are some great watches to choose from this year, including the super-thin Piaget Altiplano. Unfortunately, not everyone can afford picking up a luxury watch that sits at the top of that list.
Worry not, because you can still find the perfect watch. A watch is more than a device for keeping time; it is a fashion statement, an accessory that elevates your look, and can even be the one piece that separates you from the others in a professional or personal occasion.
Knowing the different watches available today and how to choose the perfect one for you will help you make the right personal statement. That is why in this article, we are going to talk about several details about watches for men and how you can choose the right timepiece for you.
Automatic vs. Quartz
There are several movement types to choose from, but the two most popular are quartz movements and automatic movement. There are a few additional types to understand as well, and we are going to get to them. Mechanical movement is the type of movement that relies entirely on mechanical engineering, with springs and gears as the main components.
An automatic movement is basically a mechanical movement, but with an added automatic winding mechanism. Rather than manually winding the watch by turning the crown, the watch recharges its power reserve unit automatically whenever you move your hand and the automatic winder gets moved alongside it.
A quartz movement, on the other hand, uses batteries and the main source of power. The movement is named after the quartz crystal, which is used to generate beats at a certain frequency. Unlike automatic and mechanical watches, quartz watches will continue to tick until the battery runs out – that could be as long as 10 years in some watches!
Other specialty movement types combine the two major movements in unique ways. Seiko's Spring Drive movement, for instance, combines the accuracy of quartz movements with the precision and mechanical engineering found in mechanical and automatic watches. The smooth second hand sweep is a signature of this movement type.
Which movement is right for you? If you are serious about making a personal statement, an automatic watch is almost always the way to go. There are hundreds of automatic watches to choose from too. You may not get the consistency and accuracy of a quartz watch, but you get historic roots, mechanical engineering, and horology beauty in exchange.
Watch Styles
The next thing to consider when choosing a watch is the style. There are more than 20 watch styles on the market right now, but we are going to simplify that list to just 5 styles that you need to know. The first one is the traditional dress watch, which has a sole purpose of complementing your business looks.
A dress watch doesn't have to be accurate, but most of them are – at least the high-quality ones – now that mechanical and automatic movements are more reliable. Dress watches tend to be very thin in order to fit under your cuff. The design of dress watches focuses more on elegance and simplicity rather than function or utility.
The key to choosing a good dress watch is knowing the correct size to wear and having a watch that truly elevates your business attire. You can also be more playful with the strap or link you pair with the watch, although traditional or croco leather straps tend to be more appealing. You should also stick to silver or gold (or maybe rose gold) for case colours.
Field watches sit on the opposite end of the spectrum. Field watches are more utilitarian. They can be heavier and thicker, but they are designed to endure more. Field watches are worn by soldiers in battlefields and are primarily used to tell the time. Some field watches have specific features. You can expect a field watch to be paired with canvas straps.
Field watches used to be very big in diameter, but there are now smaller options to choose from. You can still get a utilitarian watch from brands like Timex if you have smaller wrists. Field watches also have superb legibility, plus you get good-quality lumes to make the watch dials visible in the dark. Bigger numbers and functional styles are to be expected.
Next, we have aviator watches. Aviator watches are very similar to field watches; they are both designed to withstand heavy beating and are made with a purpose. However, aviator watches also have extra dials, a chronograph in some models, and large numbers that are visible in difficult situations.
Some aviator watches even go as far as offering special features such as a compass, a way to navigate using an internal chapter ring, and movements that can remain accurate when used around magnets or in unusual situations (i.e. upside-down) with great lumes to complement the overall functionality of the watch.
Dive watches are perhaps the most versatile, mainly because there are plenty to choose from. While dive watches are mainly used for diving – as the name suggests – they look good when paired with semi-formal and formal attires. Some items from Rolex and Omega are testaments to this versatility, just like the Rolex Submariner.
The Rolex Submariner features simple and clean design lines, good colour combinations, and durability. Whether it's a meeting or diving, Rolex Submariner is the perfect wrist companion. You just need to take a look at the extensive catalogue of Submariners on CHRONEXT to understand how easy the watch is to pair with different looks.
Lastly, we have racing watches, which usually have a chronograph, a tachymeter, and other specific features designed to measure speed, time, and direction. You have classics like the Rolex Daytona as well as newer pieces like the watches from Dan Henry. Chronographs can be found with quartz and automatic movements too.
The Right Watch for You
As mentioned before, you don't have to break the bank to get a high-quality watch. More importantly, you don't have to invest a lot of money to pick up a watch that suits your style and personality perfectly. Even pieces from one of the best Japanese watch brands like a classic Seiko 5 can complement your business attire as long as you choose the right one to wear.
However, that depends highly on several factors, including:
• The size of your wrist
• The style that suits your look best
• When and where you will be wearing the watch
• The kind of image you want to maintain
• The functionality and design language of the watch
If you are rocking a white Polo shirt and a pair of jeans, a super-thin gold dress watch may not be the right piece to wear. You will look better with a dive watch, especially one that matches the colours you are already wearing. Personal preferences matter too in this case; if you are confident about the watch you wear, you instantly look better.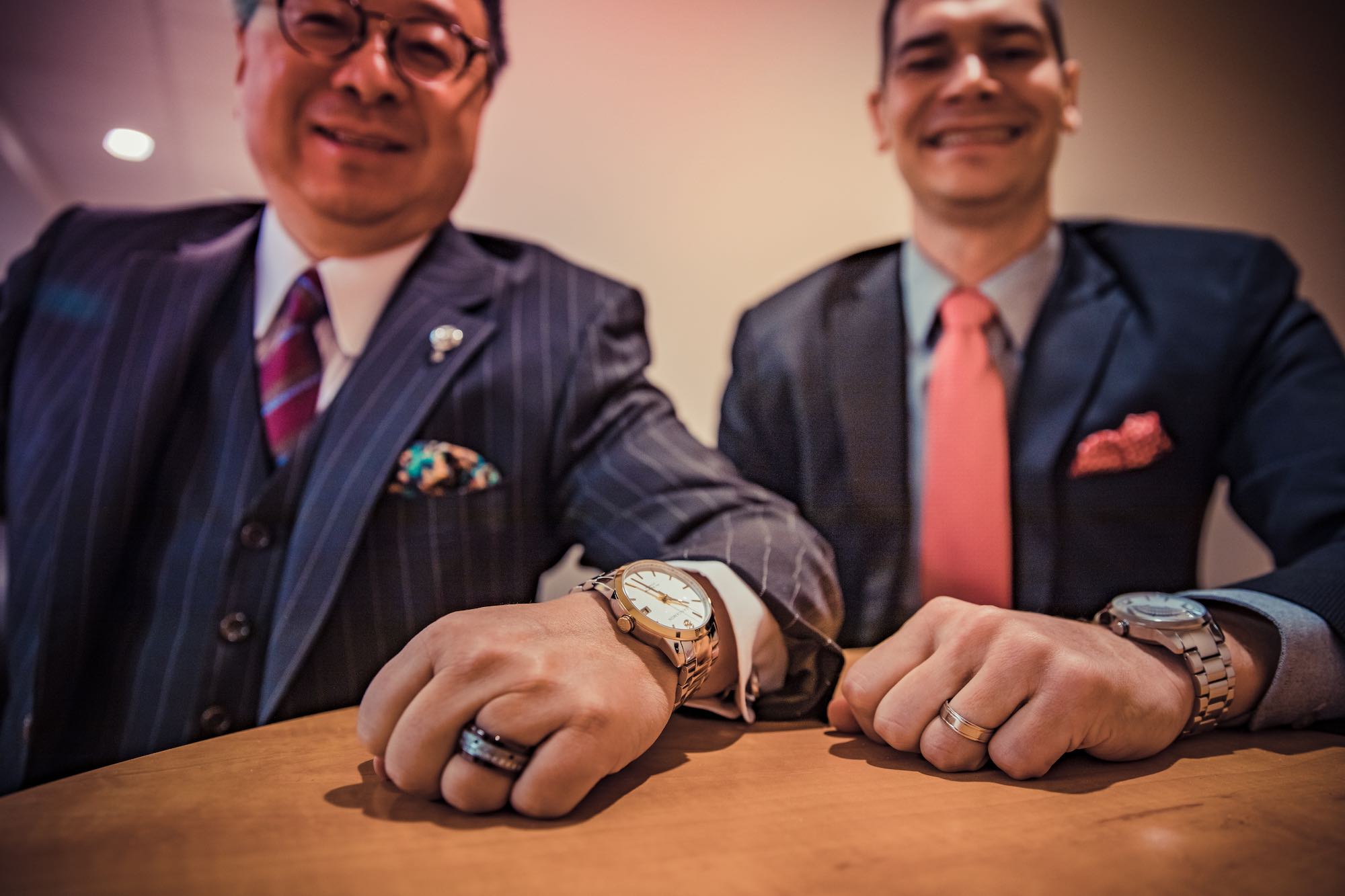 These are the details to consider when choosing the right watch to buy. Remember that buying a watch is also a long-term investment, so choose carefully and make sure you end up with a watch that you enjoy wearing.