With climate change and rebound revenge travel, all destinations are packed now with tourists. Nature has its way to retaliate and show who is still boss after the pandemic. Unfortunately, nature still has the upper hand and there is nothing we can do about it. Oceans and Seas are Sharks natural habitat. Swimmers on all beaches are never safe from a Shark Attack, from the Mediterranean to the Golden Coast of Australia. On the occasion of swimming this summer, you may like to remember these tips, while you spend your time on any beach anywhere in the world. These 20 tips are guidelines to remember when facing a Shark Attack or other marine life. Hopefully, some will remain in your grey matter and you will act on instinct for your basic survival mode.
These tips were gathered online from Survival Speaker and we decided to show them off here. Who knows how many lives will be saved.
1 – There is no such thing as "this sea has no sharks".. There is no sea on the surface of the earth that has no sharks.. even the in poles.. there are sharks.. sharks live in cold and warm waters.. and in all the seas of the world… even in some Rivers, you can meet sharks.
2 – Women who go into the sea with make-up and body creams.. And young men who put deodorant before swimming, and sun creams.. These scents attract sharks and arouse their curiosity.. Consider the sea like a swimming pool.. Take a shower before going into the sea. If you get burned and inflamed from the sun, you actually have a certain allergy.. Consult the doctor and he will prescribe a suitable anti-allergy cream for you before swimming in the water.. It will protect you from the burns instead of creams with a strong smell…
3 – On mentioning swimming pools and their prohibitions.. Urine in the sea is exactly like blood.. Its smell can be smelled by sharks miles away..
4 – Do not swim in a place where you do not see the water clearly and its depths are good.. and do not float in a deserted place that has no swimmers..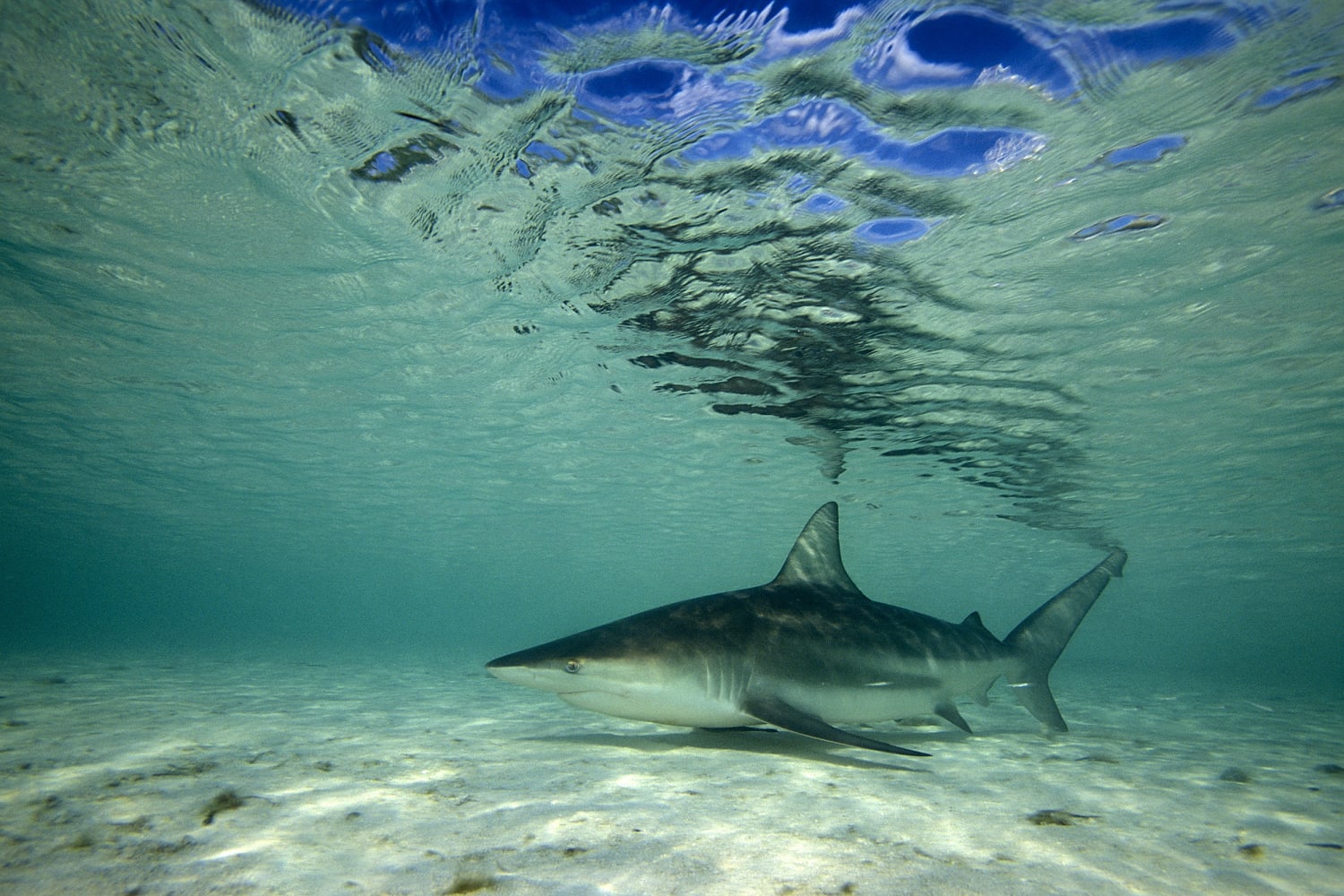 5- Sharks can swim in shallow water to follow you.. Like the picture above.. You must always see the sea floor around you.. and the water is not very dark or cloudy with sand…
6 – It is unnecessary to swim in the water for a long distance.. This is not clever.. and you do not need to prove anything to anyone.. Take a fresh swim goggles with you so that you know how to see under water when necessary.
When you take off the goggles, take it off around your neck, not above your head. Above your head is a sign for the rescue guard saying that you are in danger.
7- Don't throw any leftover food in the water..even if a cheese sandwich..even if it is a biscuit..and if you see someone doing this..warn him…
These things, no matter how trivial they are, summon certain fish to eat them.. and sharks eat these fish..and turn around on them…
8 – If you are injured for any reason, get out of the water immediately.. no matter how small a wound is.. and for women, any bleeding "whatever its source" prevents you from swimming..
9 – It is forbidden to wear rings, rings, watches and shiny silver bracelets.
10 – If you feel while you are floating that a sudden wave pushes you from the bottom to the top.. get out of the water immediately..
11 – There is no reason to splash around and create confusion on the surface of the water while you are in the depths… and it is forbidden in all cases to dive alone..
12 – It is forbidden to be exposed to any form of marine life..and do not try to touch it or provoke it..and if you find a dead marine creature next to you, get out of the water…
13 – When you find a sign that it is forbidden to swim.. or the flag is raised.. do not enter the water.. it is not clever either.. and if you decide to swim and the beach guard or the lifeguard will whistles for you.. get out immediately…
14 – Don't try to swim near fishing boats or fishermen…
15 – No fun jokes about "I'm drowning/ I'm drowning with a shark"… Because it's time for no one to help you…
16 – Never go swimming or diving in a place you don't know…
17 – If a shark really catches you and you are facing a shark attack on your own.. Try to catch its eye or its gills.. Then it will leave you immediately.. Know a little about the nature of the place you are going to summer in.. and look for the types of sharks that exist and dangerous marine life…
18 – Do not swim with a small child into a deep water.. if you are a determined, enter and risk your life alone…
19 – Stay away from swimming in the entrances to canals and open waters, as you would for example on a yacht trip, and go down swimming around the yacht.. stay away from the coral reef…
20 – Other animals than sharks, seem peaceful like dolphins and turtles.. Provoking them can make them kill you quite easily.. even a sea turtle can cut off one or two fingers for you.. You will not be happy without your fingers.
Respect the marine environment and try not to extend your hand to any creature…We hope those 20 tips are easy to remember when facing a Shark Attack and everyone is safe!