Graphic designers do not only need a laptop and skills like Adobe that they are good at. To up their game, there are a gazillion gadgets that they need to carry with themselves. But before they begin collecting the gadgets, they need to ensure that they have access to uninterrupted Internet service. You can check out the Frontier bundle prices for reliable, fast as well as affordable Internet packages.
Once done, you can start collecting the following to help you.
Computer or Laptop
First things first. A graphic designer cannot work without a computer or a laptop. So, that is the first gadget that they should add to their list. A laptop is more portable than the desktop. Therefore, the designers should opt for 2 in 1 laptop with stylus, if possible. Because the nature of their work is such that they cannot always stick to one place as well. Hence, play safe and invest in a laptop.
The laptops that are the best to support your work as a graphic designer include:
Dell Inspiron.
Acer Predator.
Apple MacBook Pro.
Lenovo Yoga.
HP ZbookStudio G5.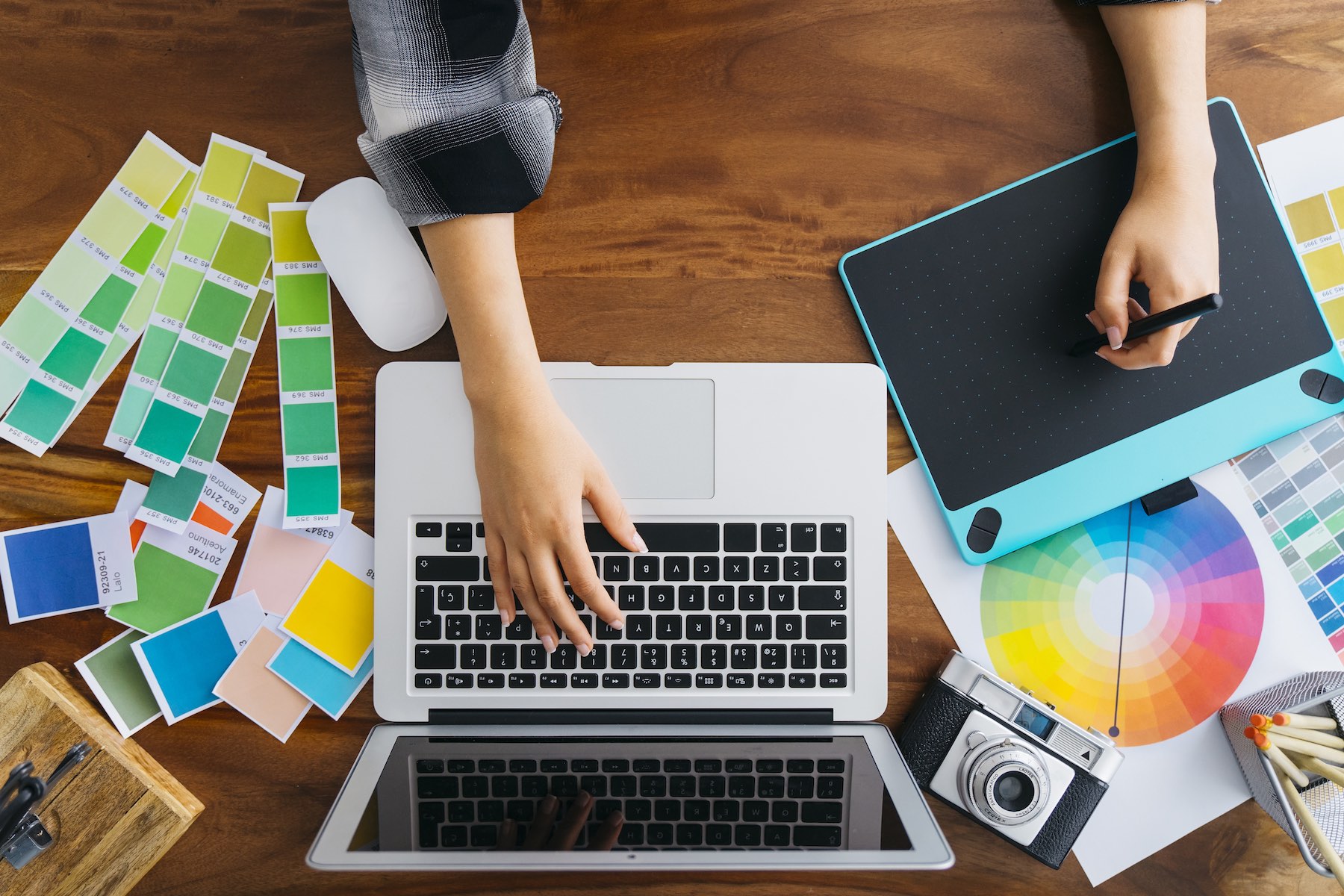 Drawing Tablet
Apart from the laptop, a graphic designer also needs to invest in a drawing tablet. Because a designer needs to draw many times. Almost always. Therefore, it is essential to invest in a drawing tablet as well. It makes it easier for the designers to draw. Honestly. Because the sketch that one can make with a pencil in his hands, a mouse cannot help you achieve the same.
Some of the good options to choose from include:
Wacom Intuos Pro Digital.
Huion Inspiron Q11K Wireless.
Parblo Coast Digital Pen Tablet.
These might be a bit hefty on your pocket, but it will be worth your investment.
Reliable Hard Drive
Another essential gadget that you as a graphic designer would need is a reliable hard drive. Because you will have loads and loads of data to save. Each file is pretty heavy and you cannot store it all on your laptops. If you have ever had the experience of not being able to access your work because your laptop's battery dies, you would know the importance of backing up as well.
Therefore, it is important that you purchase a hard drive that comes with enough capacity to allow you to save your work. You can select from a variety of external hard drives.
One of the best options for this purpose is LaCie Porsche Design External Hard Drive. It comes with a 4TB capacity and offers fast transfer speeds.
A Smartphone
Almost every profession these days asks of the people to have a smartphone. While some people use it for the purpose of viewing their emails, others use it to click epic pictures. Graphic designers need to invest in a good smartphone as well. They can make use of it for editing purposes. Moreover, you can also make use of the creative tools that your smartphone has to offer.
Some of the options that you can consider investing in include:
Samsung Galaxy Note 9.
Huawei P20 Pro.
Google Pixel 3 XL.
iPhone XS Max.
Camera
Graphic designers often make use of images for their projects. Therefore, it becomes essential for them to then invest in a good camera. You can choose from a variety of DSLR options. Or you can just choose to go with the camera that is in your smartphone. The choice is yours. You will be a better judge in this case. As every person has a different taste when it comes to the style of camera that they are comfortable working with.
Although there are images available online sometimes you have an idea in mind. And you cannot look for the exact image that goes with what you have in mind. For instances like these, you need to invest in a good camera. Or a good smartphone. The choice is yours.
Monitor Calibrator
This gadget aids the graphic designers in adjusting the brightness and color of the monitor that they are working on. Basically, every monitor comes with its own setting when it comes to color and brightness. Therefore, when you view the same image on two different monitors, it may be a bit different in terms of saturation and brightness.
For events like these, you need a monitor calibrator. This will also take away your worry when it comes to mismatching colors when you print your design.
Swatch Book
This color book guide helps you with the color schemes. You have before you all the related colors printed on different strips of paper. There are more than 1800 colors printed on matte, coated or uncoated finish stock.
Apart from all of the above-mentioned tools, you would also need to make a Frontier vs. Spectrumcomparison. This will help you to select the best available deal or package. Because the fast Internet is a necessity for graphic designers.