The Moto 360 is a smartwatch… Except it's not manufactured by Motorola, and it's not exactly a follow-up to the Moto 360, which shook the smartwatch universe when it debuted.
It's the outcome of a license agreement between Motorola and eBuyNow, the corporation that produces and sells the new Moto 360.
While the branding is important to remember, don't get too caught up in it. In spirit, this is a sequel, and if the price put you off before, the brand has made a very welcome move that will make you enjoy its charms.
So when we first saw it online, we just couldn't stop drooling and reached out to order it right away!
Design
The updated Moto 360 3rd Gen is a nice-looking smartwatch; it's now smaller and slimmer than its predecessor, giving it a streamlined and sophisticated appearance. It's made of high-quality materials and is designed to last. The case is made of top-grade SUS316 stainless steel with a DLC/PVD coating, and the 20mm braces are available in both silicone and leather.
The 1.2-inch always-on AMOLED monitor is highly immersive and rich, with a touchscreen and two navigation buttons on the sides. It's a well-made timepiece.
When I saw the Moto 360 at its early launch, the brand touted it as a premium timepiece, citing the 3mm thick stainless steel case, diamond-like coating (DLC) on the black model, and physical vapour deposition (PVD) coating on the rose gold model seen here as justifications for the $350 price tag. The Moto 360 has the right architecture, fabrics, and style for an everyday smartwatch. The stainless steel body is protected by DLC or PVD coatings, and the rose gold, black, or grey finishes, as well as the 42mm scale and 52-gram weight, make it suitable for any wrist. The round face, which is synonymous with the 360 brand, is smooth, and the bezel isn't lifted in any way, making swipe movements a breeze.
I really like the little stylistic flourishes. The Motorola "wings" symbol embossed on the strap clasp is very classy, and the top pusher is textured to make it easy to twist and scroll through the watch's menu system. In terms of straps, the package includes two: a soft silicone harness and a leather strap in a matching colour. It can also be modified in a flash thanks to the quick-release pins.
Apart from feeling like a high-quality, trendy timepiece, the Moto 360 doesn't make a big statement on your hand. That is, without a doubt, the best point a smartwatch can produce. It's as stealthy as you might like if you get the black one. It appeals to me greatly.
Screen and software
The new Moto 360's 1.2-inch AMOLED display is completely circular, but there's no notorious flat-tire screen here. The 390 x 390 pixel resolution provides plenty of detail, and the screen is clear enough to be seen outdoors under direct sunlight.
While the screen is circular, there is a large black bezel between it and the case, which detracts from the otherwise excellent design. The Moto 360's screen is indistinguishable from other WearOS watches in terms of appearance, colour, and brightness.
The watch runs on Google's WearOS platform, which is pre-installed on the device without the need for any external applications. Most fashion brands have minor tweaks or fun accessories that blend in with brand messaging, and watch companies like Tag Heuer include well-crafted products that will cater to brand loyalists. Many who like versatility will like the Moto 360.
When it comes to WearOS smartwatches, less is enough. Adding hundreds of features, software, or other nonsense dilutes what fits well on our wrists: alerts, fitness monitoring, music access, charts, and, when handled correctly, calls as well. If you have that right, along with the look, you might have a champion. The Moto 360's lack of extras is a plus rather than a disadvantage.
Performance isn't fantastic, either, particularly while it's attempting to upgrade software or use GPS, and third-party applications may be equally sluggish when gathering data. I'm still perplexed as to why the twist pusher is used to access menus when it isn't functional in the watch.
One of the best features of WearOS is Google Fit, which has recently received a graphic redesign to make it more modern and readable. Most tasks have monitoring built in, and the everyday targets can all be adjusted to suit your needs.
I like the Moto 360 watch faces because they have many complications, allowing me to see my phase count or Heart Points at a glance. Starting an exercise on the watch takes seconds. When you're done, the data appears in the Google Fit app on your tablet. It's all the exercise monitoring most people will ever need, and it all syncs with the Moto 360's heart rate monitor.
WearOS isn't quite as good as Apple's WatchOS, but it's usable on the Moto 360. Unfortunately, there is currently no way to make or receive phone calls.
Efficiency, battery, and connectivity
The Moto 360 3rd Gen has been measured to last more than a day on a single charge, which isn't particularly remarkable, but it's still a good option for keeping linked to anything that matters to you. Furthermore, the 3100 chip, which unlocks the power saver mode option on this watch, adds about 3 days to the battery life.
The influence behind WearOS isn't anything special. The watch is powered by a Qualcomm Snapdragon Wear 3100 chipset with 1GB of RAM and 8GB of internal memory, as well as a 355mAh battery with fast charging capabilities. NFC for contactless payments, GPS, and multiple sensors are also included. It's almost similar to watches like the Fossil Gen 5, and it's fast enough that I've never been disappointed when wearing it.
If continuous heart rate monitoring is activated, the battery can last for an entire workday and well into the evening. You won't get a second day out of it, so that's not a big deal because it just takes an hour to recharge.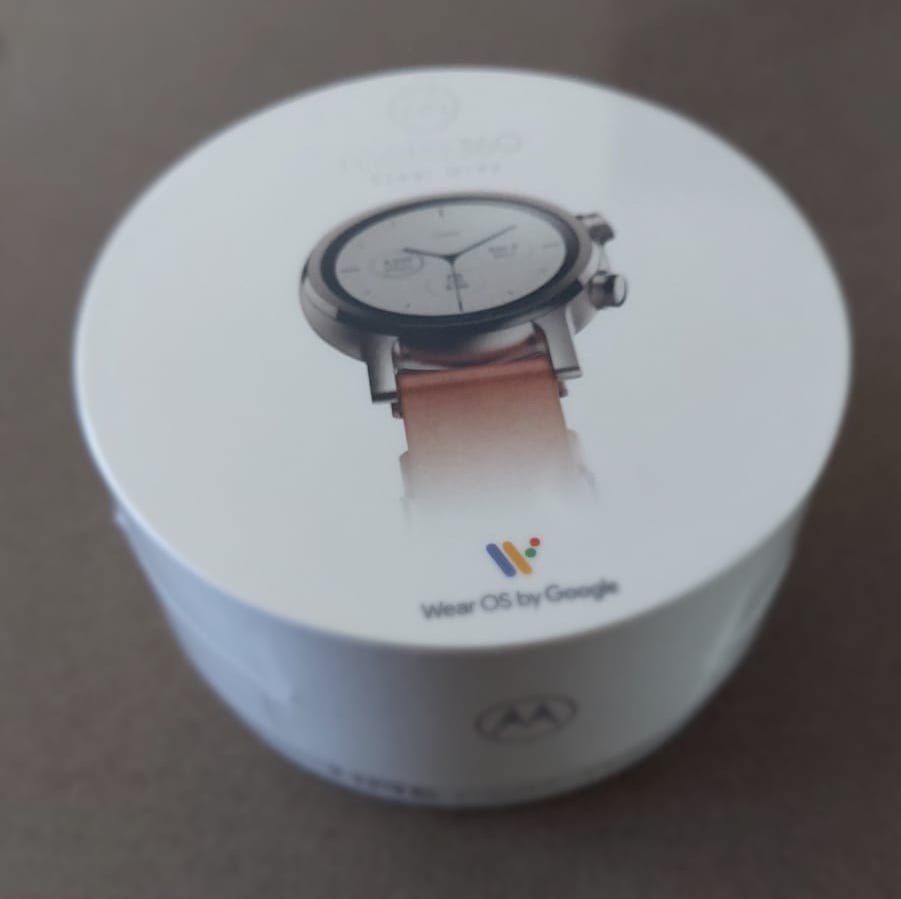 It magnetically connects to a patented charging plinth that comes with the watch, keeping it in place more tightly than most other comparable systems. This is significant because if it is knocked, it will not become dislodged and will continue to charge.
I've used the Moto 360 for Android phones and haven't had any issues with the watch remaining attached. While WearOS watches are compatible with iOS, some features are not available. You won't be able to display iMessage alerts, Google Assistant would be less useful, and you'll have less ways to communicate directly with notifications on your wrist. This is one of the reasons we advise iPhone users to purchase an Apple Watch rather than a WearOS-enabled smartwatch but this style you can't beat.
The Moto 360 3rd Gen. is rated 3ATM for water resistance up to 30 metres, making it swim-proof. As a result, you should wear it in the rain, in the bathroom, or at the beach. However, you can avoid putting it under extreme strain, such as swimming, as this will cause harm to the watch.
Availability and warranty
It can be purchased directly from the Moto 360 online store or from retailers such as Amazon. It comes with a one-year replacement warranty and a two-year hardware warranty if something goes wrong with it.
Our point of view
Wearing the Moto 360 on your wrist would make you proud. It's trendy and well-made, with a variety of straps to choose from, and WearOS is easy to use on a regular basis. It lacks frills and relies instead on what matters: good architecture, appealing fabrics, a pleasant ownership experience, and long battery life.
The Moto 360 3rd Generation is completely designed to keep you updated to anything that matters to you, ensuring that you never miss out on crucial information. It works on both Android and iOS smartphones, and if paired, it will notify you anytime your phone receives a new update from both native and third-party applications. You can also monitor music, ring your phone, and use a variety of other useful functions.