Gaming has grown from an enthusiast's activity to now being an experience that most people enjoy. The number of gaming companies has steadily increased until the year 2020 when the numbers spiked. The spike in the number of new gaming companies can be directly attributed to Covid-19.
With the advancements in portable monitors, gamers can play their favourite titles on the go. This also contributed to the rise in the market value of the gaming industry.
In 2020, the value of the gaming industry was $159.3 billion, which is a 9.3% increase as compared to 2019. This increase is due to the lockdowns that came with the Covid-19 pandemic. The lockdowns forced people into taking up new hobbies.
With such rates of growth, the game production rates had to increase to match the rising demand. Game development is a resource-intensive process.
Most people know the necessary computing power required for production. However, one aspect that people ignore is the monitor to use when developing games.
Gaming production monitors should have the following:
High refresh rate i.e., not less than 120 Hz
Quick response time
High resolution
Adaptive technologies (G-sync or FreeSync)
HDR output
The minimum screen resolution to go for should be 1080p. You can opt to go for a 5k monitor or even an 8k monitor. The 5k and 8k monitors, however, will only be for future proofing since the technology is currently not applicable in game production.
To make your selection process easy, we have compiled the best monitors for game development.
LG ULTRAGEAR 27GL850-B
The LG ULTRAGEAR 27GL850-B is a budget monitor for game production. The monitor incorporates all necessary features required for game testing in game development and it costs only $396.99.
The monitor well suits startup gaming companies that are running on a tight budget.
The monitor incorporates a QHD resolution panel and a 144Hz refresh rate. The monitor also supports all adaptive technologies by Nvidia and AMD. The monitor has an impressive 1ms response time. This is the lowest response time currently and is available with TN monitors only.
The screen also supports HDMI 2.0 that handles more bandwidth as compared to HDMI 1.4. HDMI 2.0 supports an 18 Gbps transfer rate while HDMI 1.4 supports a 10.2Gbps transfer rate.
For game developers looking for a huge monitor, the LG ULTRAGEAR 27GL850-B is not advisable since its screen size is 27″.
ASUS XG27UQ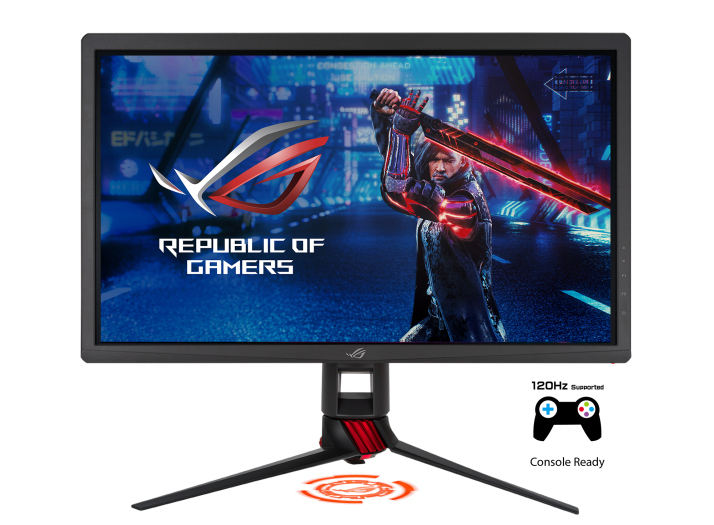 Source: https://rog.asus.com/monitors/27-to-31-5-inches/rog-strix-xg27uq-model/
The first point to note about this ASUS monitor is that its full potential is unlocked only when coupled with the RTX 3080 graphics card or better. It is a 4k monitor with a 144 Hz refresh rate.
Similar to LG's ULTRAGEAR monitor discussed above, the monitor's response time is also 1ms. Finding a 4k resolution monitor that has a 144Hz refresh rate that costs below $1,000 is very rare and that is what makes this monitor stand out. The monitor goes for $800.
The price might seem high but it is justified because this monitor brings 4k resolution game development at 60fps and above. This made the monitor available to more people at an affordable price.
Gaming at 4k60fps had always been an expensive endeavor only attainable by hardcore PC gamers and developers. The monitor is equipped with an earphone jack and supports HDMI 2.
Samsung Odyssey G7 C27G7
The Samsung Odyssey G7 C27G7 combines nearly all the latest and best LCD technologies. The monitor has adaptive sync, local dimming, quantum dot technology, and curved panels. It has a resolution of 1440p and its response time is 1ms.
The monitor's adaptive sync helps to dynamically adjust the monitor's 240Hz refresh rate. It adjusts the refresh rate to match the graphics card's (GPU) frame rate.
The monitor's panel is a VA (Vertical Alignment) panel. These types of panels are known for their exceptional image depth and contrast as compared to other LCD or LED panel types.
A common drawback of this monitor according to users is its poor HDR implementation. The monitor attained a Display HDR600 certification which most people feel is low for the monitor's premium price tag.
The monitor costs $699.99 for the 27" version and $799.99 for the 32" version.
MSI MPG ARTYMIS 343CQR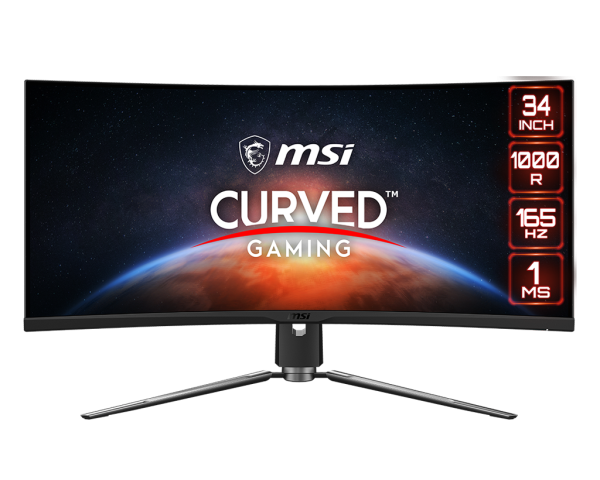 Source: https://www.msi.com/Monitor/MPG-ARTYMIS-343CQR
MSI's gaming masterpiece is a curved screen with 1000R curvature that perfectly fits the natural shape of a human eye. This assures the user of perfect viewing angles when using it.
This MSI's monitor is a 34" UWQHD monitor that has an aspect ratio of 21:9. The monitor is meant to best suit users who feel that the common aspect ratio, that is 16:9 is not enough.
The monitor has a refresh rate of 165Hz. However, this is only available when connected through the USB-C port or the display port. When connected using HDMI, the monitor has a refresh rate of 100Hz. The MPG ARTYMIS 343CQR by MSI has a 1ms response time. For an extra touch, it has rear RGB lights.
The monitor offers an outstanding gaming development and testing experience through its huge aspect ratio coupled with impressive viewing angles. It ensures the user gets clear image details and well-balanced colors through the use of True Color Sync technology. The monitor supports AMD's adaptive technology software (Freesync)
The monitor costs $749.99.
Samsung CRG90
The Samsung CRG90 is among the rare 5k monitors available. The monitor can be used for game development and testing. The CRG90 has an aspect ratio of 32:9. This is attributed to the combination of the 49" screen size and 5k resolution.
The monitor uses its 120Hz refresh rate together with AMD FreeSync 2 technology. This delivers crisp clarity, not only for normal scenes but for fast action scenes as well.
The monitor offers excellent HDR performance with support for 1.07 billion colors. It offers 1000 nits of peak brightness. This is good for use even in outside spaces with a lot of light.
With its high specifications and features, it is a no-brainer that the CRG90 by Samsung requires a high-end graphics card to unleash its full capabilities.
A drawback of the Samsung CRG90 is its relatively high response time which is 4ms. The monitor costs $1199.
Conclusion
A critical factor to keep in mind when acquiring monitors to use for gaming production is that resolutions above 4k are not usable currently. All existing 5k and 8k monitors have been specialized for video editing and graphic design purposes.
This is because gaming technologies have not reached a point where they can take advantage of these high resolutions. When buying a game production monitor, you should keep this in mind since the 5k and 8k monitors are expensive.
If you are on a strict budget, avoid these monitors and buy at least a QHD panel.