There are a number of social media platforms available currently and they all have a huge number of active users. Among them, Snapchat comes too. Many people all around the world use this social media platform where you can post a story and your friends can see it and after 24 hours the story gets deleted on its own.
Many people want to know how to delete Snap conversations and so Technographx has brought this article to let you know that.
What Are Snapchat Messages?
There are two types of messages in Snapchat that you may want to delete permanently. The first one is the snap that you sent to your friends with a video or photo. It is the basis of Snapchat's communication.
The second ones are the text messages that you send and receive from friends. You just have to swipe right and from there you can start sending them messages directly.
This type of messages is meant to be a follow up to a snap that you receive from a friend. You can comment on a snap and start a conversation.
Know How To Delete Snap Conversation
For deleting the Snapchat messages you either sent or received while using the app, you have to just follow the steps given below.
Keep in mind that it will only delete the messages on your phone and not on someone else's phone. This is because Snapchat doesn't download the messages on the server but it does on the people's phone.
1.    First of all, open the Snapchat app and you'll see a little Snapchat ghost at the top center.
2.    Now, tap on the ghost and you'll see your Snapchat icon with your name and score. Now, for getting into the settings, tap on the gear icon at the top left.
3.    Now, scroll down to Account Actions and tap on "Clear Conversations" in that menu.
4.    Now, You will see a list of all of your messages with an x right next to it.
5.    You will get a message that says "Are you sure you want to clear this conversation?". You can choose this option and select don't ask again.
6.    You can also choose to clear all of your messages at once too.
NOTE: Keep in mind that when you clear the conversation on your feed, it won't delete any saved or sent messages.
How To Delete Saved Snapchat Message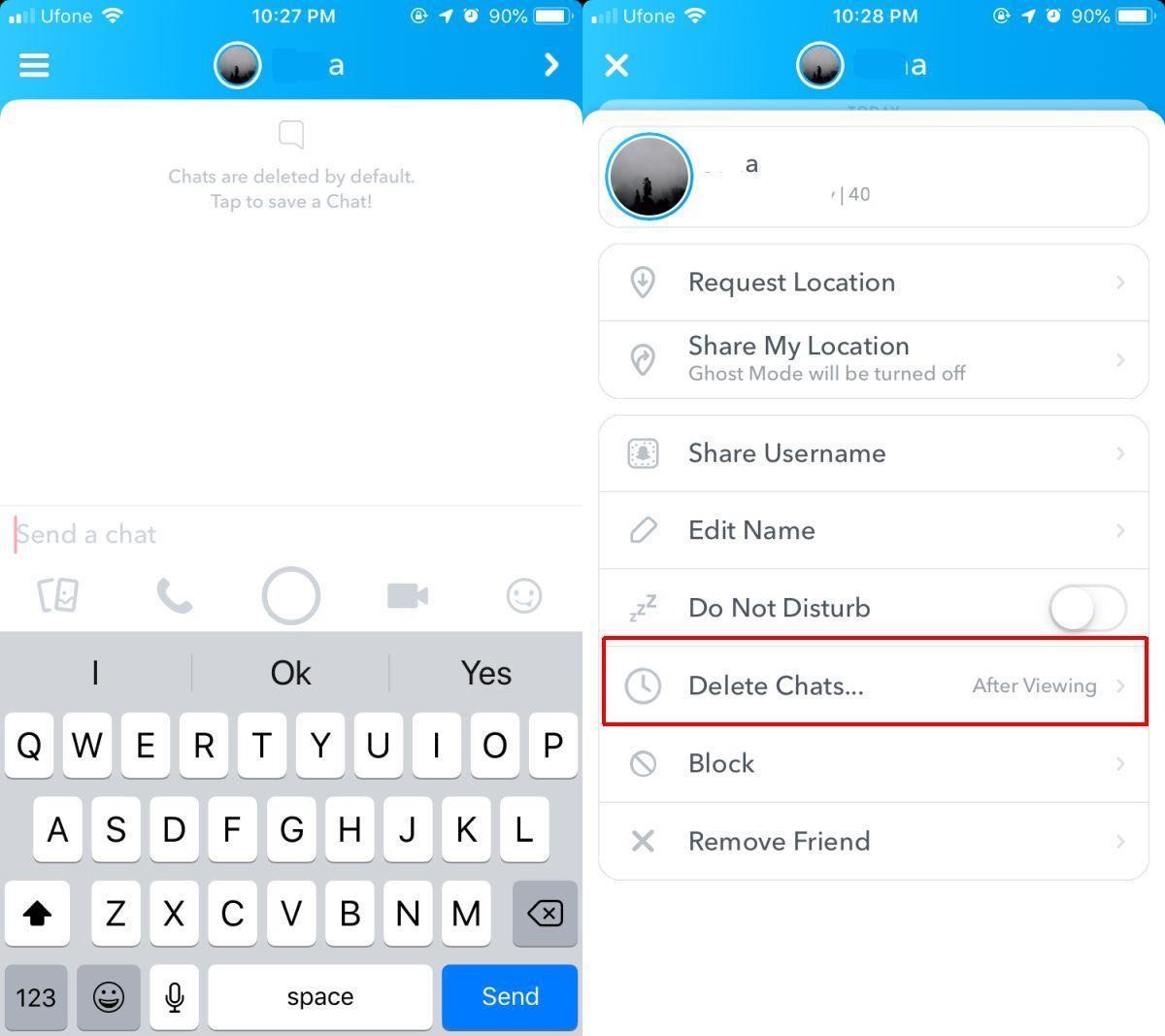 You might be knowing that there is a way to save messages on Snapchat so that you can go back and read them at any time later. It is different from everything else on Snapchat that remains highly temporary.
For saving part of your snap text message, you have to just tap on the part of the message that you want to keep. It works for both photos and videos. After you tap it, the saved message will turn grey and also turn into a different font and that's how you know it's saved. Now, when you exit the app, you will notice that all the messages will be deleted and only the message that you save will remain.
Now, if you decide that you no longer want to save the messages then all you have to do is to go to the saved message and tap it to convert it from grey to normal text and white background. Now, Snapchat will delete that message too when you leave the app.
Delete Snapchat Account & Messages
If you sent a snap to your friend that you immediately regret then there is one option left for keeping the other person away from seeing it by deleting your Snapchat account. Yes, this is the nuclear option and you have to follow it if you have done something career ending on Snapchat. You should delete your account before the other person sees the snap that you have sent and then you can signup again.
Follow the steps given-below for deleting your Snapchat account.
1.    First of all, Head over to the Snapchat Support Delete Page.
2.    Now, you will need to enter your username and password. Now, you have to click that you're not a robot and also enter the text displayed in an image.
3.    Now, you will be asked again to enter your password again.
4.    At this point, you will have deleted your Snapchat account.
After following the above steps, the Snapchat account is deleted completely. You can also get the stored Snapchat messages deleted on your phone. You can delete the cache that may be having the photos and messages stored in it. Snapchat is going to completely delete all the photos and text messages on your phone but there are some instances where it is held in the cache.