Located in Tennessee, Pigeon Forge is a quaint mountain town with a population of just 6000. But, this small town welcomes millions of tourists annually due to its numerous attractions. It is well-known as the gateway to the Smokies and offers a stunning view of the majestic mountain range – but that's not all.
The town offers numerous activities and attractions for you to explore. These include amusement and theme parks, museums, live theatre, and historical sites. So, not only will you experience nature at its finest, but you will also explore numerous cultural and historical places and go on amazing adventures.
As there are so many things to experience in Pigeon Forge, it can be confusing to decide what to see when planning your trip. So here's a list that should help.
1. Get your hands on some rare gems.
Gem mining is one of the most unique and engaging activities to experience at Pigeon Forge. There are several mines in Pigeon Forge where you can find and even look for rare gems like sapphires and rubies. The best part is that you can bring the entire family to participate in this adventure with mining buckets looking for treasures and all kinds of cool artifacts.
Here's a cool fact; local artisans frequently source their gemstones from the Pigeon Forge gem mine, allowing visitors to own one-of-a-kind jewelry creations.
Goats on The Roof
Goats on the Roof is a fun place to look for your gems. The quirky souvenir shop features an authentic, old-style water sluice. As the water washes away the soil, treasures might be revealed.
Old Smoky Gem Mine
Another gem mine you can visit during your trip is the Old Smoky Gem Mine. This mine is located in Gatlinburg, which is only 15 minutes away from Pigeon Forge. You can also turn the gems you find into jewelry and take them home as a souvenir.
2. Beat the heat at Dollywood.
Dollywood is one of the top most popular attraction sites in Pigeon Forge. In fact, it has been voted as the #1 theme park in the USA. The amusement theme park offers its visitors multiple experiences in one place.
You can ride several thrilling coasters and other rides at the amusement park. And, if you're visiting during the summer, visit Dollywood Splash Country, a waterpark with amazing slides and pools.
3. Explore the Smokies
As mentioned before, Pigeon Forge is the gateway to the Smokies. So, exploring the Smoky Mountain National Park is necessary if you want to do justice to your trip. You can hike in the park, take a break from the bustling city life and enjoy the fresh air.
However, you can opt for short trails if you don't have enough time for a hike. You can also go for a drive through the national park if you want to cover more areas.
4. Experience history at the Old Mill Square
Pigeon Forge is quite old, as it was founded in the 1700s, which is why there are several historical sites in Pigeon Forge and its surrounding areas. One of the best historical sites you can visit is Old Mill Square.
It is centered around a wooden gristmill and looks just like it did in the 18th and 19th centuries. The Old Mill Square offers many activities for its visitors. You can explore the site, enjoy delicious food, or shop for exquisite crafts and souvenirs.
5. Go mini-golfing
If the weather ruins your plans and you don't want to waste your day, you can go for a game of mini-golf at an indoor mini-golf course. There are many different mini-golf courses you can choose from in Pigeon Forge.
The best thing about these courses is that most of them have unique themes, which makes the experience more fun. For instance, you can visit the candy-themed mini-golf course, Crave Golf Club, and enjoy a game of mini-golf in a land made of ice cream and candy.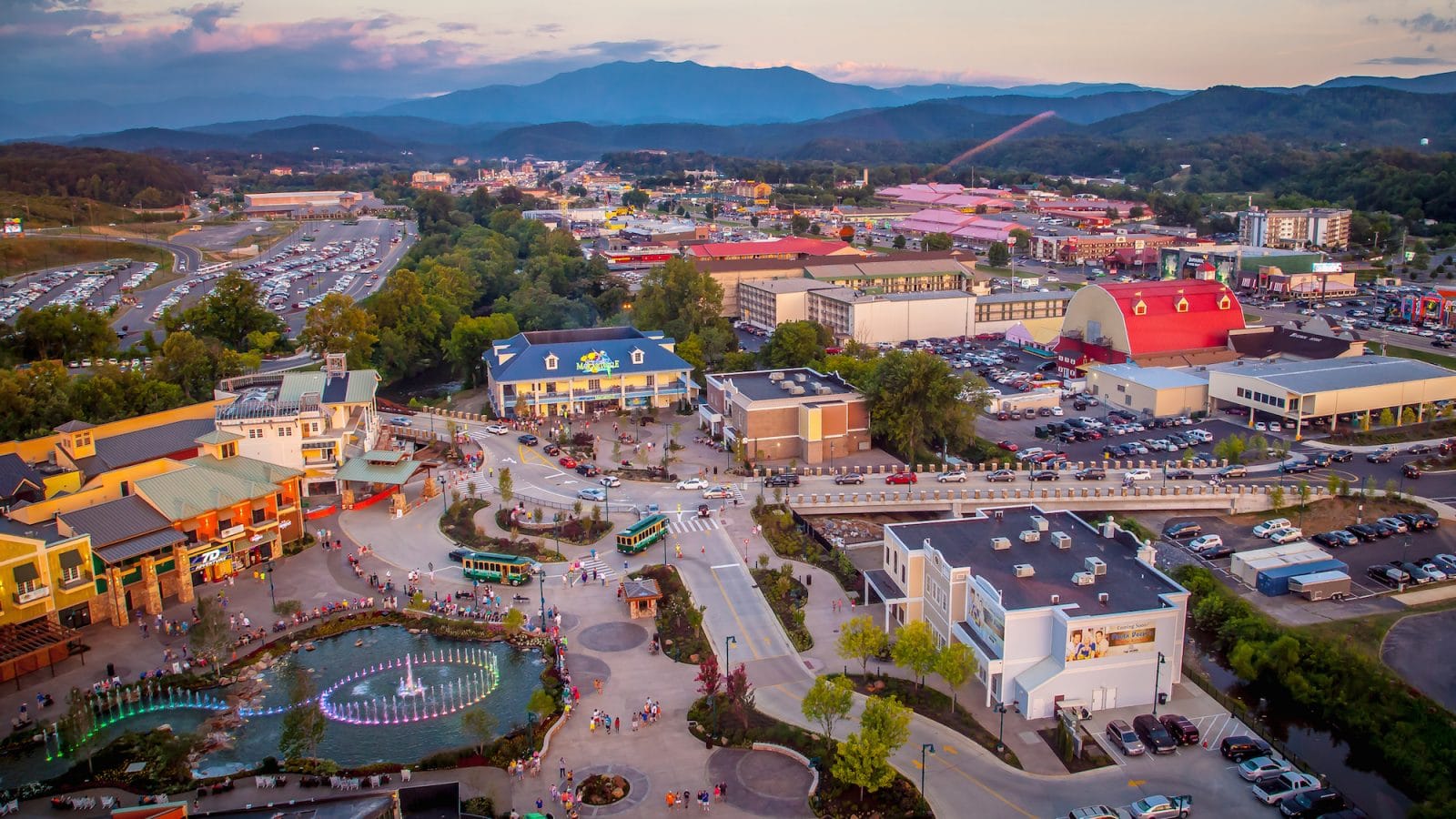 6. Visit the Island in Pigeon Forge
Another popular attraction you can visit is the Island. It is the perfect place to unwind and have fun, especially when traveling with family. But it is so big that seeing it all in one day is impossible.
The Island has an amusement park with exciting rides and numerous activities for your family. You can go shopping, eat at a restaurant or explore the amusement park. In addition, you can also go for a ride on the huge Ferris wheel and get an amazing view of the Smokies.
Afterward, you can end the evening by watching the stunning Island Show Fountains or listening to live music at Ole Smoky Moonshine. Additionally, several festivals and events, such as St. Patrick's Day, are hosted on the Island annually. So, if you visit Pigeon Forge near a holiday, attend the celebrations.
7. Visit the Titanic Museum
Pigeon Forge is home to many unique museums, like the Titanic Museum, which was built as a tribute to the ill-fated ship that sank in 1912.
You can tour the ship and look at various artifacts related to the incident. The museum has 20 galleries filled with artifacts, some of which belonged to actual passengers of the Titanic. The ship's bow also rests in water to give you a real aspect of how large it really was.
Concluding Thoughts
Pigeon Forge is one of the few vacation spots that has something for everyone. Whether you want to enjoy nature, experience history and culture, or go on amazing adventures, this quaint little town of happiness has everything.
These attractions and activities don't even begin to cover all the amazing things you can experience. We hope this list helped you plan your holiday. So time to pack your bags, head up to the mountains and make lasting memories with your family.
We hope you learned something from this article; if we missed anything, please tell us in the comments below.