There's nothing weird about saying "You look so good I could just eat you up!" to a pillow when it's in the shape of a giant chocolate truffle, or to a wall when it's covered in images of supersized juicy berries — at least not in Food-themed hotels where such novelties actually exist.
"A growing number of food-themed hotels started entering the marketplace in the last few years, representing a growing niche market within the industry," said Joseph Moscone, senior manager of public relations for the Americas at Booking.com.
Among that growing number is the Adelphi, a dessert-themed boutique hotel located in Melbourne, Australia, where some rooms look like they were modeled after Godiva gift boxes, and the minibar is restocked daily with candies.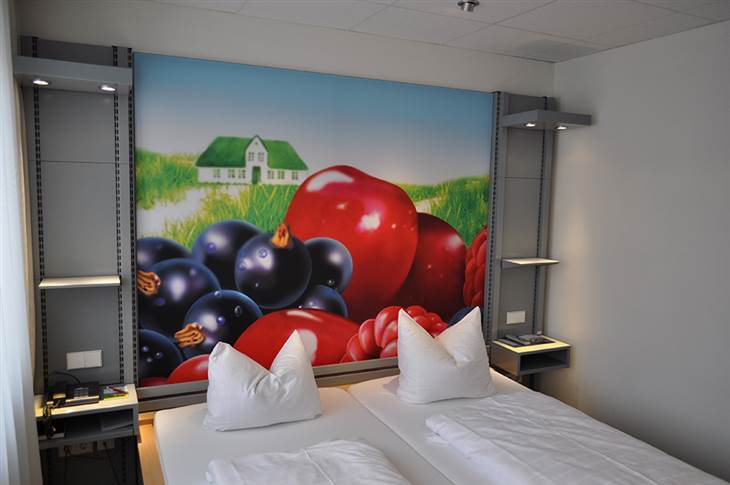 Food Hotel in Neuwied, Germany, sports a supermarket motif.
There's also Food Hotel in Neuwied, Germany, which sports a supermarket motif, touting Coca Cola shower stalls, furniture resembling beer crates, and cushions that look like biscuits.
Three Ways House, a hotel in Gloucestershire, England, is host to the Pudding Club, and its guests have the option of staying in a Pudding Room or a Chocolate Suite — where they're surrounded by delectable images of syrup sponge or spotted dick and custard (hey, it's supposed to be delish).
There are also hotels that don't revolve entirely around food but have a soft spot for taste buds. Toronto's Gladstone hotel, for instance, has 37 artist-designed rooms, one of which was created by Food Network host Bob Blumer and features Fruit Loops wallpaper and a Swiss-cheese canopy.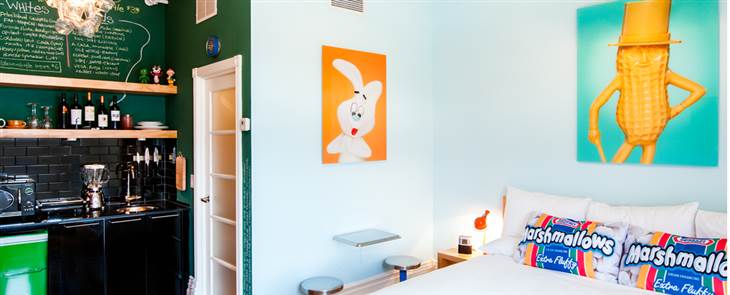 Toronto's Gladstone hotel has 37 rooms designed by culinary-minded artists.
It's enough to make your stomach grumble. But, who is staying in these yummy places, anyway?
"We find that the most popular traveler types for these hotels are couples, both mature and young in age," says Moscone, adding that food-themed hotels are typically comparable in cost to other hotels in their respective areas.
There's also the fact that foodie culture is more popular than ever, and with the omnipresence of social media, it's nearly mandatory for anyone with a smartphone to snap a pic of their meal and upload it to Instagram before taking a bite from it.
What's more, as Mischief PR has shown us, food — especially the kind that rots your teeth — can be incredibly fun.
Three Ways House, a hotel in Gloucestershire, England, offers guests the option of staying in a Pudding Room or a Chocolate Suite.
In March of 2012, Mischief PR devised the Tate & Lyle Sugars Cake Hotel — a literally edible hotel that was erected on Dean Street in London for one night only.
Ravenous guests ate their way through the walls, which were home to eight tasting rooms, including a caramel popcorn-filled bathtub, a tower of doughnuts, a mud cake statue and many more sugary creations. The project took 2,000 hours to bake and 900 hours to decorate.
Mischief PR's creative director Damon Statt says that since presenting the edible cake hotel, which was meant to show what each of the eight sugars in the Tate & Lyle range can do, the agency has seen an increase in edible installations and events, and itself is planning more.
Perhaps these food-themed hotels can follow suit and make a space we can actually sink our teeth into. After all, who needs room service when you can just devour the room?