Choosing an appropriate pallet racking system often makes a world of difference in the accessibility of different items in your warehouse. Proper pallet racking not only improves productivity but also prevents the damage of items you store on them. In fact, they can save up to 40% space in the warehouse, giving you a chance to add more pallets so that you can increase your storage.
But how should you decide what type of pallet is best for your warehouse? Some people select pallet racks because of their affordability while others choose them because they are versatile. Let's take a look at some of the types of pallet racking that you can consider for your warehouse.
1. Selective pallet rack
This is the most versatile and also the most popular pallet racking system in most countries. Selective pallet racks offer access to various items and also helps in providing efficient use of space. Make sure you use a forklift to access the items on top as some of these racks can be quite tall.
Most manufacturers of selective pallet racks use easy-to-clean, debris-resistant structural steel to make these pallets. This makes them durable. That means you don't need to think of investing in another selective pallet rack any time soon.  You can seek for advice at Alternative Storage Systems, in terms of pallet racks because they offer wide choices of pallet racking throughout UK.
2. Double deep
You need to create double deep racks by putting an entire row of selective racks one behind the other. This is by far the easiest and most inexpensive way to improve high-density storage. It can increase your storage capacity by almost 40%. But make sure you keep the selective racks according to the position mentioned. Don't keep them diagonally. They must remain behind one another to create extra space.
3. Push-back rack or back racking
In this system, you need to place the pallets on carts. These carts should slide forward whenever you remove the pallet in front. Remember, you can make a double deep system with up to five carts. This type of pallet racking system is similar to the ones you see in the refrigerated beverage industry.
You will notice the bottles shelved in the grocery stores. These shelves move when you push the first rack slightly, allowing the ones behind to come forward. You need to feed the pallet from one end and retrieve them from the other side of the aisle. This reduces picking time significantly, making the racks ideal for use in areas where you need to deal with different types of foods or beverages.
4. Pallet flow rack
Popularly known as gravity flow racks, they follow a first-in and first-out loading system. They come with sloping racks where you need to add new pallets at the top and take them out when they reach the bottom. You can double or even triple the capacity of pallet flow storage that you usually can't do in conventional or drive-in pallet racking systems.
Pallet flow racks are ideal for food distribution centers, freezer warehouses, or warehouses that deal with perishable consumer goods. Keep adding new pallets on top to increase the space. But make sure you have enough height and reach to access the pallets on top.
5. Drive-in or drive-thru rack
These types of racks require fewer aisles. This means you can store almost 75% more pallets than in conventional pallet racks. You will, however, need a forklift to access these racks as they can go six pallets deep. Drive-in racks come with a common entry and exit point but drive-thru racks have separate entries and exits.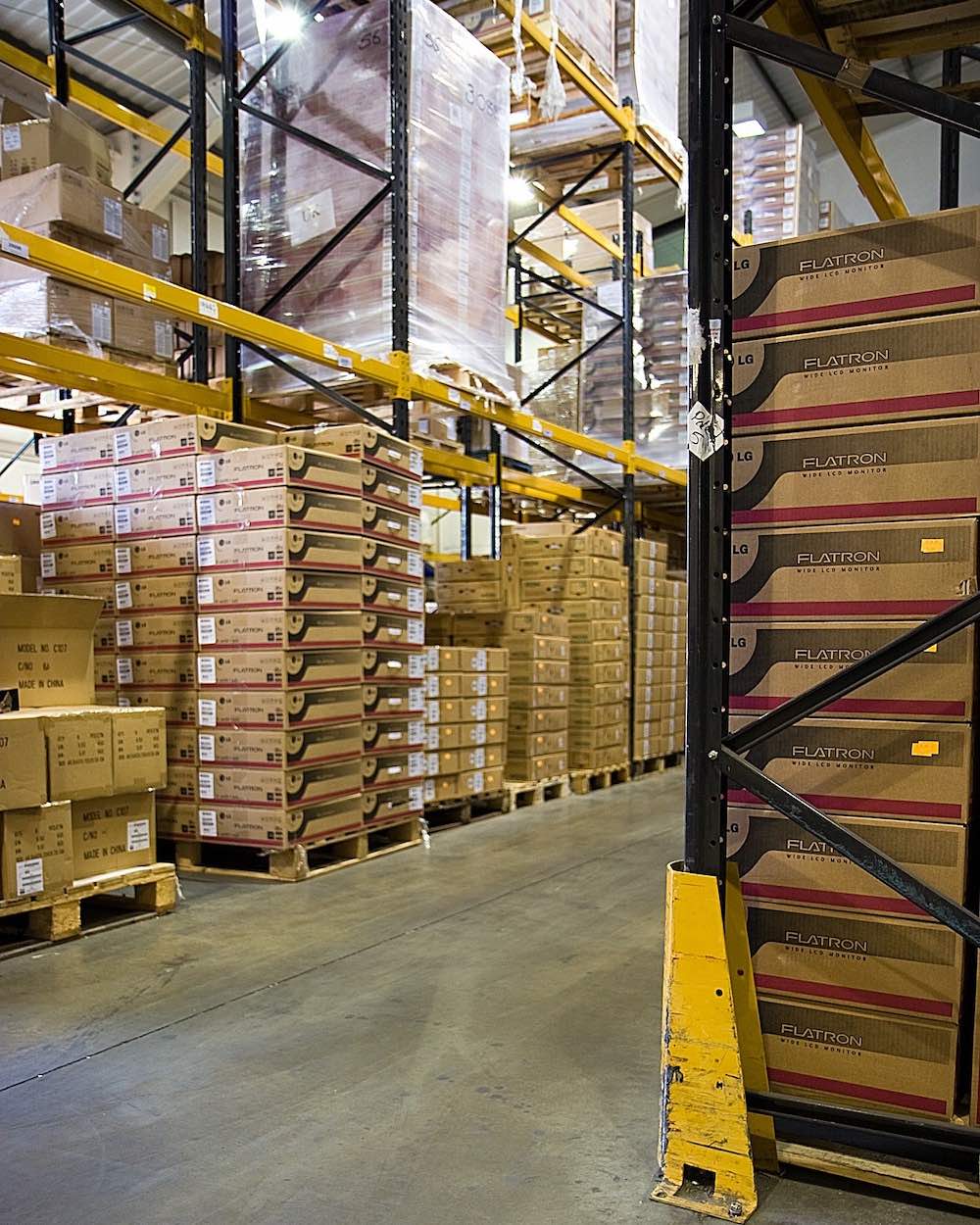 Another advantage of using this type of rack is its high-density storage solution and durability. With a welded frame construction, these racks provide the support your items need to sit comfortably on the pallets.
6. Roll-formed cantilever rack
These racks don't contain any aisle to obstruct the horizontal space. They are best for storing bulkier and longer items, such as lumber, tires, furniture, carpet rolls, pipes, textiles, and tubes. Cantilever racks also have spring-loaded entry gates and drip-in decks to offer added safety and protection. Structural steel as the primary ingredient makes cantilever racks long-lasting.
With so many types of pallet racking around, choose one that suits the size of your warehouse. You should also consider the items you usually store while selecting from the above pallet racking systems.