RISEUP, the leading entrepreneurial and entrepreneurial event in the Middle East and North Africa (MENA), launched Friday a number of key news events.
Here is a roundup of the 3 day event that happened in Cairo in case you missed it.
The Friday launch started by including the signing of a cooperation protocol between the Ministry of Social Solidarity and Rays Abe and PepsiCo Egypt to hold the "Hackathon Egypt 2030" competition.
The vision of Egypt 2030 comes in line with the strategy of sustainable development by exploring innovative solutions to Egypt's main challenges in the areas of hunger eradication and gender equality in the labor market. Its effectiveness is expected to be held in April 2019.
The protocol was signed at the Greek Campus in Cairo in the presence of Minister Ghada Wali and Mr. Mohamed Shalbaya, Chairman and CEO of PepsiCo Egypt, and Mr. Abdel Hamid Sharara, Founder and CEO of Rise-Up, during the Summit.
"This place is full of positive energy, and I am happy to be among this beautiful gathering,"
said Minister Ghada Wali.
"I am very proud of the wonderful fruits of the Spark, "And the time I spent more than ten years during my participation as a member of the judging panel that produced these wonderful results today.

"We are looking for young, sophisticated and innovative ideas to provide the necessary support and I am very optimistic and enthusiastic about this event, and I am sure that through your communication with us we will come up with innovative ideas that will help us make Egypt a better place, To achieve the goals of sustainable development before 2030. "
Within the framework of the Ministry of Social Solidarity's priority for its plan of action to achieve the sustainable development strategy "Egypt Vision 2030", Dr. Ghada Wali also signed a joint cooperation protocol with Flat 6 Labs for incubators to provide young people with ideas and innovative projects to solve social problems in Egypt.
Supporting Egypt Start, an Egyptian Entrepreneurship Initiative for Emerging Companies funded by the Government of the United Kingdom, with the support of the International Finance Corporation (IFC) – a member of the World Bank Group – and Flat 6 Labs.
The Minister of Tourism, Rania Al Mashat, addressed thousands of attendees on her journey to "stay on the ground" in a friendly discussion on stage by hosting Sandra Farid, co-founder of Acumen.
"I am very excited to be here because entrepreneurship is very important, and as we enter the era of the Fourth Industrial Revolution, the primary role of governments in Policy development is the support of entrepreneurship, which is impressive when we see the number of jobs created, the volume of exports made by technology and startups.
 The conference is expected to host the United Nations World Tourism Organization in the Middle East, and more than one day will be devoted to the conference on emerging companies and the Hackathon competitions, and we will disclose in time the details of our distinctive partnership with Riseup.
"Today, we are seeing more entrepreneurs, investors and key players in the Middle East and North Africa on the stage, as these success stories have been built over the past six years.In the first few editions of the Summit, most speakers were inspired by global stories, Today are local and regional stories that we can talk about, share and learn from – because these lessons can actually be applied to our business system and startups. "
This is what experiences from the ground mean, according to the chairman and CEO of Riseup, Abdel Hamid Sharara.
"Moreover, we have seen government representatives, key global experts such as Uber and people like Dom Hallas, to help us look at best practices globally to overcome the challenges we have not yet faced."
Dom Hallas, Executive Director of Digital Coadec, spoke of the clash between technology and politics around the world. So more and more start-ups need to communicate their voice in government, to express their opinion on the important policies to form a technology business at an early stage. From his experience, he also advises start-ups on how to communicate and collaborate with the government.
Among the highlights of the first day were Mr. Mohamed Farid, President of the Egyptian Stock Exchange, Brooke Entwistle, Business Director, Uber International, Wael Abdoush, General Manager, IBM Middle East and North Africa, Mounir Nakhla, founder and CEO of Halan, which has just launched several million investments in a first round of investment just days before the summit.
"Our mission to change how the world moves for me is a new challenge, as I have already challenged myself to climb the Everest summit,"
said Brooke Entwistle, chief business officer at Uber International.
"Uber has a long-term vision to become a multi-use platform for mobility. Which opens the door to economic, social and environmental changes in more than 600 cities around the world As part of our commitment to solve the world's most difficult problems, we will continue to explore different opportunities for the development and expansion of Uber's strategic partnership, Unleash the benefits of participatory transport for both Drivers, partners, passengers and cities in which we operate. "
Then Saturday RiseUp rounded up its second day of activities with an in–depth set of sessions that took attendees on a journey into entrepreneurship ecosystems from Silicon Valley to Japan and Dubai, and showcased the challenges and successes of Egyptian entrepreneurs.
https://www.instagram.com/p/BrF51dPlF9w/
Mohamed Hamdy, Head of future platforms at Dubai Future Foundation– which aims at enabling the future of Dubai for the advancement of humanity- spoke today about the narrative that integrates the approach towards the foundation' programs and initiatives.
Among the day's highlights was a talk by Kohzo Hirose, Director for economic affairs for Jetro Istanbul, who spoke about Japan innovation, VC investment situation in Japan in addition to a summary of the J-start-up program.
In a Fireside Chat on the Tech Stage, entrepreneurs from Egypt talked about their journey to Silicon Valley. Three young Egyptian Entrepreneurs that were mentored in Silicon Valley shared how that experience impacted their business mentality and improved their local business mindset.
Also, IBM launched its Start-Up with IBM", the Global Entrepreneurship Program initiatives solely aimed at startups. "Start-Up with IBM" includes a free one-year subscription on IBM Cloud to utilize 190+ cloud services for a monthly credit of $1000 that can be extended up to $10000. Which means up to $120000 free cloud credits for startups. In addition, a whole support team will be at the startups' service to give technical sessions and mentorship in order to facilitate the migration of their systems to IBM Cloud. Since businesses nowadays demand the use of Cloud technologies, "Startup with IBM" allows developers as well as non-tech savvy startups to perform the testing and implementation of their business model ideas on Cloud for a year free of charge. This offer is available for all Startups that have been in the market no more than 5 years.
As part of the RiseUp Summit 2018 activities, the Flat6Labs Demo Day graduated eight startups from its second cycle of fiscal year 2018. This cycle has entrepreneurs coming from all across Egypt and the startups are working across various industries, from Scientific Research, Medicine and professional services to Real Estate, F&B and waste management, offering innovative online and digital solutions set to disrupt the market.
Ramez El-Serafy, Flat6Labs CEO say:
"I am proud to witness such bright and passionate entrepreneurs, representing an exquisite display of diversity. We are now excited for Cairo's Twelfth cycle and look forward to welcoming new, innovative and disruptive technologies in Egypt".
https://www.instagram.com/p/BrLgCAaBavf/
One the last day (Sunday), investment news was the highlight of RiseUp Summit's closing ceremony, where RiseUp announced opening an investment round led by Endure Capital, with Enara Ventures Kamelizer, and 500 StartUps The investment is aimed at enhancing the growth and impact of RiseUp as an entrepreneurship ecosystem enabler in the MENA region. There are several interested parties, and the round is targeting closure by January 2019.
"RiseUp is simply the infrastructure on which start-ups are able to grow and scale. We are glad we are supporting RiseUp because this means we are supporting the ecosystem as a whole and we are inviting everyone to join us and join the movement,"
said Endure Capital's managing partner Tarek Fahim.
Hanan Abdel Meguid, founder of Kamelizer, said:
"RiseUp are the catalyst for entrepreneurship in our region, we cooperated on multiple fronts to build real experiences and take the market from hype to reality. I am happy and proud that we are joining hands in true partnership for their exciting new journey."
RiseUp Summit 2018 announced that the three days of the event welcomed 6,036 participants from 48 countries, including 289 investors, 298 speakers and 240 participating start-ups and 65 partner organizations.
Little Thinking Minds, the Jordan-based regional ed-tech company, announced $1.265m in Series A funding in a round led by Algebra Ventures with participation from Mindshift Capital and Al Turki Group. With 80,000+ users, Little Thinking Minds products are already used in over 200 public and private schools as well as remedial programs for refugee children within the MENA region and globally.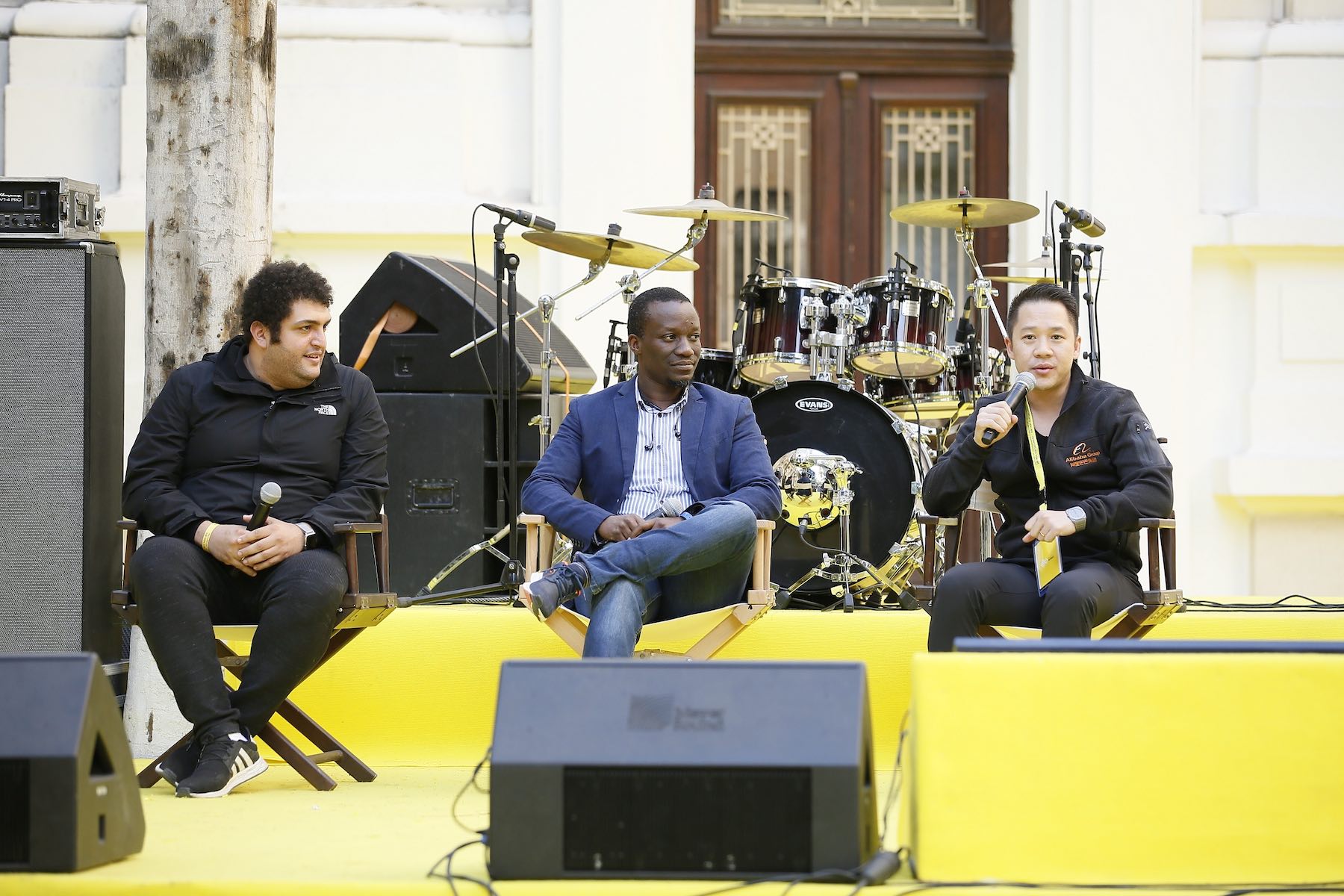 Among the most prominent talks was a fireside chat with Jason Pau, chief of staff of Alibaba's executive chairman Jack Ma. He said:
"We want to build trade thats inclusive, that allows entrepreneurs to engage."

"We are looking for heroes in Africa, like you, to show their businesses, to show what's being built here. It's about using entrepreneurship to change our communities. When I look at this crowd, it's amazing. This is how it starts, having these conversations. This is how you stimulate an ecosystem. I've seen so many interesting investors and entrepreneurs at RiseUp,"
said Sam Gichuru.
Sam Gichuru is the founder and CEO of Nailab in Kenya, who was most recently selected by Jack Ma to lead, through Nailab, the Africa Netpreneur Prize Initiative, a $10M Initiative lead by Jack Ma foundation that seeks to discover, spotlight and support 10 African entrepreneurs every year for the next 10 years.
Addressing the participants at the RiseUp Summit for the first time, Lamees Al Hadidi, Egyptian Television presenter, said:
"Although I never started my own business, I see myself as an entrepreneur, because entrepreneurship is a lifestyle and you can be an entrepreneur in your workplace by making sure you make a real difference".
In her stage interview with young actress Sarrah Abdel Rahman, Al Hadidi said that "The idea of her prime-time television competition program "Hona El Shabab", was in itself a first and a risk she decided to take because people needed to see real hope from this ecosystem. Also because these innovators deserve the chance for exposure." This is what encouraged her to keep going and present the second season of the program with greater production and longer duration. "I'm very proud of the success stories of entrepreneurs who were featured which was discussed for the first time in her program entitled "Hona El Shabab" such as the transport company "Swvl".
Answering the question of how she wants to support entrepreneurs in the coming period, Hadidi said that
"I think that a seasonal program such as "Hona El Shabab" is not enough to support these innovative entrepreneurs, so I want to continue my support through a digital platform that covers their news and follows their success stories throughout the year".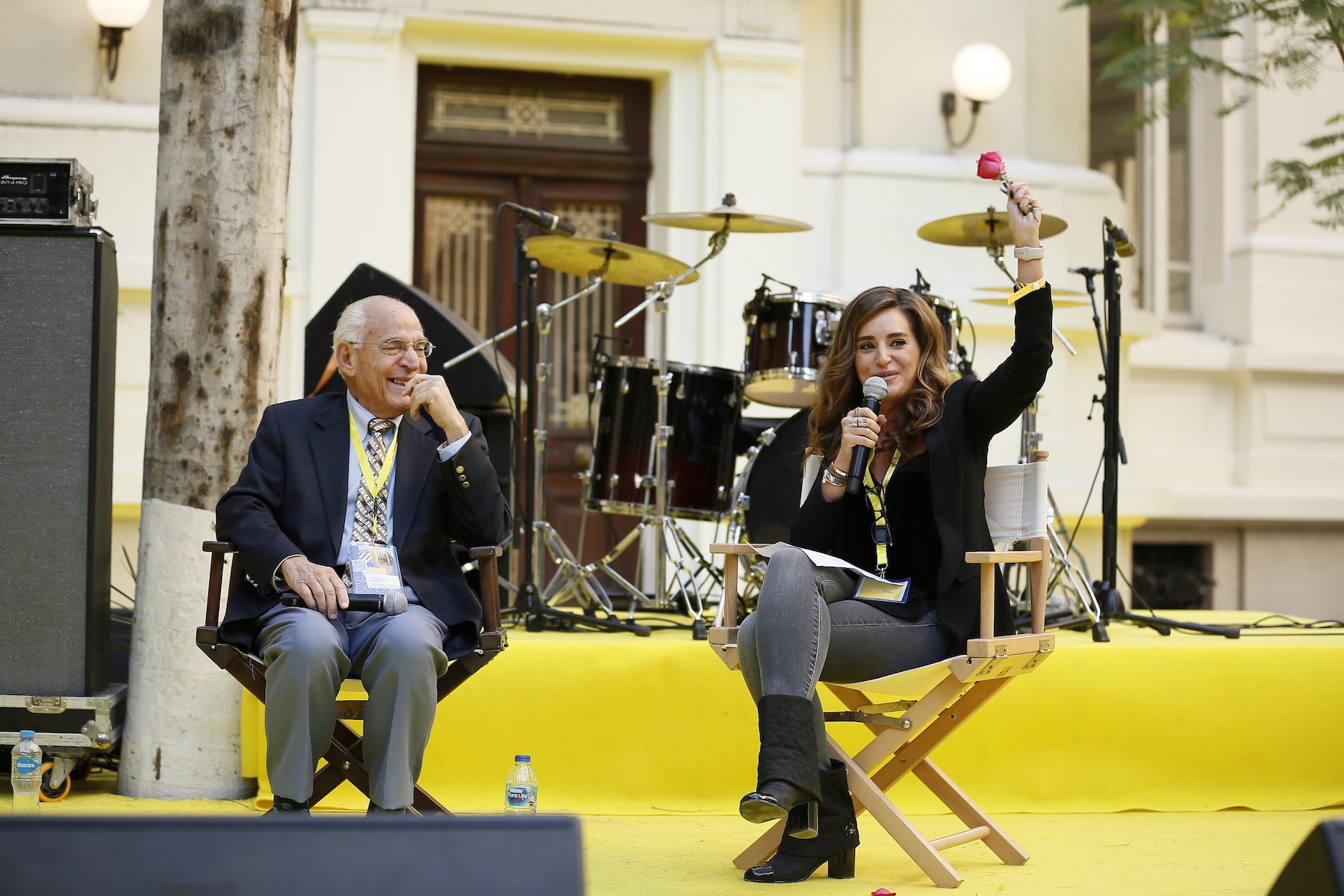 Scientist and former NASA engineer Dr. Farouk El Baz said:
"Youth who have the energy are able to create and reform the best Egypt we want, and they must insist on achieving this. In the future, I want to share my experience with all the youth, especially Egyptians. I ask all of you here today to be a part of the future prosperity of the country."
On a panel that asked the controversial question, "Are humans ethical enough for Artificial Intelligence", Ryno Rjnsburger, CTO of Microsoft 4Afrika said:
"Microsoft brought the power of personal computing to the world, and today is aiming to do the same with artificial intelligence – educate, democratize, and enable everyone on the planet to achieve more, while ensuring we are guided by strong principles that keep these developments on track. At Microsoft, we've developed an internal advisory committee to help ensure our AI products adhere to these principles. We are also a co-founder of the Partnership on AI, an organization devoted to studying and formulating best practices on AI technologies, and we've forged industry partnerships with both Amazon and Facebook to make AI more accessible to everyone,"
Nearly 300 start-ups applied to participate in the RiseUp Pitch Competition. The 50 shortlisted companies, all in the pre-seed stage, pitched to a panel of judges from some of the region's leading venture capital and angeL investment entities.The judges were Waleed Khalil, partner at Endure Capital, Aly El Shalakany and Zeina Mandour of Cairo Angels, Jad Antoun and Vijay Ramkumar of Beco Capital and Ahmed Al Jabreen from 500 Startups.
Only 10 finalists were chosen to battle it out on the Capital Stage in The GrEEK Campus. The winners were selected by a panel featuring Sherif Makhlouf, partner at Innovety, Hasan Haider of 500StartUps, Abdelhameed Sharara, CEO of RiseUp and Willie El Amin, Strategic Developer Programs Manager for Facebook, MENA.
The scoring was done by the judges and the crowd through DealMatrix, live during the closing ceremony. First place winners, Argeneering, will receive US$ 50,000 from 500 StartUps following due diligence, EGP 10,000 worth of credit for Uber rides, Artificial Intelligence and Blockchain course from IBM as well as membership to the bootstrap phase for the FBStart program by Facebook.
Second and third place winners, MayDay and Vetwork respectively, also received EGP5,000 and EGP 2,500 credit in Uber rides as well as access to FBStart by Facebook and the course presented by IBM, and fast tracking for Falak StartUps bootcamp program.
The "Crowd Champion", who won the most votes from the crowd, Garment IO , has also won a free ticket to any European summit of their choice, presented by DealMatrix.
TakeStep won the Social Impact Award. It is a start-up that provides a platform to help people with addictions by guiding them through recovery and connecting them to people and other resources on an ongoing basis to prevent them from relapsing.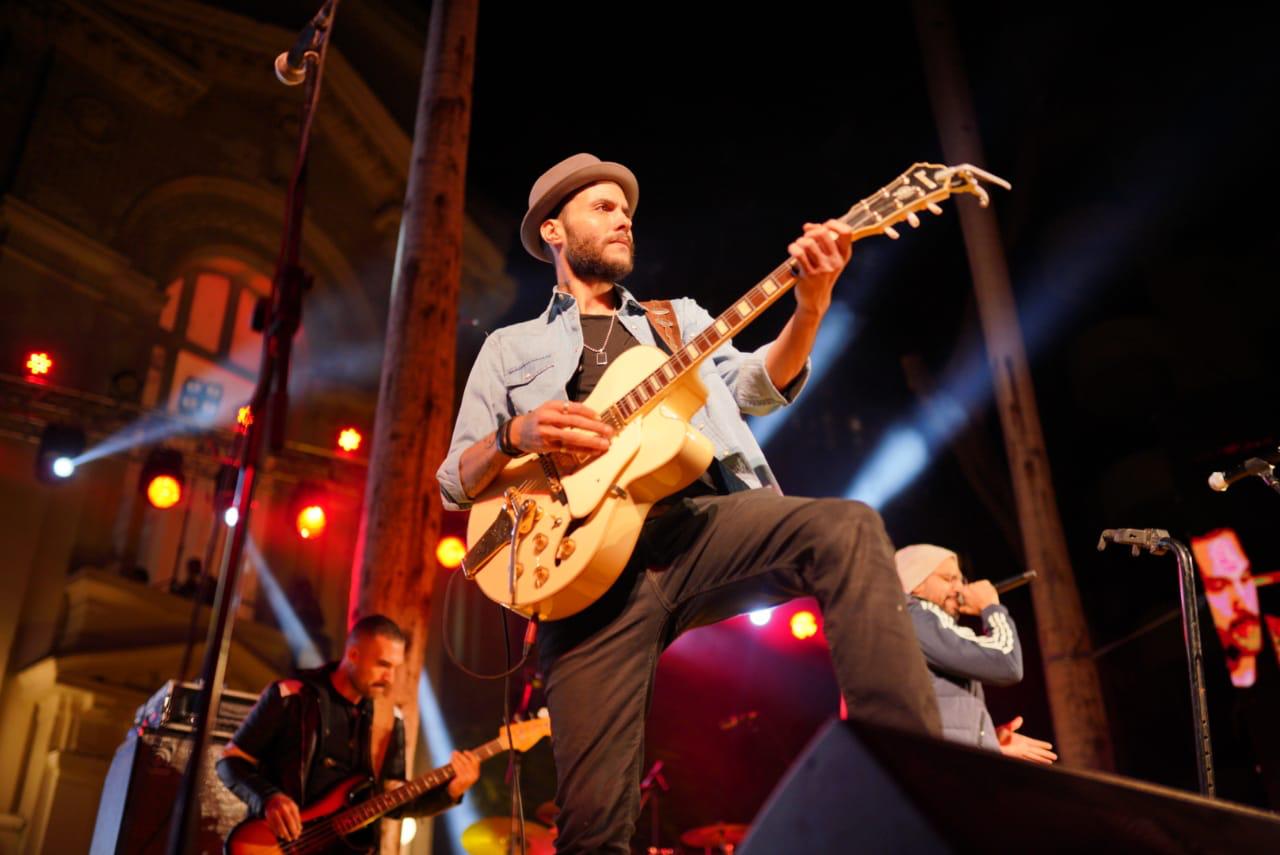 The closing ceremony hosted music by the favorite generation band "Cairokee" and everyone was reminiscent of their 2011 songs.
It was an inspiring event and we're counting the days for 2019 Riseup Summit!