As we try to enhance our presence online, we are bound to spend most of the marketing dollars into content, social media, and, of course, search engine optimization (SEO). SEO helps in improving the ranking of the website during the search for specific keywords. Studies show that the first five organic results cover 67.6% of all clicks through.
Most of the SEO activities are restricted to on-page content and creation of back-links through backlink masters. Probably these are the easier ones to do. However, SEO specialists too rarely consider Technical SEO that is also an essential aspect of all such related activities.
In this article, we will discuss some of the points related to Technical SEO consider in your overall strategy.
Page speed optimization
Choosing the right web hosting package is one of the crucial decisions a small business owner will make. Most businesses like to start with the cheapest hosting available as a way to save money. But this small price tag can have disastrous results due to the slow website response times. It's very important to select a reliable web hosting company and a plan. If you plan to build a growing website, you need a solid web hosting company that you can count on. Cloudways, a managed cloud hosting service provides faster, higher quality web hosting that strike a nice balance between affordability and features.
Get 3 months free hosting on Cloudways managed cloud hosting platform with this promo code for Woblogger users.
It is among the top strategies for Technical SEO that you can use to enhance your site ranking. Remember that if your website takes ages to load, you will be severely cutting down your website's abilities to pull visitors.
Visitors are unwilling to wait for even more than three seconds for your site to load. You need to check the speed of your site at various third-party websites that do not charge a dime; viz—PageSpeed Insights, Pingdom, GTMetrix, etc.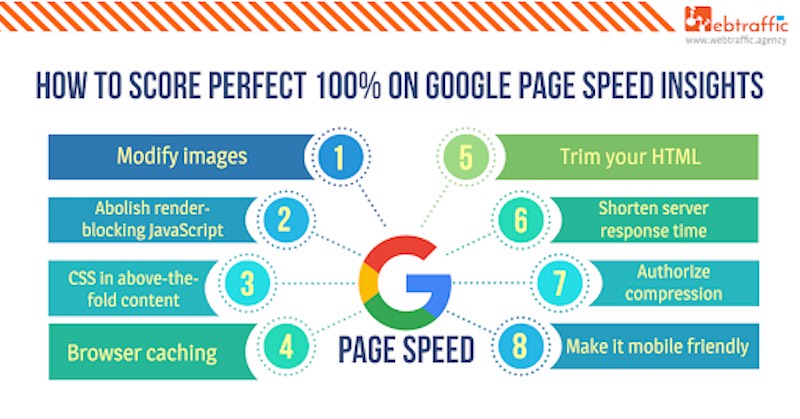 The pictures on your website could be heavy and taking up a time to load. It could make the overall loading time of the homepage very high. You need to use a compressed image, or if you are using WordPress for your site, download plug-ins to optimize the size of the pictures on the home page. The compression techniques also ensure that the JavaScript, HTML, and CSS files utilize lesser space.
You may also opt for lazy loading – a technique of delaying the loading of resources until they are needed. It helps to improve the overall performance of the site.
Another way is to allow browser caching through which your site will store data temporarily on the visitor's terminal. In this way, they need not wait for ages for the website to download every time. You may also use a Content Delivery System to enhance the website speed.
Install SSL certificate
Ever since search engines, including Google, started marking non-HTTPS sites as "Not Secure," there has been an increased uptake of various cyber security services. Installing an SSL certificate is a significant one among them. The HTTPS protocol helps encrypt the communication between the web browser and the web server, thereby preventing any third-party from having unauthorized access.
An SSL certificate helps by keeping the communication encrypted and ensures only the designated recipient can access it. In also helps in authenticating that the message is being sent only to the identified user.
There are numerous such SSL certificates offered from different brands, and you may select it as per site requirement. For example, GeoTrust SSL certificates carry high authenticity, value for money and strong encryption.
Undertake these checks
The crawlers are always in a hurry to crawl your site, and you must make their work easier. How can you do it? You need not be a developer to know this, and it's easy. Create an XML sitemap, and it can be done using WordPress plug-ins like Google XML Sitemaps and Yoast. Then ensure that the sitemap is optimized and the high-quality pages are prioritized.
You must use dynamic sitemaps if you have a heavy site. Once the XML sitemap is ready, you must submit it to the Google Search Console.
The robots.txt is also another file that is important in SEO. When the web robot crawl your site, it will check this file and find out whether it is allowed to crawl your site. The file must contain the pages that will help the robot understand what your website is all about. You can exclude pages that do not add value for the robot.
Do periodic audits
A periodic audit of the website will help to understand the areas that will need your attention. Numerous sites can help you undertake these audits for free. It is suggested that you use several websites to conduct this seo site audit.
As a part of the review, you must check how Google crawls your site and any crawl errors that may be occurring. These crawl errors can be checked through the Google Search Console's "Coverage" report. Moreover, if Google cannot fully access the page, it would not be ranked. You need to check for any issues by using the "inspect URL" feature at the Google Search Console.
The seattle seo agency audit should also present before submitting any links. Again, there are websites like DrLinkCheck.com and Backlinko that check any broken links for free.
Be mobile-responsive
Search engines have been penalizing websites heavily that do not provide an excellent experience for mobile users. It is researched that 50% of all mobile searches being done using a handheld device. Google's algorithms do not rank websites highly that are not mobile-friendly. It is also easy to check the mobile-friendliness of your WebPages. There are various websites to check this. However, it is suggested to use the manual method and check it on many devices as possible.
Google has recommended using the Accelerated Mobile Pages to improve the user experience of visitors using their mobile devices. It is best to start at the website design phase itself by choosing a responsive theme and checking it on various mobile devices to ensure it renders well on all devices. It would help if you did not use Flash and too many pop-ups.
The Flash items can be replaced with HTML5. Google is also beneficial, and the Mobile Usability feature on the Google Search Console lists how you can improve mobile usability for your website.
Improve website functionality
Visitors must understand where they have landed up just by looking at the URL of that webpage. Even search engines use URLs to understand the content it could be having. Most URLs are descriptive and contain the keywords that form the basis of that web page. If it is not, then the SEO strategy needs a complete overhaul.
The crawl budget is a term that signifies how many pages are crawled by the search engine within a specified time. As the search engines are pressed for time, you must optimize the crawl budget. There must not be any duplicate pages as this may get penalized by the search engine. The low-quality pages must not be indexed and be spared the chances of being crawled by the search engine. The broken links, if any, must be redirected. You must use the 301 redirects correctly and create useful 404 pages. It is also prudent to check the crawl statistics and check for any spikes. Moreover, the sitemap must be up to date with the changes in the website incorporated.
There are simple rules that we forget. We usually do not optimize the internal links, but they play a critical role in the search engines understanding the hierarchy of the webpages in the site. You must use the keywords as the anchor text to help the search engine. The alternate text of the images must contain the primary keywords, but you must follow the keyword best practices by using them optimally throughout the webpage.
Conclusion
SEO has always been an integral part of the digital marketing strategy. It is also a critical part in the wheel as search engines will rank the website based on some essential factors that are handled using technical SEO and it starts with procuring web security like an SSL certificate.
As the need to present the highest value pages to the search engine bot increases, SEO specialists need to make intelligent decisions in dealing with the situation. We have discussed various points they need to consider when creating their SEO plans. Technical SEO is bound to take a critical position alongside on-page and off-page optimization.