What is Bucatini?
Firstly, let's get this out of the way – it's pronounced 'bo-Kah-TEE-nee', and it is a type of pasta that is long in shape and has a narrow tube-like figure that almost looks like the hollow version of spaghetti. Generally speaking, traditionally bucatini is a pasta produced and served in Rome, but the name originates from the Italian word 'buco', which means 'hole'. Bucatini is also otherwise known as 'perciatelli'. It is best suited to be made with tomato, meat, and other seafood. You can now buy Italian pasta online – especially buy bucatini pasta or buy tagliatelle pasta online.
Bucatini vs. Spaghetti
Most times, due to its shape and structure, bucatini is mistaken for spaghetti. However, speaking of their differences – the two are actually of different sizes, and bucatini has a hole in between whereas spaghetti doesn't. Bucatini is also thicker than spaghetti, as it makes room for its hollow inside. In comparison to spaghetti, Bucatini has a much more interesting texture, and it soaks up all the sauces.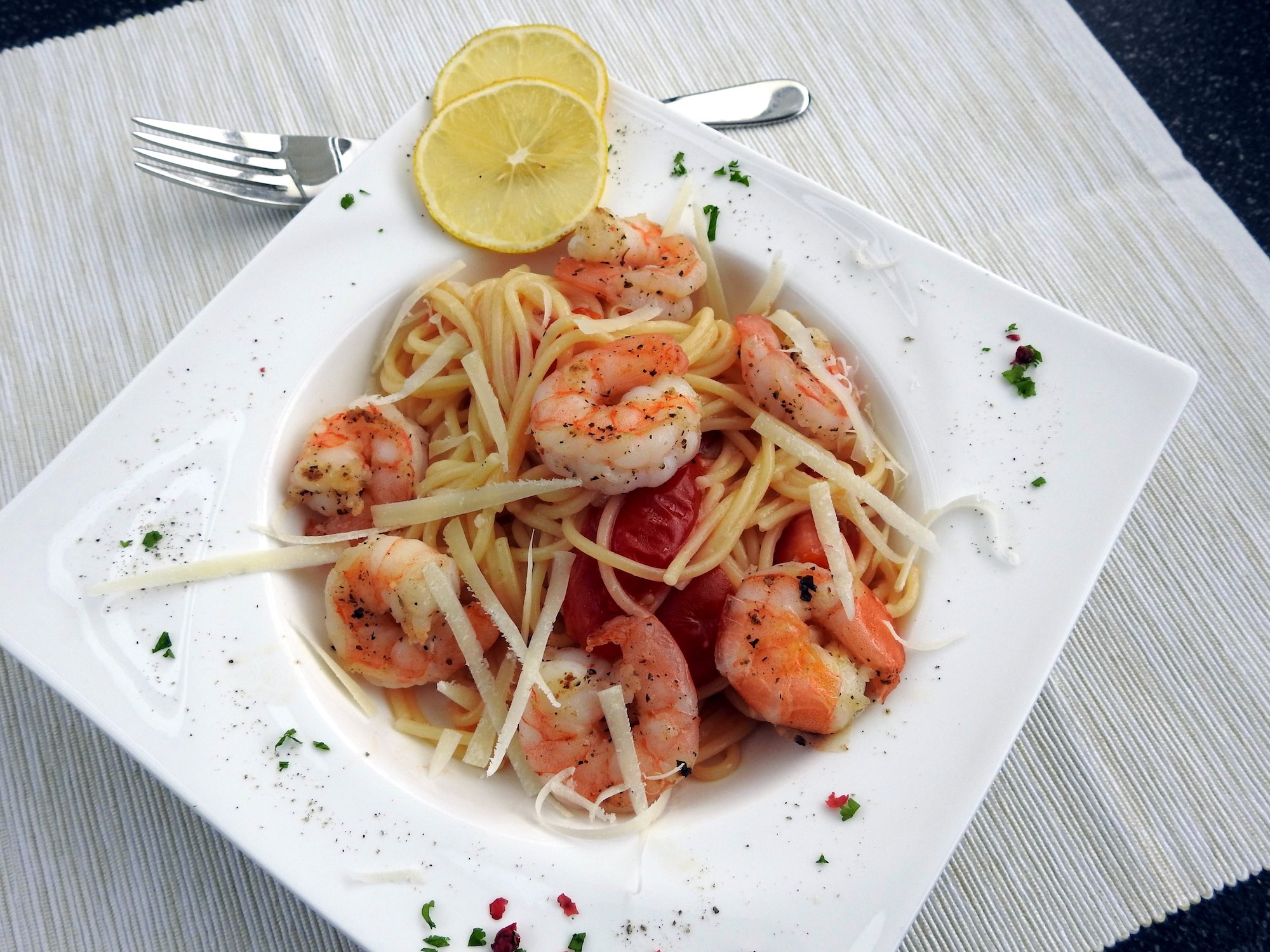 Varieties:
Bucatini is majorly made from durum wheat flour but as more and more people are opting for healthier options when it comes to eating on a daily basis – they go for gluten-free corn or rice versions that are now more commonly found.
How to Make Bucatini Pasta with Garlic Shrimp
Here are the Ingredients for the Bucatini Pasta with Garlic Shrimp:
Half a pound bucatini pasta
One tablespoon extra virgin olive oil
Three chopped cloves garlic
Red pepper flakes
One pound of cherry tomatoes
A splash of red wine vinegar
Twenty-five to Thirty large frozen shrimp or fresh shrimp
Freshly grated Parmigiano cheese
Chopped basil (fresh)
Directions for making the recipe:
Bring to boil a large pot of salted water.
Once the water is boiling, add in the bucatini pasta and cook according to the instructions on the backside of the pasta.
Cook until its al dente
While the pasta is still cooking, add some olive oil into a large skillet over medium heat.
After that, add in the chopped garlic and the red pepper flakes and cook it for about a minute until it leaves an enticing fragrance.
Now add in the cherry tomatoes into the skillet and cook until it is brown on all sides or when the skin starts to shrivel.
Now you may add a splash of red wine vinegar to the same skillet and cook away the mixture for 30 seconds until the alcohol evaporates.
After 30 seconds, add in the shrimps into the pan and stir to combine well until the shrimp curls up and turns a bright pinkish shade.
Cook this for about five minutes.
Now drain the boiled pasta and add it to the skillet tossing it vigorously until the sauce and shrimp mixture is combined very well.
Top this with a great handful of Parmigiano and the freshly chopped basil right before serving it hot.
You have the crispy crunch of the garlic mixed with the yummy goodness of textured bucatini soaked up in the tomato sauce. Apart from that, you may also toast a seasoned bread with fresh butter and basil leaves and served this on the side with the pasta dish. This makes a great recipe for a light night and a comfy dinner on rainy days. You can serve this dish at a wedding as well, and most guests will truly enjoy this after a hard night's dancing.