In addition to being where the fondest memories are made and/or shared, the kitchen is undoubtedly one of every home's most important spaces. It is referred to as the heart of the home, due to this reason. While a good kitchen is okay, it is nothing compared to the perfect kitchen. A functional and flowing kitchen is hard to come by. But, even with that in mind, it is possible to convert your home's kitchen into the perfect space. To create your dream kitchen, you don't have to spend and arm and a leg. You can get started with the following tips.
1. Start With A Good Layout
On top of creating a functional space, a good layout will also ensure that you can work effortlessly in your kitchen. With it, all useable space can be optimized, create a glowing environment and also easily position your appliances in a proper way.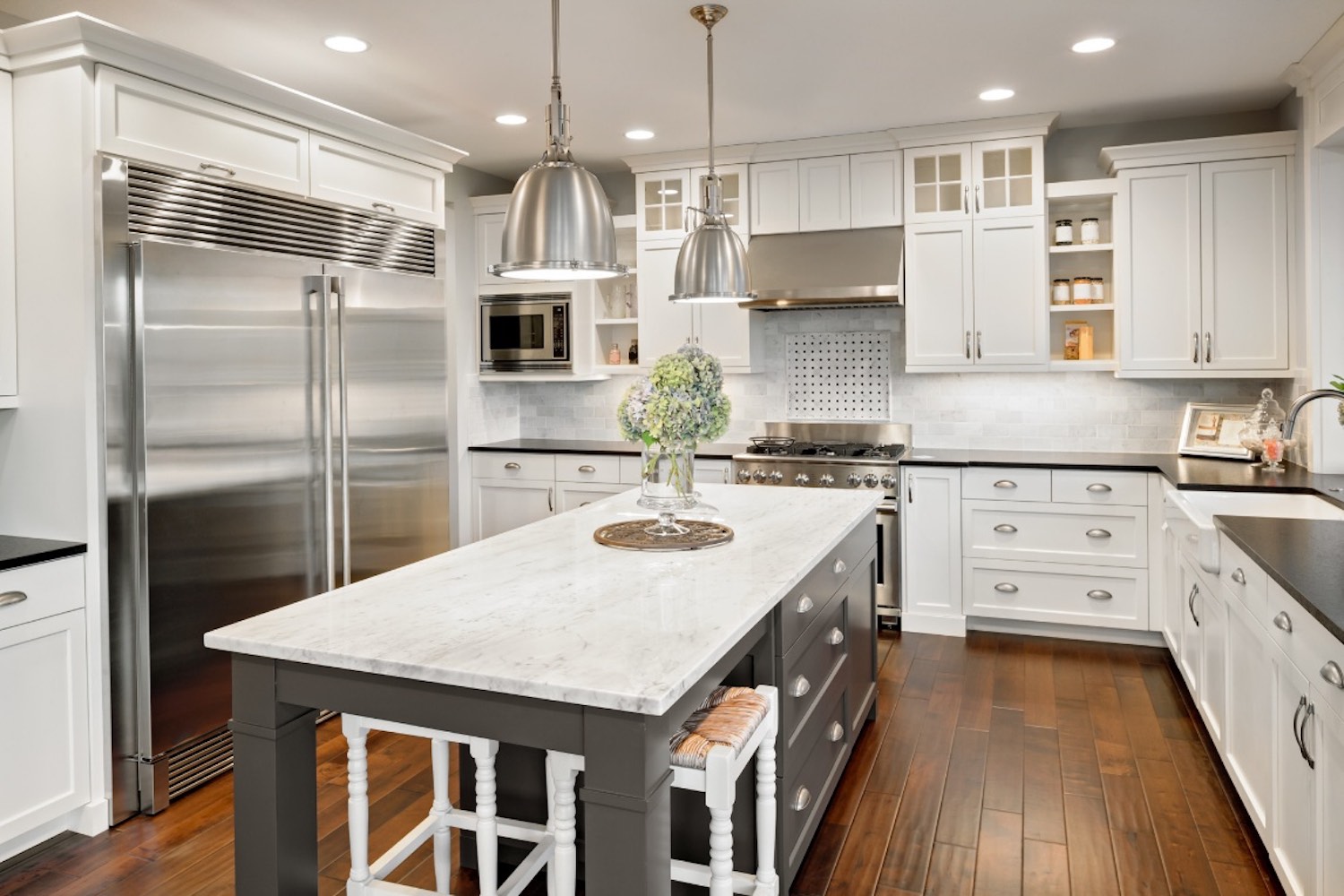 From appliances, placement, features and even finishes, take time to consider everything you have ever wanted in your kitchen. You can create a one of a kind blueprint for your preferred kitchen space, with the layout. You can make the job much easier by simply creating a plan before embarking on a renovation/remodeling job.
2. Choose Your Favorite Style Of Cabinets
You might have picked up on the fact that most kitchen cabinets have a somewhat similar look. You can choose aesthetically appealing cabinets without sacrificing on functionality, by choosing cabinets that are different from standard designs. Some of the available options include modern designs that do not come with handles, for a one of a kind seamless appearance and feel as well as classic variants.
If you prefer neutral wooded cabinetry, this is also an option. To keep up with a specific theme, remember to match cabinet pulls and handles with other kitchen or home fittings.
3. Select The Right Color for Your Cabinets
A huge proportion of your kitchen wall space is taken up by cabinets. As such, the kitchen color theme and scheme is significantly impacted – especially if you opt for something that is in contrast with the rest of the space.
With that in mind, before settling on your cabinet color, it is best to think about your preferred color theme and kitchen size. For large kitchens with a lot of light, darker colors may be a better fit, while low light kitchens that are smaller are better suited by brighter and airy hues. As a guiding rule, be sure to match some of the other color schemes in your home.
4. Finishes Should Be Carefully Considered
Matte, mid-sheen and high-gloss are the three main options to consider here. The feel, appearance and color scheme of other rooms should be considered when making a final decision. Even though you have room to exercise your creativity, high gloss finishes are most suited to modern and contemporary homes, for example.
5. Carefully Consider Your Kitchen Worktops Choices
Most if not all modern kitchens include worktops in the design. They are considered to be functional and in fashion simply because they give you a great means of maximizing the surface area of your kitchen.
To make sure that you choose a worktop that perfectly matches your preferred kitchen layout, it is important that you consider your options. You can add a warm wood or high-gloss finish to your kitchen with the help of worktops.
6. Organization Is Key
A neat and organized kitchen is the best. Some of the tools you should consider when it comes to creating an organized kitchen include dividers for baking sheets and cutting boards, utensil inserts, a dish rack and shallow storage for spices, among others.
You can make sure that you always maintain an organized kitchen with these tiny details. Cleaning the space also becomes so much easier, with these tools in place.
7. Lighting
For added functionality, it is important to provide sufficient lighting in all the necessary kitchen spaces. Task and ambient lighting is used in modern kitchen by designers. While ambient lighting can be used elsewhere, task lighting is essential around worktops. The sink area should also have enough lighting. The kitchen plan plays a role in determining your decision when it comes to lighting.
Regardless of the kitchen layout chosen, dimmable lighting fixtures can be quite useful. Accessories and furniture should also be considered. You can find some great options for your dream kitchen over at https://homedetail.co.uk/.
8. Consider Your Extra Storage Requirements
Remember to consider your need for extra storage space, even if you have drawers and cabinets in the kitchen. An additional drawer for your spices or additional rack might come in handy.
To avoid creating a space that appears cluttered and/or overcrowded, think about all applicable and available storage options.
9. Details Matter
All spaces, including the kitchen, can benefit a lot from the tiniest of details. Modern kitchens can benefit a lot from live plants, classic vintage jars on unused cabinet space and extra lighting, among others. You will be closer to creating your dream kitchen, with some extra attention to detail. Take a look on https://homedetail.co.uk/ for inspiration
10. A Hint Of Personality
What aspects of your personality would you like to add to your kitchen? Would you like to have a mini-bar, horizontal pantry or even double ovens? Do you like making your own cup of coffee or tea right after getting out of bed? Simply put, you can add some character to your new dream kitchen by including your preferences in the overall design.