The bachelor lifestyle is undoubtedly an achievement for many men, whether you've just moved out of your parent's home or you're finally able to make ends meet without a roommate. But even so, you'll now have quite a few extra responsibilities, and keeping your kitchen intact is one of them.
But even so, bachelor pad kitchens are typically small kitchenettes, so you'll have less cleaning to do. Although, when it comes to storage, things might get a bit tricky considering the lack of space.
So, we've listed some innovative kitchen storage solutions that are simply perfect for a small bachelor pad.
Storage On Display
One of the most practical ways to achieve organization in a small kitchen is to use uniform storage items. So, whether you opt for metal, glass, or any other containers, be sure they all match.
Install floating shelves to put your storage on display. With this, you'll have a uniform look, and your storage items will also serve as charming kitchen decor.
Fridge Storage
A refrigerator can quickly become messy, dirty, and chaotic. It's also hard to notice the quick spiral into chaos because our fridges typically have just enough items inside to hide some of the mess.
Instead of ignoring the mess inside your fridge simply because you can close it, invest in storage solutions for your fridge. Air-time glass containers are great for leftovers, and they won't stain either. Moreover, a glass water bottle or two will have your refrigerator looking a lot more sophisticated.
In addition to this, be sure to clean your refrigerator once a month, at least.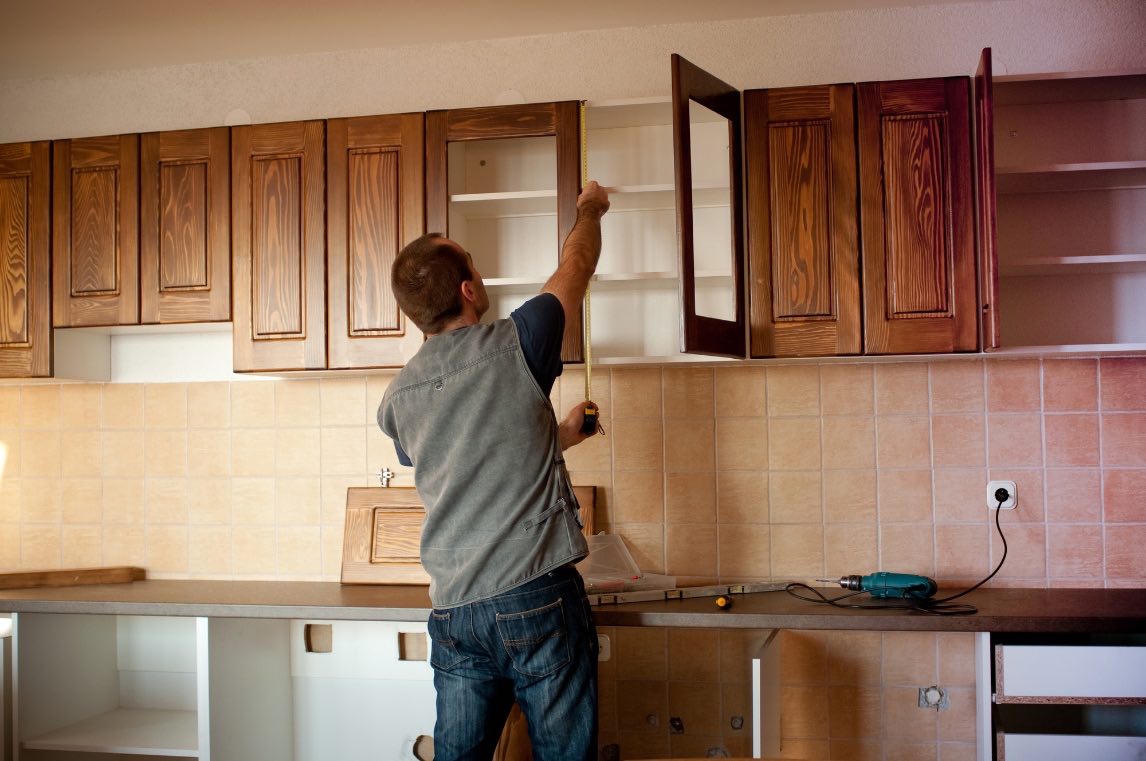 Hang Your Pots And Pans
Hanging pots and pans is a pretty stylish trick to save on cupboard space. With this elegant idea, you will have to install a railing to display your cookware. Although, it's a fairly small cost to make the most of a small kitchen area.
Make Your Kitchen Dark
Even though you might assume that a bright white kitchen is best, especially if it's a small area, black can make a tiny kitchenette appear much larger than what it really is.
Although, if you don't own your bachelor pad, you won't want to invest in home improvements that you won't get a return on in the future. Fortunately, you can consider using wallpaper to darken the kitchen, repainting the cabinets, or repainting the counters.
Try Minimalism
Minimalism is an excellent approach to the bachelor lifestyle; you have less space, so it makes sense to keep only a few things.
If your kitchen seems to be overflowing with cutlery, crockery, plastic containers, and half-used groceries, it's worthwhile to spend some time organizing everything in your kitchen.
Only keep what you need and a few extras for guests. Everything else, consider donating, repurposing, or selling.
Keep It Clean
The best thing any bachelor can do to make the most of small living spaces is to keep things clean. If your bachelor pad is cluttered and messy, it will automatically seem a lot smaller and more cramped.
On the other hand, a clean home is always more spacious and vibrant.
Create a cleaning schedule that you feel is manageable, or rely on a professional residential cleaning service. In addition, it's also beneficial to develop a habit of cleaning. If you are clean as you go, you'll find your living space is always neat and tidy.
Evaluate The Lighting
Even though lighting might not seem relevant to storage solutions, the right lighting can make a tiny space seem much larger.
Lighting is essential for a kitchen area, regardless of how big or small it is. Evaluate the lighting in your kitchen and consider installing a new lighting fixture that will serve as decor as well.
Lighting can make a substantial difference to any room, so you'll also want to take this kitchen solution to the rest of your home. You could consider a charming floor lamp in your bedroom, chrome pendant lighting in the kitchen, and additional wall lighting where necessary. Fortunately, because bachelor pads are typically small, you won't need to add much extra light to properly illuminate your home.
There are several ways to make the most of small living spaces, even if you can't invest in home improvement projects.
With the above storage ideas, you'll be able to invite guests over to your bachelor pad with confidence. Because enough storage is crucial for general organization, it's also worthwhile to add storage solutions to your living room and bedroom.