Satara has had the pleasure of supplying resorts around Australia including QT resorts, Spicers Retreats, Crown Hotels, Hayman, Daydream and Orpheus Islands just to name a few. Here are their design Tips on creating that resort feeling at home.
Design
Having a plan of what you want to achieve before you start is the most important stage. Things to consider include: – how much space you have available, protection from the weather, which direction the hot afternoon sun shines, your view from inside the house, how the room will link with the indoors, Building/Planning restrictions, location of outdoor kitchen/cooking facilities, ventilation etc. Create an ideas board for inspiration by taking photos of interesting designs and textures, cut-outs from magazines, web articles etc. Pinterest and Instagram are great sources of images for inspiration.
Budget
You can spend anything from $1000 to hundreds of thousands on your outdoor room. Your budget will have a big impact on what is possible. A well designed outdoor room can add significantly to the value of your property and also to your ultimate enjoyment of the space. Don't forget to allow money for good quality furniture and accessories to finish off the space.
Draw a Plan
Draw a scale plan (or have a landscape architect or interior designer draw one for you). On the plan work out spacing, furniture layout, direction of weather and sun. Allow enough space to move around the area. Think about lines of sight and using furniture, plants and pots as features that can be viewed from inside your house. You don't want your neighbours peering out at you while you're snoozing on the daybed in your bikinis or speedos so think about creating some privacy. Creating walls and defining boundaries for your outdoor room will give it better definition.
Furniture Layout
All too often outdoor rooms are designed and built with little thought into how the space will be used and enjoyed. The space you have available and the layout of furniture will have a major impact on your enjoyment of the room. As well as a functional use, your outdoor furniture can become a real feature so consider how it will look from the inside. If you have the room, combining an outdoor dining space with a comfortable outdoor lounge area will create a multi-functional area.
If space is limited, consider an outdoor sofa area with low tables for more casual dining. Another good option is to utilise your indoor dining area opening out to a more casual outdoor lounge. A large comfy Daybed is not only a magical place to relax but can be used as a key focal piece for your design.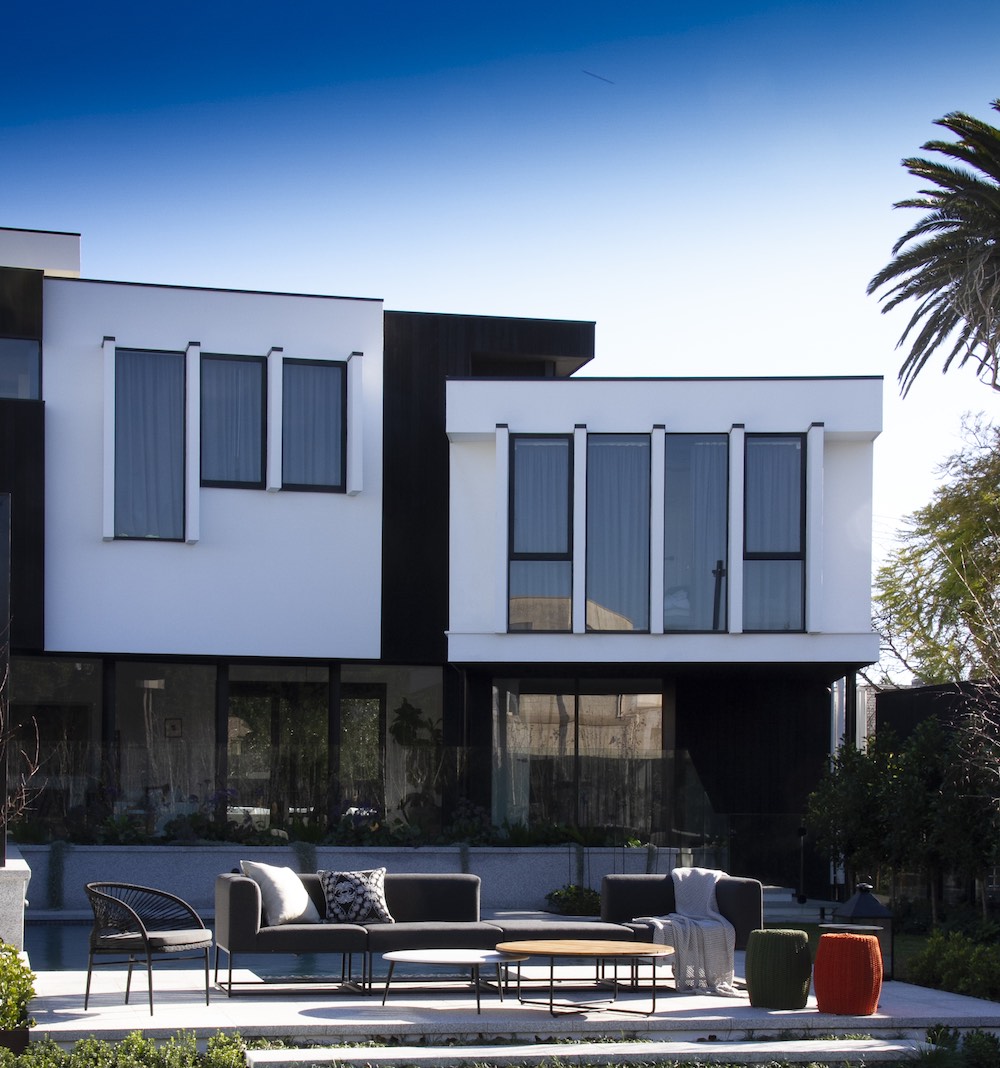 Modular sofas are extremely popular and versatile. They can be set up in an L shape or similar for entertaining with friends or combine pieces to form a daybed to stretch out on, enjoy the sun's rays while your better half serves the drinks.
TIP: If planning how to set up your outdoor furniture – use newspaper to mark out the space and layout of your proposed outdoor on the ground so you can be sure everything will fit.
Outdoor Furniture Selection
Once you worked out the layout and purpose of your furniture you need to select the type of furniture you will purchase. There are plenty of options, and like most things it is worth spending a bit more money to get the best quality you can afford. Not only will it last longer but you'll enjoy it more and spend less in the long run.
Technology has had a huge impact on materials used in today's outdoor furniture ranges. Satara's newest ranges include brightly colored Synthetic Ropes and luxuriously woven Ateja fabrics, combined with traditional materials such as powdercoated aluminium and teak these new ranges make for visually appealing options.
Wicker furniture was popular over the last 5-10 years due to its attractive appearance, range of colours and designs and minimal maintenance requirements. Satara's range of all-weather synthetic weave furniture is available in 10 colours and hundreds of different designs. The synthetic weave is treated with chemicals to stop it fading and cracking in our harsh environment. Frames are made from rust proof powder coated aluminium. Cheaper furniture generally uses thinner aluminium tube, less welds and is more susceptible to cracking and breaking over time.
The first thing to consider is whether the furniture will be kept under cover, or sit out in the rain and sun. To get maximum use of your furniture you want it accessible at all times and don't want to be moving cushions in and out of the rain. If your furniture will sit in the rain you will need to take better care of your cushions. It is worth investing in top quality outdoor fabric such as sunbrella and quick-dry foam which won't retain any moisture in the foam. You will also need to regularly clean and dry the cushions to stop mould and mildew growing on dirt that sits in the cushion fabric. If your cushions will get minimal exposure to rain then you probably don't need to invest the extra money in quick-dry foam.
Stainless steel is another popular material but can be susceptible to surface rust (tea staining) – especially in areas close to the beach. Ensure any painted steel frames have been galvanised and powder-coated so they won't rust.
Powder coated Aluminium framed furniture with ceramic or laminate tabletops and chairs, sofas and sun loungers made from open weave outdoor fabrics such as batyline or textiline are also popular.
TIP: To create a more eclectic feel to your Outdoor Room consider the use of timber stools and feature chairs to add a classy and organic feel to your room. Everything does not need to be from the same product family to look fantastic. Teak has been popular for decades and is still a great material for outdoor furniture. It develops a grey patina over time unless it is regularly maintained with a teak protective coating. Teak tables look great with a wide range of chairs made from different materials.
Satara specialises in Indoor Outdoor Living. We supply Australian retail, designer and commercial community with a range of high quality, handcrafted indoor and outdoor furniture and homewares.
Satara luxurious outdoor furniture ranges are constantly evolving, and focus on quality, style and durability in the harsh outdoor elements.