Heliopolis suburb in Cairo has always been associated with being chic and metropolitan. Now it seems all eyes are on Heliopolis trying to destroy the peaceful neighborhood.
The suburb is so old and authentic, did you know it has its own Museum and Obelisk?
But it seems no one wants it to stay this way. This time it's not a joke as before in Zamalek:
Here is how five steps were enough to destroy Heliopolis in less than two years.
1. Remove the Heliopolis Metro. The train that used to be there for  decades was removed for expansion reasons! The lanes were then not used to expand the street BUT as a third one way lane! We don't understand why just not promote mass transport systems through the metro instead of taking it down!
2. Create hordes of microbuses in every square. Microbuses are chaotic, ill mannered and often bullish. Why replace the mass transport buses and metro with microbuses?
3. Bring thugs and microbus drivers anywhere and its chaos in every street. Fill the streets with stray people and jobless!
4. Cut off the trees. There was an attempt to destroy the Merryland. It was saved, but not everywhere in Heliopolis.

5. Give permits for the demolition of villas, palaces and build a concrete forest. They even want to destroy an Ancient Egyptian area and make a community there!
Although restoration of Cairo downtown is in progress, Heliopolis seems to be getting all the hard time.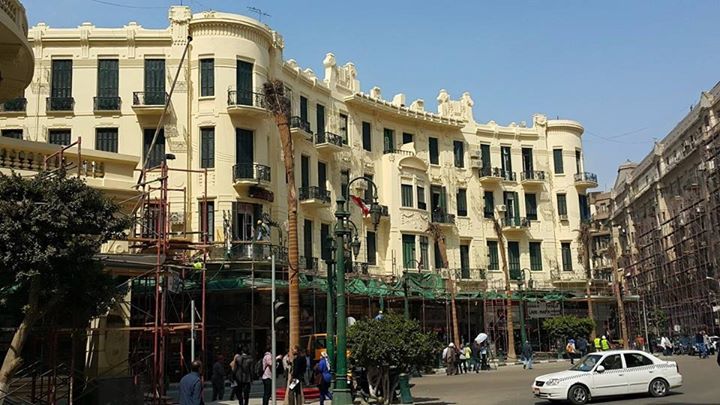 Heliopolis is one of the most ancient cities of Egypt situated at the apex of the Nile Delta, it was at one time the principal seat of Sun worship. It is the site of the earliest temple obelisk which still is in its original position. A 68 feet high, red granite Obelisk of Senusret is at the Al-Matariyyah part of Heliopolis.
 Heliopolis was planned and built by the Baron Empain in 1905. Now, will it survive anotgher decade?