Leather biker jackets have been an essential part of men's fashion since Marlon Brando rocked one in "The Wild One." In recent years, this timeless piece has returned to the forefront of fashion, with celebrities such as Kanye West and David Beckham donning them on the streets. Not only do they add an edgy touch to any outfit, but leather biker jackets for men are also versatile and can be worn year-round.
If you're looking to invest in a leather biker jacket, you've come to the right place. In this ultimate guide, we'll take you through everything you need to know about choosing the perfect one.
The Material: Leather biker jackets for men are typically made from either cowhide or lamb leather, with cowhide being the more durable of the two. Lamb leather, on the other hand, is softer and more lightweight. The type of leather you choose ultimately comes down to personal preference and the climate you'll be wearing it in. If you live in a colder climate, cowhide may be the better choice, as it provides more insulation. If you live in a warmer climate, lamb leather may be more comfortable.
The Fit: When it comes to leather biker jackets, the fit is crucial. It should fit snugly but not be too tight, allowing for some room to layer underneath. A good way to check the fit is by trying it on while wearing a sweater or hoodie. You should be able to move your arms freely and comfortably without feeling restricted.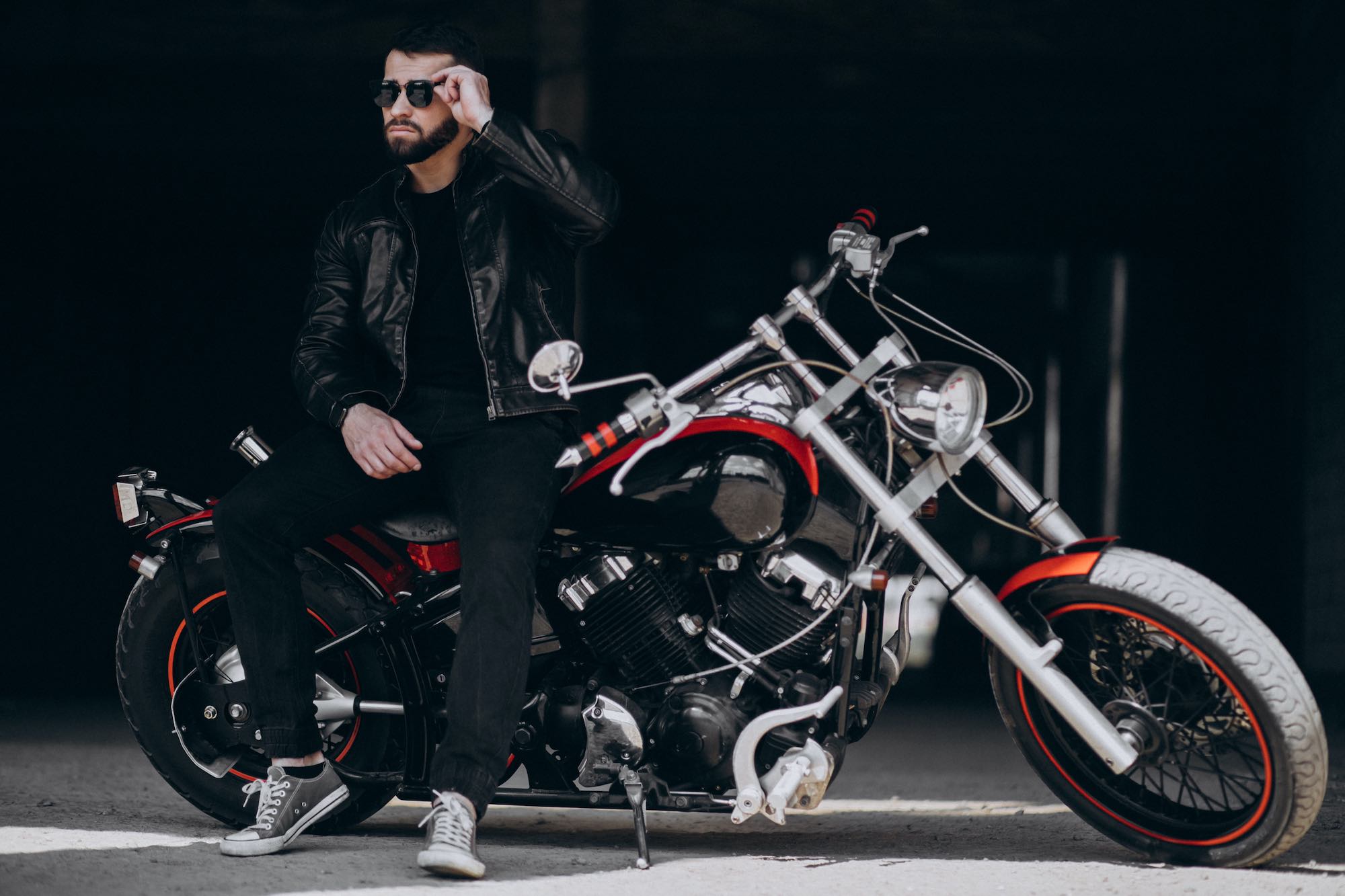 The length of the jacket is also important. It should hit at your waist or slightly below. Anything longer than that may look bulky and unflattering.
The Style: There are various styles of leather biker jackets for men to choose from. Classic styles typically have asymmetrical zipper closures, snap-down lapels, and zippered cuffs. More modern styles may have additional features such as multiple zippers, quilted panels, or intricate stitching. It's important to choose a style that not only fits your personal taste but also matches the rest of your wardrobe. A classic-style leather biker jacket is a safe bet as it can be dressed up or down, making it a versatile piece.
The Colour: Black is the most common colour for leather biker jackets, but they come in a range of colours, including brown, grey, and even white. When choosing a colour, consider the rest of your wardrobe. If your wardrobe consists primarily of neutrals, a black or brown leather biker jacket will pair well. If you prefer more colour, a grey or even a bold blue jacket could be a great addition.
The Price: Leather biker jackets can range in price from a few hundred dollars to several thousand dollars. While it may be tempting to go for a cheaper option, investing in a high-quality leather biker jacket will save you money in the long run as it will last for years.
When choosing a jacket, consider it as an investment piece that you'll wear for years to come, rather than a disposable item that needs to be replaced every year.
Conclusion
Leather biker jackets are a timeless piece that every man should have in his wardrobe. When choosing one, consider the material, fit, style, colour, and price. A well-fitted, high-quality leather biker jacket can add an edgy touch to any outfit, and it's a versatile piece that can be worn year-round.
Investing in a leather biker jacket is an investment in your style and can last for years with proper care. With this ultimate guide, you're ready to find the perfect leather biker jacket that suits your style and budget.