Introduction
Are you ready to bring some serious sunshine vibes into your wardrobe? Look no further than the fabulous yellow mini dress! This trendy and vibrant piece is taking the fashion world by storm, and for good reason. Not only does it exude positivity and joy, but it also adds an instant pop of color to any outfit.
Whether you're heading out for brunch with friends or attending a summer soiree, the yellow mini dress is your ticket to turning heads and radiating confidence. But before you rush out to find your perfect yellow mini dress, let's dive deeper into this sizzling trend.
Tips For Choosing The Right Shade Of Yellow For Your Skin Tone
When it comes to yellow mini dresses, finding the right shade that complements your skin tone is essential. Yellow is a vibrant and cheerful color, but not all shades of yellow will suit everyone. Here are some tips for choosing the perfect shade based on your skin tone. For fair or light skin tones, pastel or soft yellows work wonders.
These shades add a touch of warmth without overpowering your complexion. Think lemon sorbet or pale buttercup for a fresh and delicate look. Medium or olive-toned skin can rock brighter shades of yellow like mustard or goldenrod. These rich hues bring out the warmth in your complexion and create a stunning contrast against your skin.
How to Style a Yellow Mini Dress for Different Occasions
One of the best things about a yellow mini dress is its versatility. Whether you're heading to a casual brunch, a summer wedding, or a night out with friends, this vibrant hue can be styled in various ways to suit different occasions.
● For Daytime Look: For a laid-back daytime look, pair your yellow mini dress with some white sneakers and minimal accessories. This effortlessly chic ensemble is perfect for running errands or meeting up with friends for coffee. Add some oversized sunglasses and a straw hat for an extra touch of style.

● For Evening Event: When it comes to dressing up for an evening event, opt for strappy heels and statement jewelry to elevate your yellow mini dress. Choose gold or silver accessories that complement the sunny shade and add glamour to your outfit. Consider adding a sleek blazer or leather jacket if the weather calls for it.

● For Summer Wedding or Garden Party: If you're attending a summer wedding or garden party, embrace the romantic vibes by accessorizing your yellow mini dress with delicate floral headbands or hair clips. Complete the look with nude sandals and dainty jewelry – let the dress do most of the talking.

● For an Edgier Style: For those who prefer an edgier style, try pairing your yellow mini dress with black ankle boots and a leather jacket. This combination adds an element of coolness while maintaining that playful pop of color.
Different Styles And Designs Of Yellow Mini Dresses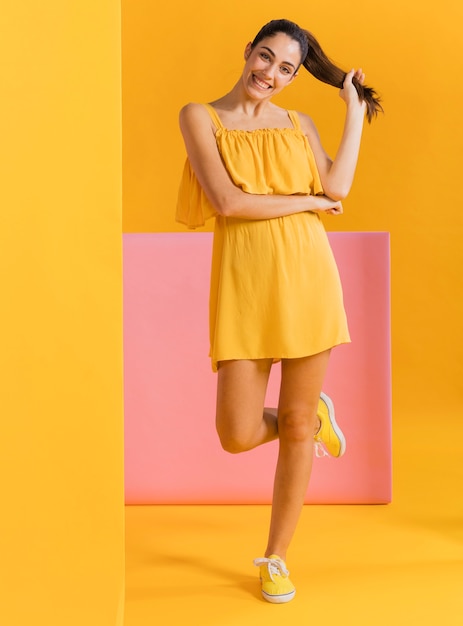 When it comes to yellow mini dresses, there are endless styles and designs that can suit every fashionista's taste. From breezy sundresses to chic bodycon silhouettes, there is a yellow mini dress for every occasion.
● Off-shoulder Yellow Mini Dress: One popular style is the off-shoulder yellow mini dress. This flirty and feminine design showcases your shoulders while adding a touch of elegance to any outfit. Pair it with strappy sandals and dainty accessories for a brunch date or summer party look.
● A Tailored Yellow Mini Dress: For those who prefer a more structured look, a tailored yellow mini dress is the way to go. This style exudes sophistication and can be dressed up or down depending on the occasion. Add heels and statement earrings for a night out, or opt for sneakers and a denim jacket for an effortlessly cool daytime look.
● Neon Yellow Mini Dress: If you're feeling bold, try rocking a vibrant neon yellow mini dress. This eye-catching shade will surely make you stand out in any crowd. Pair it with neutral accessories to let the dress shine or go all out with matching neon heels for maximum impact.
● Ruffled Yellow Mini Dress: Another trendy option is the ruffled yellow short dresses. The playful ruffles add movement and texture to your ensemble, making it perfect for dancing the night away at parties or weddings. Complete the look with strappy heels and delicate jewelry to create an ultra-feminine vibe.
● Floral prints: Floral prints are always in style when it comes to summer dresses, including yellow minis. Choose from dainty daisies or tropical blooms to channel those sunny vibes wherever you go. Pair them with wedges or sandals for an effortless beachy look that's perfect for vacation days.
Where to Find the Perfect Yellow Mini Dress
If you prefer online shopping, there are numerous websites dedicated to fashion and clothing that offer a wide selection of yellow mini dresses. Take advantage of filters and search options to narrow down your choices based on style, size, and price range. Reading customer reviews can also give you valuable insights into the quality and fit of different brands.
Another option is checking out thrift stores or second-hand shops. You never know what treasures await you in these places! Vintage dresses often have a timeless appeal, adding a touch of nostalgia to your outfit.
Conclusion
Yellow mini dresses are the perfect addition to your wardrobe if you want to embrace the sunshine vibe and stand out from the crowd. With their vibrant color and playful silhouette, they exude a sense of happiness and positivity. When choosing a yellow mini dress, consider your skin tone to find the right shade that complements your complexion.
Whether you have fair, medium, or dark skin, there is a yellow hue out there for everyone. So go ahead and embrace this cheerful trend by adding a yellow mini dress (or two) into your wardrobe rotation.