The purpose of a file system is to organize how and when data on the hard drive or external drive is stored, used, and managed. Common file systems include FAT 32, NTFS, and HFS. However, some users have come across a rather peculiar file system called RAW disk. This appears when the user connects a USB drive to the computer and the message below is displayed: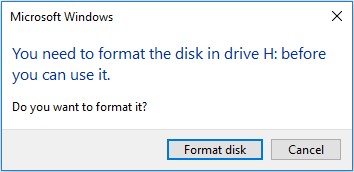 What is a RAW file system?
RAW refers to a collection of unprocessed data. Simply put, RAW file system is a system error, preventing your operating system from recognizing it.
You can fix RAW file system problem by formatting your drive. You should, however, expect to face data loss.
Symptoms of a RAW file system:
When you plug an external hard drive, USB stick, or SD card into the computer, you may encounter error messages or anomalies, such as:
"You must format the disk in drive E: before using it."
"There is no disc in the player. Please insert a disc and start over."
"The reader is not accessible."
The disc cannot be read, written, recognized, used or detected.
The disk has not been initialized and you cannot access it.
The properties display only 0 bytes.
Other error messages.
Causes of a RAW file system
Why is your internal hard drive or external hard drive getting RAW? There are 7 main reasons for RAW file system problem:
1. Virus attack
A virus attack can damage the partition table as well as its information. The partition will then become RAW.
2. Corrupted partition table
When the partition table is corrupted, then the disk may be damaged.
3. Damaged file system structure
The disk partition has a strong connection with the file system. If the file system is damaged, the partition might become RAW.
4. Incorrect authorization to access partitions
If the permission to access the partition is incorrectly configured, then the partition may become RAW.
5. Bad sectors
If there are bad sectors in the hard drive, the drive will not be able to work properly and will become RAW.
6. Reinstalling the operating system
If during an operating system update, the file system changes from FAT to NTFS, then the file system cannot be recognized by the new operating system on your computer. This is what will cause the problem of RAW.
7. Unexpected shutdown while using hard drive
Recovering data from RAW partitions
It can be really annoying when you can't get access to the external hard drive, USB stick or SD card containing your important data.
Even though data recovery from a RAW partition is quite complicated, you can still do it easily using the right methods. Let's take this free RAW partition data recovery tool – iBoysoft Data Recovery as an example. The steps are really simple and with its help you will be able to see the contents of your drive without formatting.
Step 1: After downloading, installing and launching this data recovery software, please connect your removable disk to the computer. Then click on the "Next" button.
Step 2: When the scan is finished, you will be able to preview the photos and check other files from the search result.
Step 3: Choose the files you want to recover and click "Recover".
You will have the possibility to recover images, videos, audio files, documents and emails, safely. Please feel free to use it. It will only scan your device. It won't change anything and won't delete anything.
Converting RAW File System to NTFS Without Formatting
After recovering the data from your RAW file system, the next step is to repair the RAW file system so that your drive can work properly again.
If you want to fix RAW drive without formatting, then you will need to convert RAW file system to NTFS, a file system widely used by Windows for storing files on hard drive. You can convert RAW disk to NTFS using Command Prompt.
Formatting a RAW File System
If your USB flash drive or hard drive cannot be converted to NTFS, then the last solution available to you is formatting the drive and RAW file system. You can easily format a RAW drive to NTFS, FAT32, or exFAT. In general, all you need to do is right-click on the disk, then select the "Format…" option. However, some RAW discs might be more complicated to format.
Note: An important thing to remember is that YOU MUST NOT format a USB flash drive or hard drive without first backing up the files on it.
Let's recap. A file system is a system error. When you come across the problem of file system becoming RAW, it does not necessarily mean that the lost files are inaccessible. So, a good data recovery software like iBoysoft Data Recovery on your side to help you, you can get all your data back before you do any formatting.