Sometimes you'll find yourself traveling alone. While traveling is typically more fun in pairs, you can still have a blast on your own. If you find yourself in the Big Apple, there's plenty to explore. In fact, there's too much to fit into one trip!
Before your adventure begins, we recommend you store your luggage with a service like Stasher. They have designated areas all over NYC, so there's guaranteed to be a nearby spot for you. You can store your luggage at $6 a piece, per day. So if you're in NYC for a week in a tiny Airbnb with no room for anything, and you have a suitcase and a carry-on, it will cost you less than a hundred bucks to store your extra luggage for the week.
Once that's taken care of, it's time to explore!
Grab a Bite
Now, if you're like us here at Stasher, your first destination will be for some yummy food. When we travel, we like to visit restaurants that are unique to where we are. If we want breakfast, we love Herb N' Kitchen, a great place right next to the Hilton New York Midtown. Here you can enjoy breakfast goods like eggs and coffee, or lunchtime favorites like their Chicken Cobb Salad. House-made sandwiches and pizza are always on the menu. If you're feeling something fancier like steak, there are great 4+ star steakhouses like Royal 35 and Benjamin Steakhouse Prime. Trip Advisor can help you decide which steakhouse to choose!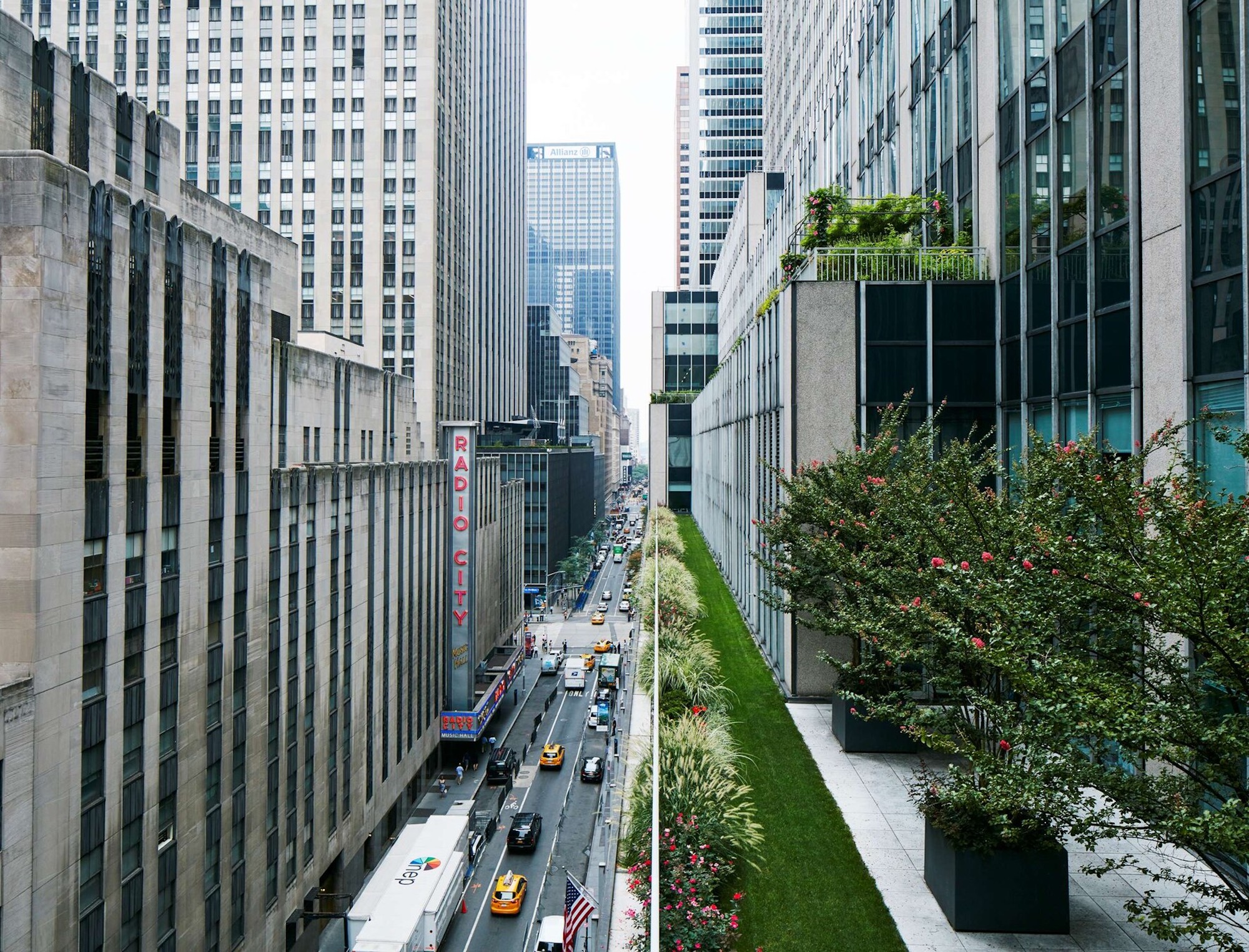 Once your stomach is full, it's time to explore what New York has to offer! Of course, you'll want to visit Liberty Island to see the famous Statue of Liberty. But that only takes a day, so you'll need more festivities to fill your time.
Check Out the Attractions
During the cooler autumn months, you can enjoy festivities like Halloween costume parties, Thanksgiving parades, and Christmas lighting festivals. The New York Marathon takes place during this time of year, so you can burn the calories from that fancy steakhouse dinner!
If nature is your thing, then Central Park is the place for you. This beautiful park has plenty to offer, from beautiful gardens and flower beds, to park benches, lush grass for picnics, and walking and biking trails. You could truly spend hours in Central Park.
Have more time? Check out the city on a hot tub boat tour.
And let's not forget about Times Square! You can score major Black Friday Deals if you're in NYC for Thanksgiving. Make sure you have a map to guide you! You can go see Broadway shows (when it's not COVID-19, but this won't last forever, you know!). You could also visit the National Georgraphic Encounter. Right now, you can experience an Ocean Odyssey complete with the most realistic, life-like features that will have you wondering if you're in NYC or in the ocean!
Enjoy the Nightlife
Art is another feature that New York City proudly boasts. If you're a night owl, you might check out the Midnight Moment project. For the last three minutes of each night, right before the clock strikes midnight, you'll see synchronized art displayed on the Times Square billboards. There's a different feature every month, so you can visit Times Square online to see what's being featured when your visit is planned.
Let's not forget about New Years Eve, either. Granted, it might be better to bring in the New Year by kissing your lover as the clock chimes midnight, but… we think being at Times Square for NYE is pretty special either way. Should you find yourself in NYC during February, be sure to check out Love in Times Square. It's a popular place to propose or renew your vows. And in June, you can participate in the Solstice in Times Square event, another seasonal opportunity where you can practice yoga while the solstice is taking place. That's pretty cool if you ask us.
While COVID-19 has interrupted life as we know it for who knows how long, Times Square and New York City have wisely adapted so you can still have fun while playing it safe. Don't let traveling alone deter you from having the time of your life in one of America's most famous tourist spots!