Australia is a popular place to visit. In fact, tourism accounted for more than $60 billion to the Australian economy in 2019.
So if you're heading to Australia soon, you're not alone. But you may feel overwhelmed with all of the different things to do while you're there.
That's why we've put together this list outlining the 5 best things to do in Australia. Keep reading to learn more.
1. Sydney Opera House
This is a classic Australian tourist attraction and for good reason. As an architectural masterpiece, it's a beautiful place to visit whether you like opera or not.
Since it's one of the world's most famous buildings, you probably will recognize it. But seeing it in person is a completely different experience than just seeing a picture.
There are multiple ways to explore it. There are multiple guided tours that you can take with knowledgeable tour guides at the helm. Some of these also include delicious dining options.
There's also a Back Stage Tour which will give you a more in-depth, behind the scenes look at the history and operation of the opera house.
If you're a music fan, you should also try to attend a live performance while you're in town. It's truly a once in a lifetime experience.
2. Great Barrier Reef
Next, it's time to go to visit the Great Barrier Reef. This place truly needs no introduction.
It's the world's largest reef, complete with more than 3000 separate reef systems. You can also enjoy dozens of beautiful tropical islands in this area too.
And the activities? You've got tons of options.
The reef is an amazing place to go scuba diving, snorkelling and of course a classic swim is always a great idea. Bareboat charter Whitsundays or other boat tours allow you to explore the reef and the surrounding islands for the best swimming spots.
If you want to stay out of the water, check out a glass-bottomed boat tour. This way, you can enjoy the water while staying dry but still get a great view of all of nature's beauty.
Sailing, helicopter rides, and animal watching are also great activity options.
3. Blue Mountains National Park
Australia is known for its wide variety of outdoor spaces, which is why places like Tasmania have so many group tours available. We've talked about the reef; now let's talk about the forest.
Say hello to Blue Mountains National Park, another one of the best things to do in Australia.
At around 80 kilometers west of Sydney, it's a great day trip if you're in the nation's capital. And as a UNESCO World Heritage Site, you can count on it being worth the drive.
It's an incredible natural area filled with massive waterfalls, aboriginal rock paintings, and all kinds of wildlife, both plant and animal.
Keep an eye out for one of the most famous attractions in the park: the Three Sisters. These towering rock formations are truly breathtaking.
Named for the blue haze that comes from the thousands of beautiful eucalyptus trees, this park is also full of amazing activity opportunities. Some of the most popular include:
• Hiking
• Mountain biking
• Horseback riding
• Rock climbing
• Photography
Also consider riding the Katoomba Scenic Railway inside the park for amazing views above and below the treeline.
4. Melbourne
Now let's talk about the city. Melbourne is one of Australia's largest cities and is full of intriguing things to do. Nicknamed by many "Australia's cool kid," you won't run out of things to do here.
Are you a foodie? You'll love it here. With lots of hip restaurants, food tours, and unique bars, you'll be right at home.
Melbourne is also known for its funky street art, amazing shopping, and beautiful architecture.
Perhaps you're into sports. In Melbourne, you're in luck. No matter what time of year you come, it's likely you'll be able to attend a professional sporting event.
The truth is that this city has something for everyone! This link can show you more.
5. Bondi Beach
Last but not least, we have to include Bondi Beach. With more than one million visitors every year, it's one of Australia's most iconic destinations. And it's well-deserved.
In Bondi, you'll enjoy a classic beach town. It's the perfect place for a surf, sun, and beach vacation.
First, let's talk surfing. The beautiful blue water is great for surfing. There are lots of areas that are perfect for beginners, as well as the more intense waves that experienced surfers love.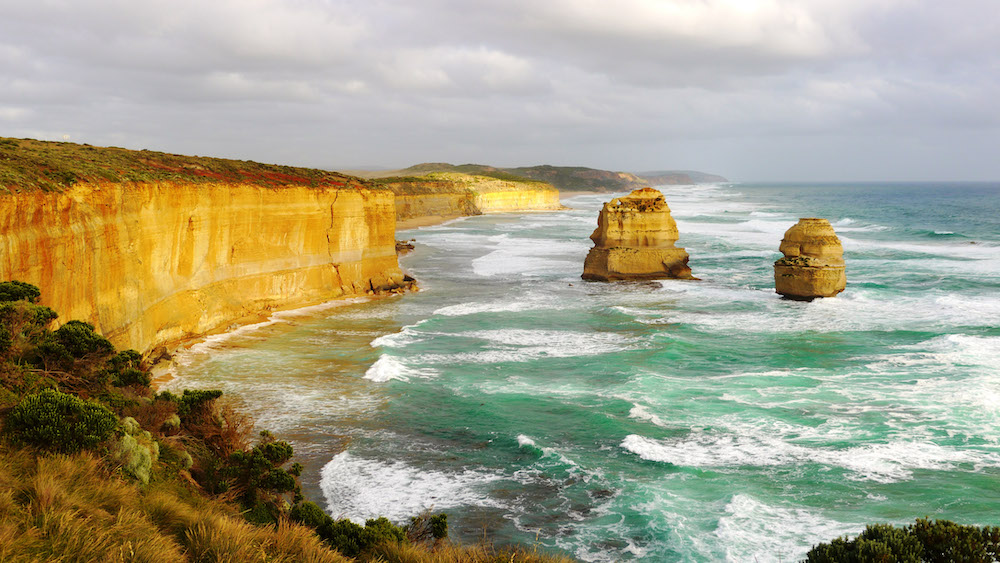 If you're looking for a perfect day on the beach, Bondi's great for that as well. With beautiful soft sand and lots of area for barbecues or a game of sand volleyball, bring your entire group for a wonderful day.
Maybe you want to see the water from afar so you can enjoy the view. Check out the Bondi to Bronte coastal walk.
This 2.5 mile trail starts at the southern end of the beach, meandering along striking sandstone clifftops. It's a great way to get some exercise while enjoying one of the most famous views in the world.
While you're here, also keep an eye out for the Saturday Bondi Farmer's Market. It's full of wonderful crafts from local artisans, delicious produce, and many other unique goods.
Last but not least, don't miss out on the many amazing shops and restaurants along the shoreline. With many different cuisines available, you'll definitely find something you like.
The 5 Best Things to Do in Australia
There you have it: our list of the 5 best things to do in Australia. Now that you've made it through this article, it's time to plan your trip.
What do you want to do most? Soon you can enjoy the vacation of a lifetime.
Want to learn more? Check out our blog for additional ideas and insights.