BlaBlaCar is a carpooling service which lets drivers pick up folks who are traveling to the same city (or in the same direction) and share transportation costs.
Prices are based on how far you're traveling.  BlaBlaCar suggests a price and drivers can use that price or increase or decrease that price up to 50%.  Because drivers are NOT allowed to make a profit, the prices are usually fair.
You search the site to find a ride, choose and contact a driver, then pay during the ride.
Statistics

Examples
London
For example, you'd pay 3 pounds (~30EGP) per person for a ride from London Heathrow Airport to London on January 7, 2015.
You have to contact the driver to find out where in London they are driving to and if that's where you want to go.
You'd also pay 3 pounds (~30EGP) to ride the Underground (train) UNLESS you're traveling between 6:30 am to 9:30 am, Monday through Friday when you'd pay ~60EGP.
Using BlaBlaCar instead of the train could be easier because you don't have to drudge through the train station with your luggage.  And you might be able to arrange with the driver to drop you off at your hotel or destination.
However, because you're riding in a car with restricted space, you're limited on how much luggage you can bring.  And you could hit traffic, have to pick up other riders, take a longer route to avoid tolls, or the driver could get lost which could make the trip longer.
Paris
Using BlaBlaCar you'd pay 2 pounds (~20EGP) for a ride from the Paris Airport to Champs Elysees on January 7, 2015.
A local bus from the airport to Champs Elysees is 5 euro (~40EGP).  So if you used BlaBlaCar you'd save 50%!
For couples or folks traveling together, this could be a better deal IF the BlaBlaCar has room for all of you and your luggage.
Paris to Rome
You'd pay 74 pounds (~800EGP) with BlaBlaCar for a ride from Paris to Rome on January 13, 2015.
The train costs 120 euros (~1000EGP).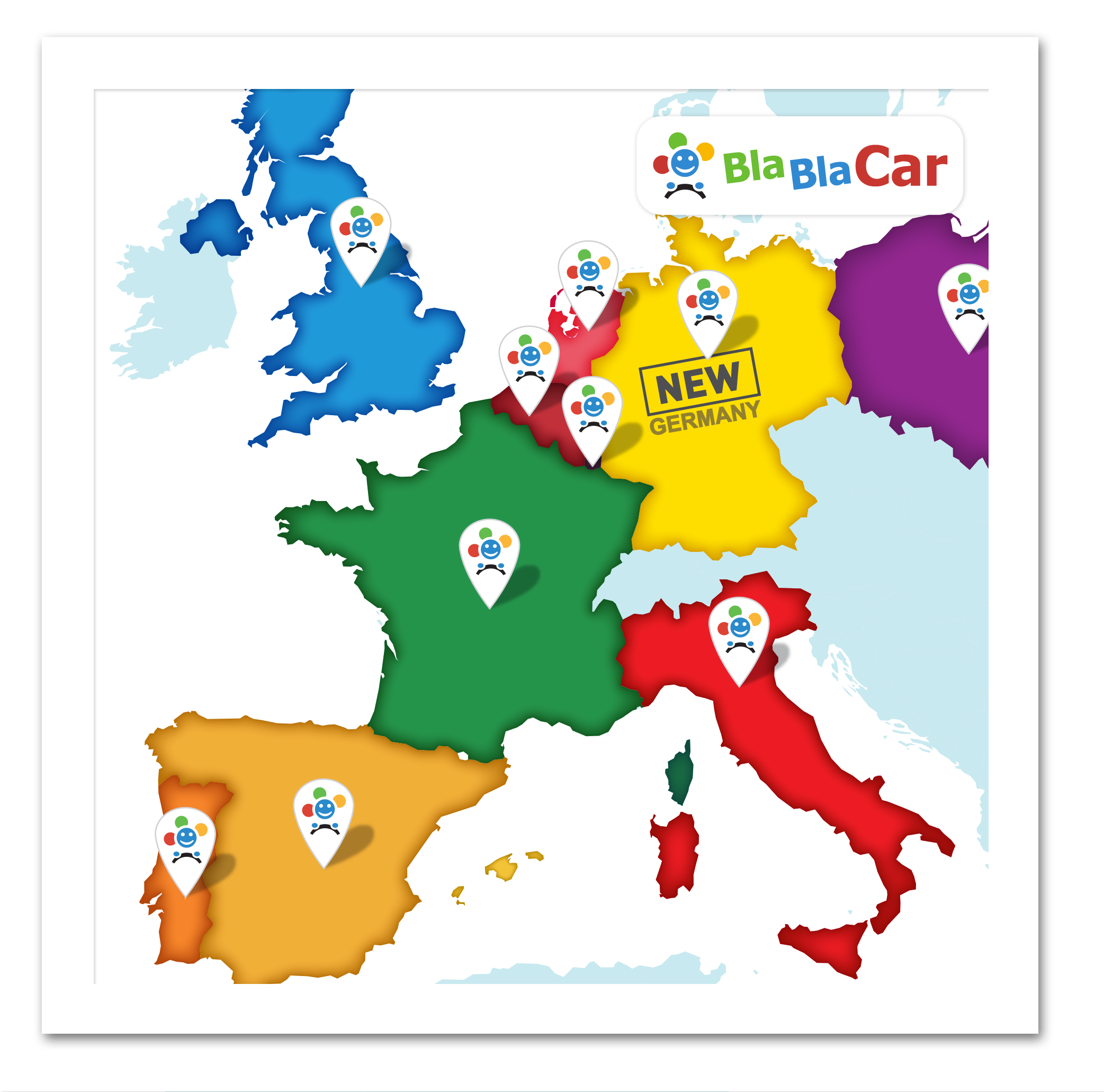 Things to Consider
Although you might be able to save money using BlaBlaCar there are some things you should consider.
1.   Limited Service
BlaBlaCar can only offer rides if they have drivers.  And they do NOT have rides everywhere.  So you might not get a ride when you need it.
So folks who have firm travel plans should NOT use BlaBlaCar.
2.   Cash Only
You have to pay the driver in cash in the local currency.  So you won't earn miles or points!
If you're getting a ride from the airport, you should get local currency from your bank before you leave.  Or use an ATM at the airport.
3.   Luggage Restrictions
Because drivers are adding passengers to their car, folks who travel with big suitcases might not find rides or have room for their suitcase.
Who BlaBlaCar Is Good For
For some folks, BlaBlaCar means Big Travel with Small Money.
1.   Flexible Travelers
BlaBlaCar works best for folks who have flexible plans.  Or folks who like to hitchhike.
2.   Extroverts
Folks who are introverts might not be comfortable with BlaBlaCar.  There could be long awkward silences!  But other people might enjoy talking to a local person.
Bottom Line
BlaBlaCar is a carpooling service that provides an edge better than Uber.
The cost is determined by how far you're traveling.  BlaBlaCar usually costs the same as public transportation for short distances.  But you'll save more if you're traveling long distances.
Folks who don't have flexible travel plans or aren't comfortable with strangers shouldn't use it.  But for folks whose plans aren't firm and want to save money, BlaBlaCar could be a good fit.
But BlaBlaCar is cash only.  So you will NOT earn miles and points!
Try it next time your travel to Europe and tell us your experience!