The bathroom is a sanctuary within the home, a space for refuge, relaxation, luxury, and refreshment of mind and body. It's not surprising then that it is a room that inspires creativity when it comes to renovation. Having a space to retreat from the fast and hectic pace of modern living is essential at the best of times, but 2020 has provided a uniquely stressful time in all of our lives, and a beautifully designed bathroom is a great project for winter. 2021 will bring new trends to look out for and ideas to inspire, making your bathroom a cornerstone of a (hopefully) brighter year ahead. Let's have a look at what's hot in 2021.
Sustainability
When it comes to building and renovating our homes and gardens, eco-aware and sustainable practices are commonplace. A bathroom may seem like a wasteful space, with its large water use and halogen bulbs. But creating a carbon-neutral bathroom is going to be on trend next year, with designers opting for locally sourced wood and stone, locally made furniture from renewable sources and the incorporation of tech infrastructure such as smart thermostats. Energy-saving lighting solutions that don't compromise task-based lighting are commonplace and affordable. With large companies like Grohe aiming to turn their operations carbon neutral, more sustainable bathrooms will become the norm.
Colors
Meek and mild pastels are out for 2021, with bold and vibrant color schemes coming to the fore. Perhaps the tedium of lockdown has inspired some exuberant tones to bolster the atmosphere of the bathroom. For contrast a feature wall works well – or if you have a small bathroom which would be made claustrophobic by a bold color all over. Velvety shades of dark red or lush, forest-like greens and blues will transform the space into a beguiling and mysterious place to relax. Bold colors also work well alongside natural features and textures, such as wood flooring or stone fixtures.
Fixtures and fittings
To complement all those exciting tones, designers will be opting for elegant, minimalist fixtures and fittings in 2021. Minimalistic freestanding bathtub designs in porcelain or stone, walk-in showers and elegant wall hung basins are all in next year. And simplicity with mirrors and other fittings means that you can go to town with the color scheme and patterns.
Patterns and graphics
As well as bold tones, patterns are going to trend in 2021. Dots, dashes, animal print, floral or full wall graphics, create a fun, playful mood, but they can also add a touch of class and elegance. Patterns and illustrations from the 1920s add an air of mystery and intrigue and make a bold statement. And patterns don't have to be limited to the walls, they can be incorporated into floor tiling concepts as well.
Totally tropical
Plants have long been incorporated into bathroom design concepts. Bringing the outdoors in really adds mood and atmosphere to the space, and plants can also contribute to natural aromatherapy – choose eucalyptus, lavender or lemongrass – cleansing for the mind and body. Creating a steamy, tropical, rainforest inspired feel is on-trend in 2021. If you have a walk-in, open shower this is particularly effective. You'll be bathing in aromatic steam in your very own jungle, just without the creepy crawlies!
Wood
A perennial favorite for walls, floors, furniture, and countertops, wood adds a warm, natural feel to any bathroom. It can be incorporated well into most bathroom design concepts, from stark and modern through to decorative and opulent. It offsets bold colors, minimal fixtures, and looks great with plants – ideal for all the trends of 2021. And while it may seem counterintuitive to use wood, a material subject to rot, warping and expansion when in a regularly wet space, there are some types that work best, namely maple, cedar or oak – these contain resins that stop the decay of the wood.
Metal
The ubiquity of chrome faucets, towel warmers, toilet roll holders and, well, everything else is at an end! Well, maybe not quite yet – if you go for a minimalist concept you can't go wrong with chrome. But gold and brass are making a comeback in bathrooms next year, adding glamour, decadence and evoking the 1920s (or 1970s). Gold works especially well with rich, colorful walls, tiled floors and with feature patterns and graphics.
Stone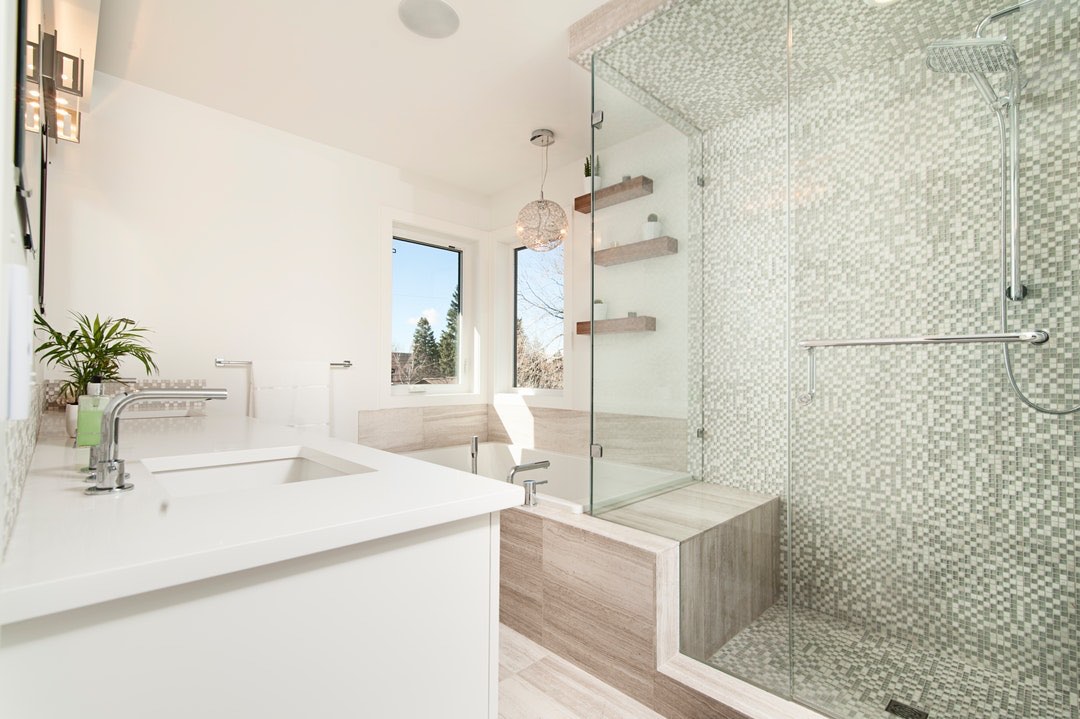 Next year will see marble making a comeback as stone-of-choice for bathrooms. We'll see white, grey and red marble features on floors, sinks, and countertops. Natural stone continues to be popular, especially as flooring, giving a warm and pleasant sensation on bare feet. Granite, slate, travertine, and limestone all remain popular, evergreen options. Stone should be waterproofed if it is porous – check with the retailer. All types of stone look great with minimal fixtures like freestanding tubs, and natural looking stone perfectly suits a selection of bathroom plants.
We're all hoping 2021 is the year we can put 2020 behind us. Whatever lies in store, making some on-trend changes to your bathroom will give you the perfect place to relax, unwind and recharge.