Kitchen worktops have an impressive impact on the overall look of your kitchen. Available in a myriad of options, countertop designs are conceptualized based on the materials chosen.
Talking to a professional for the best ideas on countertops is the right way to deal with it. Notwithstanding the demand of granite kitchen countertops, other varieties are taking reign over the market gradually.
Here is a discussion on the different options in worktops materials that will help you forget granite.
Marble- The hard solid material has a shiny texture to offer. Its polished and gleaming surface makes it ideal for an evening gathering around and even for daily usage.
Compared to granite countertops, marble appears much softer and exudes warmth with aging. The other attributes of marble include durability, resistance to scratches, attractiveness, etc.
Quartz- Unlike marble or granite, quartz is engineered stone. The biggest advantage is this kind of material requires very less maintenance than mined stones. Besides, its non-porous surface, unlike the granite worktops uk, keeps spills and scratches at bay thus letting you follow a hassle-free cleaning procedure with a wet piece of cloth and mild soap.
Glass- What makes glass the talk of the town is its versatility. It is resistant to heat thus not giving away to scorching or cracking.
You can add creativity to its looks by laminating three sheets of glass together and incorporating a crackled surface. Glass tops can be painted or lit as per your whims and fancies for an ideal kitchen look.
Stainless Steel- From traditional to contemporary, stainless steel worktops suits almost all types of kitchen styles. It is one of the most sought-after metal countertops, known for its resistance to heat and stain. However, the downside is it is susceptible to dents and scratches.
Concrete- One great advantage of concrete over granite is it is absolutely resistant to stain when sealed. Granite and engineered quartz come in limited colored options but concrete offers an endless line of solo colors, mixing and matching.
Thus, with an endless spree of matching and coordination available easily, concrete should be a definite choice.
Wood- Wood is now enjoying its surging popularity with more number of households adopting the material because of its styles and durability.
Wondering how to pep up the appearance of wood with creativity? Use contrasting materials for the counters which will add up to the look.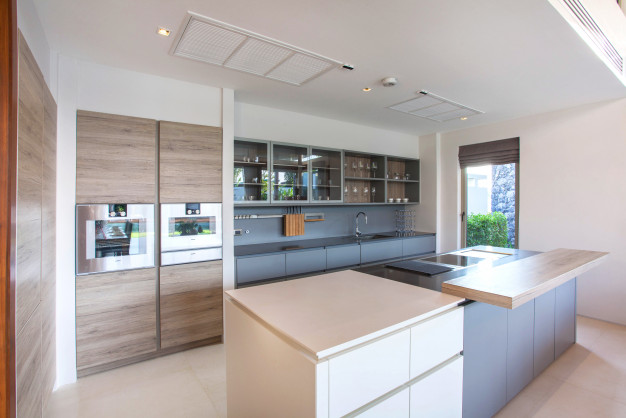 Solid surface- It is the perfect mid-range countertop material. If you are not interested to opt for laminate countertops, go for affordable ones like solid surfaces.
It is easy to resurface the solid surfaces with an orbital sander. The best part of it is that it resembles stone and is much better than laminate.
Soapstone- This material has a high preference owing to its matte, smooth and natural look. It appears in a range of hues from charcoal to soft grey.
Its natural surface is not affected by any liquids, such as spilled coffee, orange juice or acid. Also, the spills will not leave any stain.
There are a plethora of countertops available. The confusing part is which one to select. Do your research well and go for the one that suits the decor of your kitchen, your budget, and style.
Summary- In real, marble and granite worktops look amazing for decades, thus enhancing the beauty of your bathroom, kitchen, wet bar, and laundry. These days the availability of a variety of other worktop materials, such as quartz, glass, concrete, wood can give a good run for money to granite with their attributes.