There is no doubt that most people book at least one of many excursions from Cancun. With easy access to the Mayan Riviera and southern Caribbean Coast, many of the top excursions in Cancun leave from the Hotel Zone or Isla Mujeres. In this article, we are going to talk about a few Secret Excursions from Cancun while on vacation.
For day tour excursions in Cancun, many Cancun tours companies offer transfers, tickets, guides, and access to many of the top places to visit in Cancun. Aquatours is one of Cancun's best tours with marinas, offering the most attractive and diverse water tours and activities in Cancun and the Mexican Caribbean.
Many companies offer full refunds if canceling within 24 hours of excursions and take last-minute bookings too. With Summer travel coming back at full force with lots of chaos and crowds, it is better to use reliable tour companies to save yourself the hassle and lots of dollars.
If you are looking for recommendations on Amazing activities to do in Cancun, we have an entire post giving you the best. However, in this post we wanted to focus on excursions that are no where else to be found and experienced ONLY in Cancun.
Explore Cenotes; the full experience
One of the best excursions to do in Cancun is to explore its many cenotes. The Riviera Maya is known for its underground rivers flowing through limestone caves, known as Cenotes and adventurous travelers have to visit them especially that there are so many Cenotes to visit near Cancun. One of the highly recommended excursions is Rio Secreto.
There are lot of excursions and activities to do as hanging by the zip line over a cenote, swimming in a Cenote and kayaking through the underground rivers. There is not only ziplining here though, you will have a blast on the ATV adventure, rafting through the Cenotes and swimming through underground caves. The great thing about the Maya Riviera is that many tours combine the top attractions all in one day.
Another great secret Cenote excursion hack is to combine a trip to Tulum with a stop at another Cenote; the Dos Ojos.
Take a Catamaran Cruise
Cruising on the water is a top recommendation for travel to Cancun. The water is crystal blue clear, awesomely warm, and charmingly beautiful. Sailing along the coast really gives you an understanding as to why this area was developed into such a tourist magnet. When you choose Catamran cruise excursion, you can snorkel at MUSA, which is an amazing place that combines the seabed with human creativity by having sculptures that remain underwater and observe the different marine species that swim around you during your snorkeling tour.
You will be amazed when you see nature seize these human works and claim them as its own.
The secret about Catamaran cruise excursions is that they usually include food. Many Isla Mujeres tour in catamaran companies stop at El Meco coral reef, downtown Isla Mujeres and beautiful views of the Riviera Maya coast.
Jungle Tours
Take a snorkeling jungle tour in Cancun excursion through the entire Nichupté Lagoon. Nichupte Lagoon is a great way for visitors to experience a bit of the jungles of the Yucatan without having to go far. You will get to snorkel in Punta Nizuc , part of the Great Mayan Reef that extends to Puerto Morelos. The second largest barrier reef in the world!
A beauty of nature that you will be grateful to have known. Enjoy some native marine species and underwater sculptures created by ancient ones and now mingled with nature.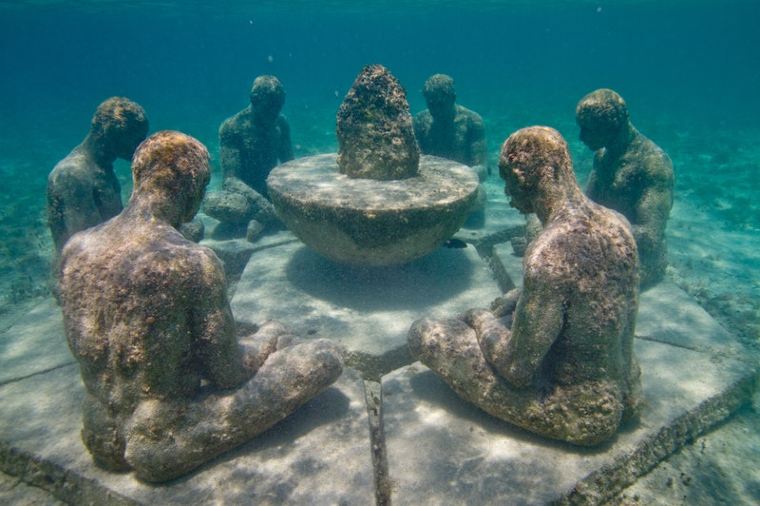 Another secret excursion is going kayaking through the mangrove jungle in Nichupté Lagoon.
Explore Downtown Cancun
If you want to experience real Mexican culture, enjoy an excursion to downtown Cancun. The great thing about downtown, is that hotels are much cheaper and most tours will pick you up at your hotel.
Avenida Tulum, the main street of Cancun, is a great secret excursion filled with restaurants, shopping, and nightlife. There you'll find some of the best markets and shopping for a souvenir from your time in Mexico. You can also try amazing Mexican cuisine and gastronomy excursions and sample local street food from local street vendors and a variety of flavorful tacos. Mix it with a traditional beverage and a dessert.
Swimming with whale sharks
Swimming with whale sharks is hands down one of the most exciting excursions in Cancun To see these gentle animals up close is one for the bucket list.
If you are in Cancun between May and October, be sure to book a tour to swim with whale sharks. Isla Mujeres secret swimming excursions to see sea turtles and just off the Yucatan Coast is one of the best places in the world to spot whale sharks.
We have to write an entire book to tell you the best secret excursions in Cancun. However, in this post we wanted to focus on excursions that are no where else to be found and experienced ONLY in Cancun.