The choice for ultimate hotel amenities when traveling would ideally be a complimentary breakfast in the morning and free hors d'oeuvres in the evening. In other words, the cost savings of having free food and beverages is admirable. Keeping one adult fed for free is not much of a challenge, but ever wondered how families do it these days and we decided to research some options for finding kids eat for free options when traveling.
Here's what we found:
Marriott Hotels and Resorts invite you to bring the kids along while you reconnect with the family and they will stay and eat for free. Holidays are a time to reconnect with the people who matter most. Kids stay and eat for free with the family offer (valid for up to two adults and two children aged 12 and under at the time of stay): Children under the age of twelve eat for free at Marriott hotels restaurants.
Children up to 12 years stay free of charge in the guest room of their parents. Another similar offer from Marriott hotels is 50% off second room for children.
Holiday Inns and Holiday Inn Resorts are classic choices for kids to eat free. Up to four kids, ages 12 and under, eat free any time of the day at Holiday Inn and Holiday Inn Resort restaurants. The children must order off the kids' menu and they must be accompanied by one adult who orders food and is registered as a guest.
This benefit is offered at properties throughout the world, though the age requirements vary slightly by country. Holiday Inn and Holiday Inn Resorts also offer a kids stay free option for children 19 years old and under — in Europe the limit is age 18 and under, but still a very valuable benefit as in many cases, hotels in Europe charge for a third person.
The Family Vacation Critic has compiled a great list of affordable hotel chains and resorts that offer good rates and include free meals for children. Some offer a kids stay and eat free benefit and some just include meals or other children's amenities.
The website mentions Kimpton Hotels as a good choice for families with their KimptonKids Program that includes kids' welcome amenities and activities, child-size robes and pet goldfish, all complimentary during your stay.
Apple Vacations are known for offering getaways to "family-friendly" resorts. Many of their resort vacations also offer stay, play and eat free benefits for kids. Some even have children's clubs and special teen activities as well.
Their list of resorts that are either all-inclusive, offer free eats for kids, or cater specifically to families is comprehensive. You'll find over 75 options, of which many include a free stay/eat/play option
Travel for Kids is a good resource for selecting a family vacation destination. While it doesn't specifically offer a separate list of places to stay that offer free amenities for kids, it does give suggestions on where to stay and the offerings for each hotel.
If you know where you want to go, you can review the lodging list, read the description of amenities and select a property that fits your family's needs, including free eats for the kids. The site also offers helpful travel tips, information on seasonal events and even children's book recommendations related to travel and your destination.
The Family Travel Network is another vast resource for everything you want to know about planning a family vacation. Its experts on family travel offer advice, ideas, bargains, family travel news, articles and plenty of resources for selecting a destination for your getaway.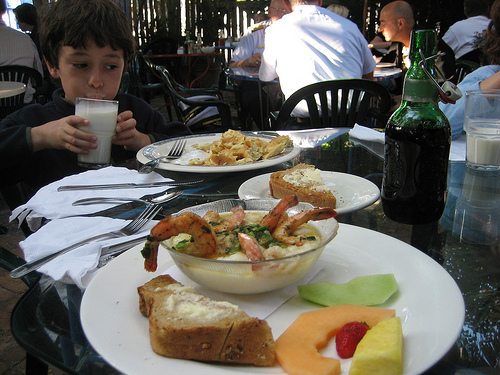 A Free Breakfast for Everyone ensures all family members get at least one free meal per day, and more and more hotel chains are providing free breakfast included with the price of the room at many of their properties. Just check the option of breakfast when booking a hotel.